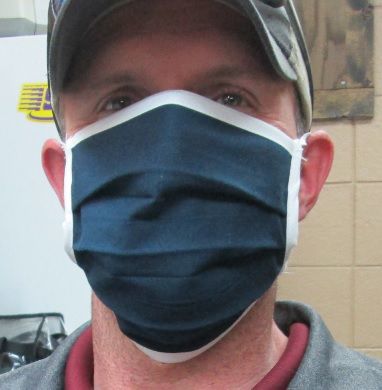 Gov. Kristi Noem and the Department of Corrections have made several recent changes and announcements about coronavirus safety in state prisons. 
Noem has ordered the DOC to relax the usual punishment for parolees who test positive for drugs during the COVID-19 outbreak. And the DOC announced that all staff will begin wearing cloth face masks at work.
The DOC also shared that the inmate from the minimum-security unit at the women's prison in Pierre who tested positive for COVID-19 has recovered. All other inmates from her unit that were quarantined have now been released.
Some local criminal justice systems in South Dakota — including those in Pennington and Minnehaha counties — have taken multiple steps to reduce the amount of new people being booked into jails while lowering bonds or quickly processing those who are already locked up.
Other leaders and community justice systems across the country have also ordered changes to lower the number of people in jails and prison to prevent coronavirus spreading among inmates and staff.
South Dakota law says that people on parole who test positive for a controlled substance must be punished with "some period of incarceration."
During the coronavirus outbreak, Noem wrote, the DOC should instead create a policy "that reflects the nature of responding and mitigating to the emergency in the best interests (of) the health and safety of the state's institutions and inmates."
Noem wrote that this policy could, for example, allow for alternative punishments to incarceration or deferring incarceration until the pandemic is over.
The DOC says it's taking this step "out of an abundance of caution" and noted that while the CDC has told people to wear masks in public, it hasn't ordered all staff in correctional facilities to do so.
The DOC did not say if inmates will have access to the masks in certain circumstances. But it said "the greatest risk to introducing the virus into our facilities is from people coming in from the outside, which is why staff will be wearing them."
Cloth masks are meant to prevent people with asymptomatic COVID-19 from spreading the virus to others, according to the CDC. The agency says masks should be worn in public settings where social distancing measures are difficult to maintain, especially in areas with significant community-based transmission.
The CDC doesn't say that inmates or corrections staff should wear face masks at all times, but it does say they should wear them and other protective gear in certain situations.
Concerned about COVID-19?
Sign up now to get the most recent coronavirus headlines and other important local and national news sent to your email inbox daily.