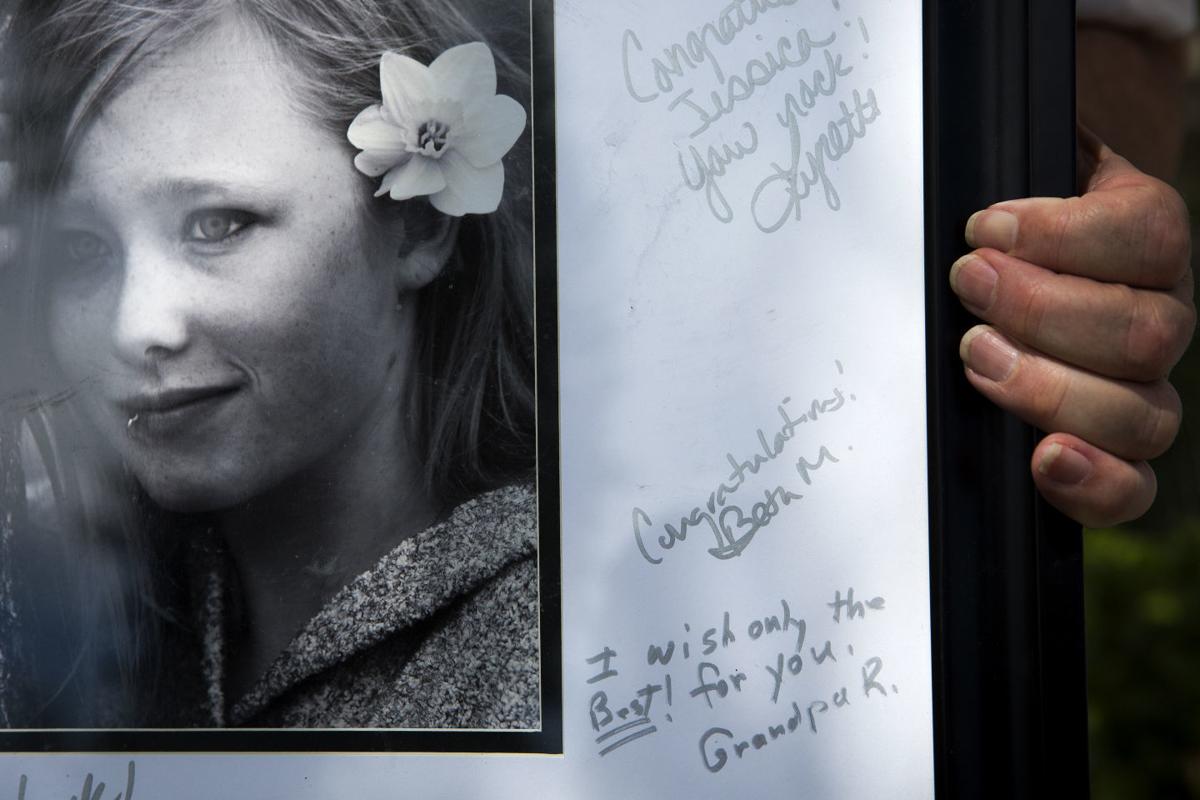 Jessica Rehfeld's loved ones testified Monday about going through multiple chapters of grief and trauma since the 22-year-old Rapid City woman went missing in May 2015. 
It's been a "never ending hell," Michael Rehfeld said with a photograph of his smiling daughter with a flower in her hair printed onto the back of his shirt. 
First, they moved across the country, quit jobs, became amateur detectives, and clung onto the hope that Jessica was alive as they anxiously searched for her for a year, the loved ones said. 
"What we didn't know is it would get worse," Michael said. 
A year later, Jessica's family and friends were re-traumatized when they learned she had been violently murdered at the direction of her ex-boyfriend, the exact person they feared would hurt her.
"Our souls were crushed, ripped to shreds," Michael said through tears. "We lost her again."
Then came years of witnessing painful court hearings and media coverage, which continue today along with nightmares, economic hardship and repeated thoughts of what Rehfeld's life would be like if she hadn't been taken from them. 
Michael was one of five loved ones who gave victim impact statements — more sent letters to the judge  — on the first day of Jonathan Klinetobe's sentencing hearing at the state court in Rapid City. The hearing is expected to last through Thursday or Friday. 
You have free articles remaining.
The 30-year-old from Sturgis hired Richard Hirth and David Schneider, both of Rapid City, to kidnap and kill Jessica before he helped them bury her in the woods near Rockerville on May 18, 2015, prosecutors said. Klinetobe then hired Garland Brown and Michael Frye, both of Rapid City, two weeks later to help him dig up Rehfeld's body from the shallow grave and rebury her deeper into the woods and further underground. 
Stacie Kellogg, one of the victim witnesses, said Jessica loved to volunteer at a camp for disabled children that she and Michael worked at. She said Jessica enjoyed teaching camp songs and had a happy, friendly and energetic personality. Jessica loved her family and no one at the camp believed she would have run away from them, Kellogg said. 
John Rehfeld described his granddaughter as a cute, sweet and funny "ray of sunshine" who would sometimes make spontaneous, unannounced visits to his house. And despite Jessica's rough childhood, she was able to see the good in everyone.
The last time he saw Jessica, John said, she cried about Klinetobe beating and robbing her and said she was upset about having to work to replace the items he stole. But she would never have the chance to try to replace them, John said. 
Misty Rehfeld remembered riding bikes and visiting streams with her sister, who danced while she cooked and spoke about wanting children. She said Jessica had to act like a mother to her three younger sisters since their own mother was abusive and manipulative. Jessica then became an independent, forgiving adult who volunteered and was proud to financially support herself. 
Misty called Klinetobe an egotistic "dumpster fire of a human being" who treated her sister as an object, rather than a person. She called Klinetobe a "coward" who's shown no remorse and tried to blame others for the murder. 
Michael said he quit his job in Virginia to move to Rapid City so he could look for his daughter. He said Klinetobe, his friends and family contacted him to offer help but just pushed him towards their own personal enemies.
He said his family couldn't sleep or focus, and blamed themselves, asking what they did to make Jessica stay away from them. Once Jessica was found, Michael said, he had to explain the concepts of murder and evil to his younger daughters and how real monsters exist, but not under their beds. Michael said he's been unable to work and his daughters need to attend therapy. 
"If we cannot escape the loss of Jessica, he shouldn't escape the consequences of taking her," Misty said.