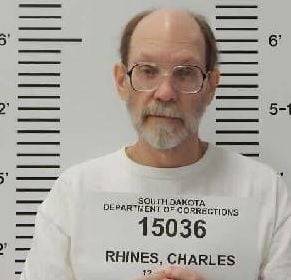 Charles Rhines learned Tuesday that he is scheduled to be executed in early November, 27 years after he stabbed a former co-worker to death while burglarizing a Rapid City doughnut shop. 
"This step was one big one for justice for Donnivan," Peggy Schaeffer, mother of murder victim Donnivan Schaeffer, said outside the Rapid City courtroom where a judge granted Rhines' warrant of execution. "It's just time." 
Judge Robert Mandel granted the motion filed after listening to arguments by South Dakota Attorney General Jason Ravnsborg and defense lawyer John Murphy of Rapid City. Peggy and her husband, Ed, filled the courtroom with friends and family, while Rhines appeared on a TV screen via a video feed from the state prison in Sioux Falls. 
A jury sentenced Rhines to die in 1993 after finding him guilty of premeditated first-degree murder for killing Schaeffer, a 22-year-old from Black Hawk. 
It's time to execute Rhines "for the sake of the family and for justice," Ravnsborg told Mandel during the hearing. Rhines "exhausted" all legal reasons — such as criminal appeals and petitions to the U.S. Supreme Court — that might prevent an execution once the high court rejected his case in April, Ravnsborg said, citing South Dakota Codified Law 23A-27A-31.
Ravnsborg also noted that Rhines has been challenging his case five years longer than his victim, who he "brutally killed," was alive.
While the law allows a judge to issue the execution warrant, Murphy told Mandel it's "completely in your discretion" as to when you choose to do so. 
Murphy said it would be unfair to issue the warrant while Rhines has two open lawsuits. Rhines is challenging the state's execution drug protocol at the state court in Minnehaha County. He's also arguing in the federal Eighth Circuit Court of Appeals that his constitutional rights were violated when he was denied access to mental health experts his lawyers retained to help with his clemency petition. 
The federal appeals court is "obviously taking the actions very seriously" since it refused to expedite the hearing at Ravnsborg's request, Murphy said.
Rhines' challenge of the execution protocol is a "fairly routine procedure" for people on death row, Ravnsborg said after the hearing. Rhines' federal appeals were first denied by a South Dakota judge and doctors have found Rhines mentally competent "numerous times" before, during and after the trial, Ravnsborg said.
Mandel said he agreed with Murphy that he has discretion over when to issue the execution warrant, and he would delay issuing it — even after 27 years — if there was a reason to do so. 
You have free articles remaining.
But there is "no legal reason to postpone the execution," Mandel said in granting the warrant, which calls for Rhines to be executed between Nov. 3 and 9. 
Peggy Schaeffer smiled and held a love one's hand after the announcement. Rhines, wearing a gray sweatshirt and sitting behind a desk in what appeared to be a classroom, appeared calm during the entire proceeding but looked slightly surprised after the warrant was granted. 
Mandel considered the arguments of both lawyers and numerous courts have upheld Rhines' sentence, Peggy said after the hearing. She said she doesn't regret Rhines being sentenced to death rather than life in prison without parole. Plus, it was the jury's decision, not hers, she said. 
"The judicial system does work if you let it," Peggy said. 
Peggy said she feels her son "beside me all the time" and thinks about what her son would have accomplished if he was still alive. 
"I missed (having) a daughter-in-law, I missed grandchildren, my son misses his brother, my grandchildren miss an uncle and an aunt," she said. 
"There's always that hole, always that chair at the table that's never filled" during holidays so the family lights a candle and places a rose on the table in honor of Donnivan's memory, Peggy said. "And he is there, we know it."
Rhines execution date and time will be chosen by the prison warden who then must notify the public at least 48 hours in advance, Ravnsborg said after the hearing.
Murphy did not immediately return a message asking if he plans to challenge the warrant of execution. 
Rhines tried to appeal his case to the Supreme Court, but the high court declined to hear it. He argued his sentence is unconstitutional because jurors were homophobic and decided to sentence him to death rather than life in prison because they thought he would enjoy being in prison with other men. His lawyers said an original jury note and recent interviews with jurors show they were motivated by homophobia. 
Journal archives show jurors found multiple aggravating factors — killing for money, killing a witness to a crime and killing with a depraved mind — in the murder when only one is required for the death penalty. Jurors who spoke with the Journal at the time said they discussed the aggravating factors and if they felt Rhines deserved the death penalty. One woman said she thought about the images of Schaeffer — who was stabbed in the stomach, back and skull — and how awful it was.
Ravnsborg said the jury sentenced Rhines to death due to the "heinous nature" of the crime, not because they were homophobic, and that his homophobia argument didn't come until years after the trial.