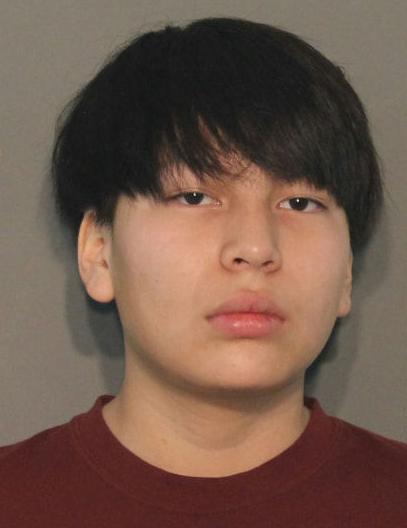 The grandmother of a Rapid City teenager who's been missing for weeks and is now wanted for questioning about a shooting is begging for him to come home.
"I really want him to come home. I'll go with him to talk to the detectives and be with him at all times so he won't be mistreated," Ruby Pederson, grandmother of 14-year-old Loyalty Morrison, said Monday. "Just come home. Wherever you are, just come home and we'll get this taken care of without the SWAT team." 
Pederson also has a message to anyone who may be with her grandson.
"Please let him go so we can get this settled with the questioning," she said. "We're worried. We don't know where he's at."
Pederson hasn't heard from her grandson since he ran away in late July, just four or five days after he returned from a residential treatment center on July 16. She's knocked on doors and messaged his friends to no avail.
Then, on Saturday, Pederson said the Rapid City Police Department contacted her to say they wanted to question him about a shooting that happened late Thursday night.
She said police contacted her again on Sunday but did not notify her before the Rapid City-Pennington County Special Response Team — which has negotiators, military-style vehicles, communication devices and other advanced equipment used for armed and high-risk situations — arrived at a Crescent Drive home he's ran away to in the past.
Pederson said she drove to the scene after her sister called to tell her about the SRT call out, which she learned about on social media.
She said Morrison sent a Facebook message to his mother during this time saying he loves her and his grandmother but had to give back the phone now. Pederson said her grandson didn't mention where he was or who he was with.
Pederson, Morrison's mother, and the police and sheriff's office continue to look for Morrison after he wasn't found at the Crescent Drive home.
Officers want to speak with Morrison, who they say was present when another teenager — who now has "serious, life-threatening injuries" — was shot, spokesman Brendyn Medina told the Journal. They want to learn if Morrison was the shooter or a witness, whether anybody else witnessed the shooting, and whether it was a self-inflicted gunshot or if someone else purposefully or accidentally shot the teen.
A handgun was found at the scene and police believe Morrison is now in possession of another handgun, Medina said. 
"We're going to use every tool in our toolbox to find him safely," he said. 
He's 'been through a lot'
Pederson said her grandson has "been through a lot" in his life.
She said Morrison struggles with mental health and substance abuse issues, has a history of running away, and has been hanging out with a group of teenagers and adults she referred to as a "gang."
He's "easily influenced" by others and it's "not right" when adults give him drugs and alcohol, Pederson said. "He's a pretty good kid when he's not around these people" and had been hoping to stay out of trouble, find a job and buy a car.
Pederson said Morrison returned to Rapid City after a five-month stay at a residential treatment center in Wyoming, which he was sent to after stealing a car.
She said Morrison's friends began showing up at her home as soon as he returned and he ran away just a few days later before she had the chance to buy him a cell phone and set him up with local mental health treatment.
Pederson brought her grandson home that day after finding him at the same house on Crescent Drive that the SRT went to Sunday. But he ran away again later that day.
Pederson said she reported Loyalty — who is without his mental health medicine — as a runaway and searched for him by visiting homes he hangs out at and messaging his friends on social media, who ended up blocking her. She said she doesn't believe police put much effort into finding Loyalty until he was wanted in connection to the shooting.
Medina says police did search for him by tracking down leads from family and friends and searching areas he's been known to frequent.
He said the department receives more than 700 runaway reports each year and only posts cases on its social media when it had reason to believe the child is in danger, has exhausted all methods of finding them, and needs to turn to the public for help.
Morrison was not among the runaways named on social media.
"If we did this for every runaway, the ability of the public to provide assistance in these instances would be severely diminished by the oversaturation of information," Medina said.
The shooting at Hemlock Street was reported at 11:55 p.m. on Thursday, Medina said.
Police found a seriously injured teenager, he said.
Medina said officers also found a handgun and initially believed the gunshot may have been self-inflicted. But after speaking with people in the neighborhood, officers learned Morrison was present at the shooting and it began looking more "suspicious."
Pederson said officers stopped at her home on Saturday and Sunday to tell her they were looking for her grandson in relation to the shooting and ask if she knew where he was.
"If I knew where he was at, I would go get him," Pederson said she told the officers.
The public learned about the shooting around noon Sunday when the police department posted it on its Facebook page. The post included Morrison's name and photos.
The Rapid City Police Department and other law enforcement agencies usually don't share information about minors wanted in connection with criminal matters or those charged in juvenile court.
But in this case, the department got the OK from the Pennington County State's Attorney Office to share the information since detectives need to learn about the shooting and believe Morison may be armed, Medina said.
We're "very careful with juvenile information as it relates to crime," but this "was a public safety decision," he said.
Pederson said police didn't tell her about the SRT call out but later told her they they went to the Crescent Drive home because Morrison had recently made a Facebook post from the location.
She said she offered to go inside the home to look for her grandson — "I know he wouldn't hurt me" — but police said it wasn't safe. SRT did let her record a message to Morrison, which was played over the LRAD, or Long Range Acoustic Device.
Police arrived at the home just before 2 p.m. and announced at 10 p.m. that they searched homes but didn't find Morrison. 
Police Captain James Johns said at the time that the SRT missed Morrison but are confident he was there earlier in the day.
The SRT searched the original home of interest and gained consent searches to look through neighboring homes in case Morrison was able to sneak into one, Medina said.
The SRT searched the neighboring duplex by breaking down the door after no one answered and law enforcement couldn't contact the owner and residents, Medina said. He said the homeowner can contact the City Attorney's Office to arrange reimbursement for the damage.
Pederson said the SRT call out was "overboard" and wouldn't have helped encourage her grandson to surrender if he had been at the home. 
"I wouldn't come out of that house either with that many rifles in my face," she said. "He's been traumatized, he has mental issues, and you're out here with rifles."
Medina defended the department's decision to use the SRT when asked if police could have instead brought a negotiator and fewer officers with protective gear and a megaphone rather than the entire SRT.
He said he understands the public is concerned about the appearance of armored vehicles, but the SRT is "very highly trained with dealing with barricaded subjects who are armed."
Medina said the SRT often serves as a "rescue operation that keeps everyone safe."
Pederson said she and Morrison's mother — who's driving in from Nebraska — plan to continue looking for the teenager. She said she's concerned about trying to communicate with him because his Facebook page was deleted Monday afternoon.
Investigators are "very committed to working to getting contact with Loyalty in the most safe way possible," Medina added. ​
Community members planned a vigil for the shooting victim and Morrison's safe return on Thursday evening at the band shell in Memorial Park. 
Sign up for our Crime & Courts newsletter
Get the latest in local public safety news with this weekly email.