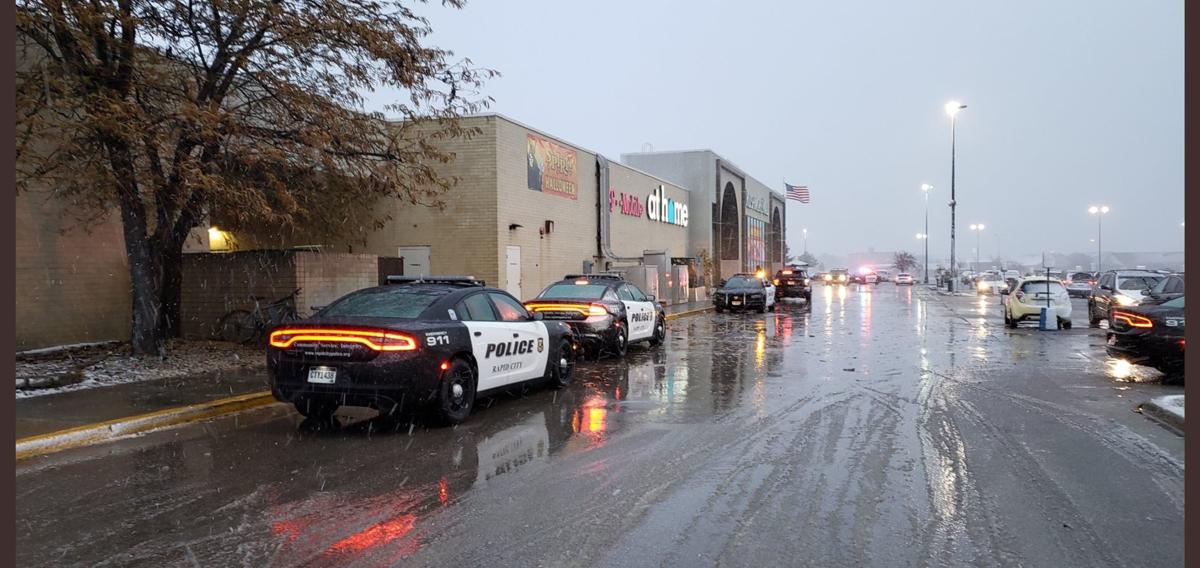 But it turns out there was no gun or gunfire. 
"We were led to believe that we had an active shooter in the mall," police spokesman Brendyn Medina told the Journal on Monday. But "police fully investigated the circumstances and found no evidence of a firearm ever involved."
Medina said someone called 911 around 5 p.m. Sunday and passed the phone around to several people who told dispatch they heard gunfire and saw a man wearing a mask in the south parking lot walking toward the mall with a gun.
Officers and medics rushed to the scene and told mall visitors to find shelter, Medina said. In active shooter situations, first responders instruct people to stay put until they can determine where the threat is coming from in order to prevent evacuating people toward the shooter. 
Witnesses then told detectives that they had possibly seen a gun but weren't 100 percent sure, Medina said. Police detained 48-year-old Kenneth Woods of Rapid City after finding him near his car but found no gun on him or inside the vehicle after obtaining a search warrant. Officers did find a black rubber face mask in the car. 
They arrested Woods on an existing warrant, obstruction for allegedly giving a false name and initially refusing to comply with commands, and drug possession after a syringe and clear plastic baggy inside the car field tested positive for methamphetamine, according to a news release. 
Police and mall security locked down the building and brought all shoppers into stores once they learned the suspect was outside, mall manager Sandy Brockhouse told the Journal. All exterior doors and corridors were locked, and tenants were told to close their doors and lock their gates. 
Officers and security staff did a "wonderful job of keeping everyone calm and collected," Brockhouse said. 
She said stores closed and people left the mall once the lockdown was lifted at 5:25 p.m. No one was let back into the mall, which usually closes at 6 p.m. on Sundays. 
"The response was very impressive" to the active shooter report, Medina said. "This is why we work so closely with the mall" by hosting active shooter trainings there and studying its layout. 
Just last month the mall had an active shooter training with the Department of Homeland Security, Brockhouse said in a news release. The mall will have further training in February and another drill in fall 2020.
People are allowed to walk around with guns in South Dakota since the state allows open carry, but it's illegal to point or shoot the weapon at people, Medina said. 
The mall bans "weapons of any type" on its property, according to the code of conduct on its website. Medina said someone carrying a gun on private property that bans it would probably be arrested for trespassing rather than a weapons charge. 
"It all depends on the behavior" and police will respond to any report of a threatening or aggressive person with a weapon, he said.