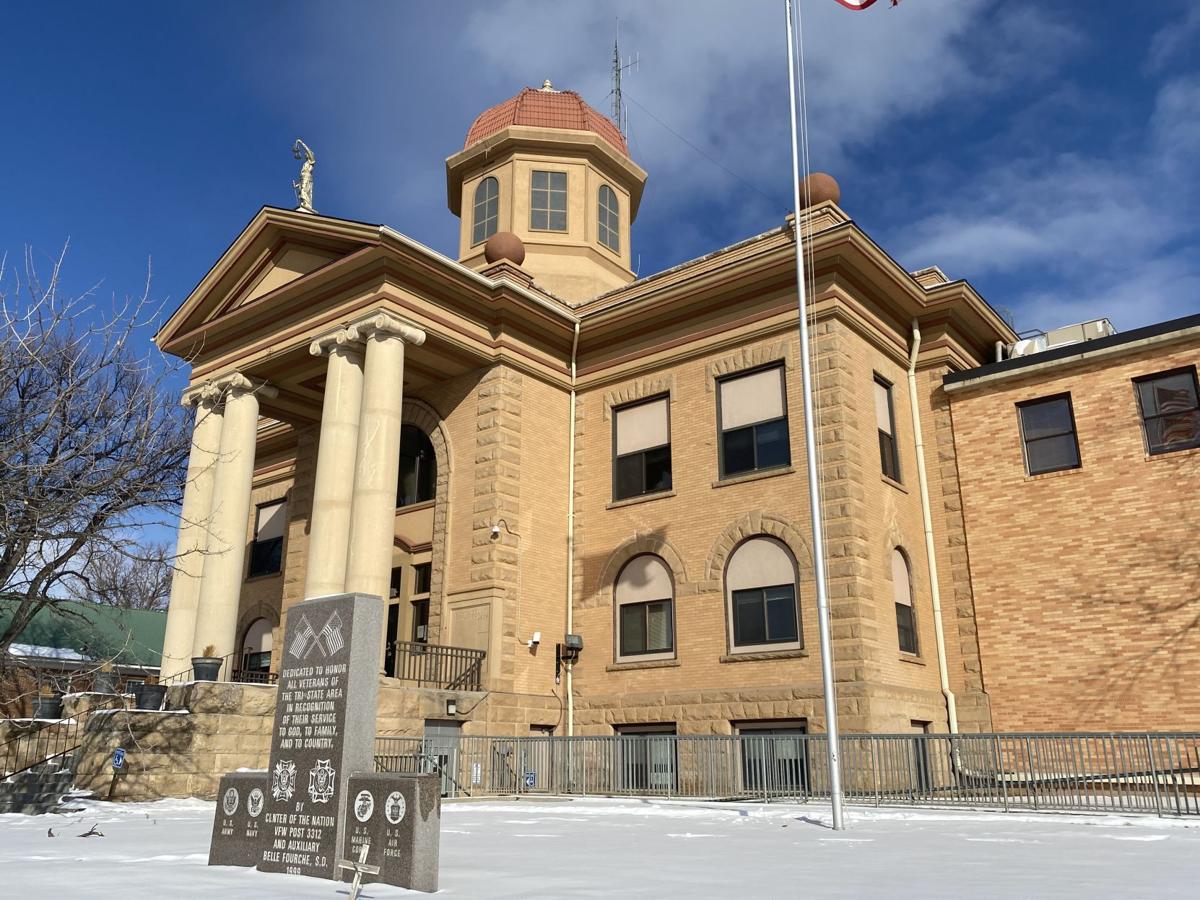 Nine years after a woman was raped by a masked man who broke into her Belle Fourche home, she watched as he was sentenced to 45 years in prison on Wednesday.
"I feel like I'm the one who's been imprisoned all these years," the woman wrote in her victim impact letter.
Shane Boice, a 34-year-old who now lives in Nisland, was sentenced by Judge Michael Day at the Butte County Courthouse in Belle Fourche after pleading guilty to second-degree rape for raping the woman by force, coercion or threat on April 12, 2012.
Two burglary counts were dropped as part of the plea deal.
The Journal does not name victims of sexual assault.
The rape case is unique because it's the rare instance of a stranger breaking into a house to rape someone and because it was solved through forensic genealogy, when a DNA sample is matched to a suspect through their relatives.
Boice, who lived in Belle Fourche at the time, had seen the victim outside her home and knew she lived alone, said Scott Roetzel, a prosecutor with the Attorney General's Office. He parked his car away from her home on April 12, 2012, walked over to the house and broke through a screen to enter a window.
The woman woke up to the sound of footsteps before seeing a man wearing a mask and dressed in black clothes standing in her doorway, he said.
"This situation is what nightmares are made of," Roetzel said.
"Get down, don't move," he said Boice told the woman.
The woman "fought for her life" after feeling a gun against her back and Boice responded by choking her twice. The woman escaped from his grip, but Boice threw her on her bed, raped her and tried to handcuff her with duct tape.
Boice eventually left through the same window he came in and the woman called 911, Roetzel said. She went to the ER where an exam found bruising on her vaginal wall and cervix, as well as bruising, cuts and scrapes on her neck, hips and hands.
Police tested DNA obtained from the crime scene at the time but found no match within DNA databases.
The police department and South Dakota Division of Criminal Investigation — led by former Special Agent Brett Garland — continued to investigate the case, Cassie Wendt, Butte County state's attorney, said after the hearing.
In May 2018, they decided to send the DNA sample to Parabon Nanolabs, a genetic genealogy company.
Parabon Nanolabs says on its website that it compares the sample to DNA samples that people upload to GEDmatch.com, a website that tells users that law enforcement uses the site to identify victims and perpetrators of violent crimes.
The company found individuals in its database who were related to the person who contributed the DNA sample, Roetzel said after the hearing. Law enforcement investigated and found the people in the database had a relative — Boice — who lived in Belle Fourche.
"We did a trash pull (from Boice's house) and that brought us some DNA and that DNA ultimately matched the original DNA" from the crime scene, he said.
"That was a day I looked forward to for seven years," Garland said. "The victim's a very strong person. She didn't give up and law enforcement didn't give up," Roetzel added.
The victim appeared in court through a video feed and gave a victim's impact statement.
Boice, who was out of jail after posting bond, hung his head throughout the hearing and was often lightly shaking or crying. 
Roetzel asked Day to sentence Boice to the maximum punishment of 50 years in state prison. 
"It took him eight years to admit to his crime" and only because he was presented with DNA evidence, Roetzel said. The victim had "been living with this for eight years and Mr. Boice has moved on ... he didn't want to be caught."
Boice admitted to the crime when interviewed by Garland, Roetzel said, but said he was high on methamphetamine, didn't have a gun and didn't remember what was going through his head at the time. He said he left after the victim's phone rang, which made him feel like he was snapping out of a nightmare, Day said. 
Even if he was high, "this was a planned attacked, a planned assault" since he brought a mask and duct tape to the scene, Roetzel said. 
He read a letter from the victim that said the rape has impacted her personality, career and relationships. She said she has anxiety, depression and post-traumatic stress disorder, and has twice had to go to the ER for mental health emergencies. The woman said she's triggered and has flashbacks when she sees duct tape, masked men or people dressed in black. 
Boice "stole the comfort of my home town" so I moved out of state, said the woman. 
Boice committed a "heinous crime" and his life has been a "nightmare that he's lived every day since," said his lawyer Nate Nelson. He's "extremely remorseful."
Nelson said meth turned his client into a "sex-crazed spun-out person," and that he had smoked and snorted the drug the morning of the rape. 
"Had it not been for meth use, this would not have happened," he said. 
Boice quit meth after the rape and has not committed any crimes since, which proves "the issue is sobriety, not sexual deviancy," Nelson argued. A psycho-sexual evaluation found he has a low risk of reoffending. 
Boice is employed but lost two previous jobs after his employers learned about the rape, Day said. His partner also broke up with him after learning about it.
"This is horrible on both sides," Nelson said. 
He said Boice is a skilled worker and father of two who's supported by his employer and others, so sending him to prison for a long time would harm the positive impact he has on his family and community while costing taxpayers and possibly making Boice regress. A long prison term won't solve the victim's pain, he said as the victim shook her head. 
Nelson asked Judge Day to give Boice a short prison sentence followed by a "unique" arrangement such as community service, weekends in jail, a large fine, or paying and participating in an anti-meth campaign. 
Boice "wants to avoid meth like the plague" and teach others about its dangers, Nelson said as the victim shook her head and looked away at the suggestion of her rapist starring in an anti-meth PSA. 
"I'm extremely sorry for what I've done" Boice said. He began to cry loudly and did not make any other comment. 
Day listed the ways Boice contributes to society and noted he has little criminal history besides the rape. 
However, what you did was "premeditated" and "something out of a horror film," he told Boice. You went to work after the rape "just like nothing had happened."
Judge Day expressed doubt about Boice's meth story. He said Boice never mentioned the drug playing a role during his initial interview with Garland, and none of the letters people wrote on his behalf mentioned him overcoming an addiction. 
The judge said he doesn't think Boice would have ever come forward on his own. 
"You caused unbelievable trauma to this young lady and her family," Day said. "I don't think she'll ever get over this."
He ordered Boice to serve 45 years in prison, not contact the victim, pay her $2,000 for her ER visits, and cover all of her future therapy costs.