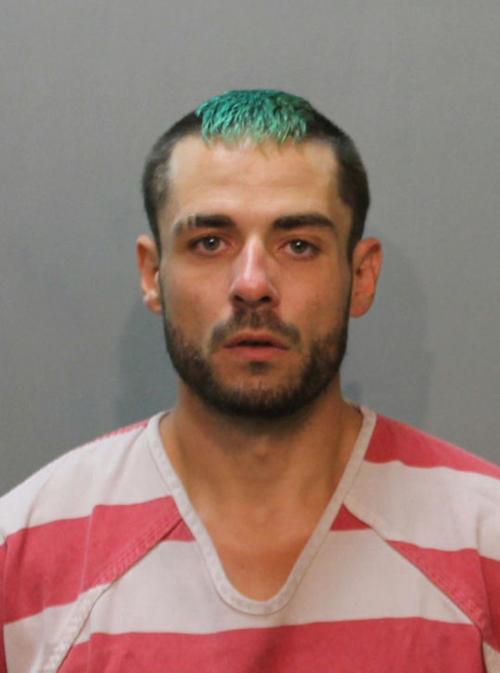 A Yankton man received a 105-year prison sentence for charges related to a three-hour 2018 Box Elder crime spree and standoff where he shot at a police officer, entered three homes, pointed a gun at a civilian, and told police he had a grenade and would shoot hostages.
Justin Littrell, 33, was sentenced Aug. 17 at the Pennington County Courthouse after pleading guilty to first-degree attempted kidnapping, aggravated assault on a law enforcement officer, two counts of first-degree burglary and committing a felony with a firearm, court records show.
Judge Heidi Linngren sentenced Littrell to 25 years in prison for the attempted kidnapping charge and 20 years each on the four other charges, according to prosecutor Stacy Wickre. She ordered Littrell to serve the sentences consecutively for a total of 105.
Littrell could have been sentenced to 125 years in prison if Linngren gave him the maximum 25-year sentence on each charge and ordered him to serve them consecutively, Wickre said. 
As part of the plea deal, prosecutors dropped Littrell's other charges including attempted first-degree murder, first-degree kidnapping, aggravated assault, making a terrorism threat, and possessing and intending to distribute heroin. Littrell could have been sentenced up to life in prison without parole if he'd been convicted of the first-degree kidnapping charge, but his defense lawyer said he essentially received the same punishment. 
"It's very much equivalent to life; he's never getting out with that sentence," said Shiloh MacNally. 
Wickre asked for consecutive sentences but did not specify how long she thought Littrell should go to prison for, MacNally said. Wickre could not immediately be reached. 
MacNally said she also didn't request a specific amount of years but asked Linngren to give her client a sentence that would give him the chance of parole so he could eventually have a life outside of prison. 
MacNally said Littrell told Linngren that he was OK with whatever sentence she thought he deserved. 
"He was essentially heartbroken for the victims. He understood the fear he put into their lives that day was an awful thing."
Many of the civilian victims gave emotional testimony about how Littrell's crime spree impacted them, MacNally said. Two ministers spoke on behalf of Littrell, saying he became a spiritual adviser to other inmates during the two years he spent in the Pennington County Jail. 
Littrell took "amazing steps to rehabilitation even while in jail" after committing his crimes while under the influence of drugs, MacNally said. "I believe he is definitely a person that will continue to be an example and a good positive influence even while in prison."
Linngren believed that Littrell had genuinely changed but cited the trauma he caused to the victims after already having chances to change his life, MacNally said. 
The Aug. 14, 2018, incident began when the Box Elder Police Department received a 911 call at 9:30 a.m. about a man with a backpack walking along a creek near the Prairie View Estates subdivision, according to the probable cause affidavit.
What happened next is outlined in the factual basis document signed by Littrell:
Officers Gene Lansdowne and Joshua Campbell responded to Freude Lane for a call about a man being disruptive. Campbell found the man, later identified as Littrell, and saw that he had a gun in his hand. The firearm was later identified as a .38 caliber Jimenez Arms semi-automatic pistol.
Littrell ran from the officer and entered a home. Lansdowne saw Littrell run toward a second home and Littrell fired at him three times. Littrell then continued to run to the second home.
A husband and wife returning to the second home heard the gunshots and went to enter the back of their home through a door in the attached garage. But before the man had the chance to open the locked door, Littrell opened the door from inside the garage and pointed a gun at him. 
The man asked Littrell to let his wife leave. Littrell agreed but told the man to come inside the garage. He then yelled to the officers through the open garage door that he had hostages.
"This was done in an attempt to facilitate defendant's escape or flight to police," the document says. Littrell "attempted to confine (the man) for a substantial period of time in order to facilitate his flight from police."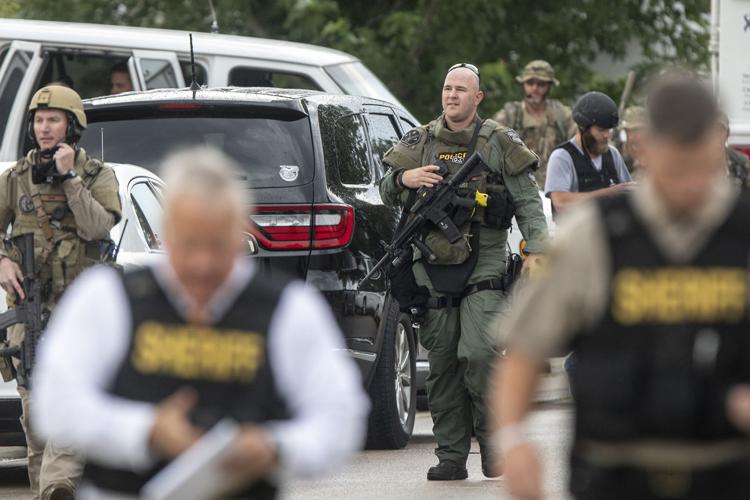 Littrell fled the garage to avoid capture and entered a third home by breaking into a basement window. A girl inside a bedroom was able to escape out of a second-story window into the arms of a deputy with the Pennington County Sheriff's Office. 
Law enforcement surrounded the third home and Littrell was unable to flee. Littrell told police he had a grenade and other weapons, and would shoot his hostages (which he didn't have) if they didn't leave.
Littrell exited the home around 12:30 p.m. after speaking with a negotiator from the Rapid City-Pennington County Special Response Team, according to the affidavit.
Editor's note: This story has been updated to correct the maximum sentence that Littrell faced. 
Sign up for our Crime & Courts newsletter
Get the latest in local public safety news with this weekly email.