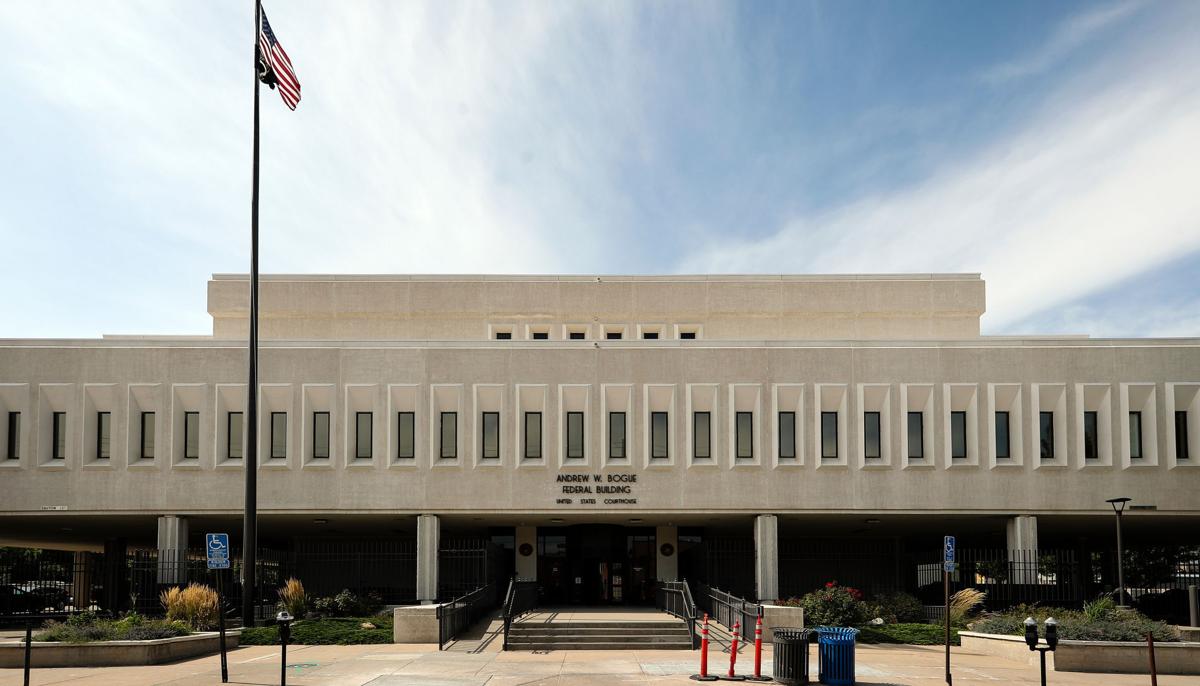 A man was sentenced to 10 years in prison last Friday for beating his brother so badly that he died of blood loss.
This was a "terrible, tragic and violent crime," Judge Jeffrey Viken said at the federal court in Rapid City.
Viken sentenced Lawrence "Larry" Pourier to 10 years in prison minus 225 days of time served after Pourier pleaded guilty to voluntary manslaughter for killing his brother Eric Pourier on Jan. 22 inside a home near Porcupine. Larry must also serve three years of supervised release after his prison term.
Larry and Eric got into a fight early in the morning on Jan. 22 and Larry cut his head when Eric pushed him to the ground, according to the factual basis document he signed. The fight ended but Larry then decided to grab a pipe-like object to attack Eric, who had gone into the basement.
He and Defense Lawyer Thomas Harmon appeared through a video feed from the Pennington County Jail, technology that is now allowed due to the coronavirus pandemic. Harmon and Prosecutor Benjamin Patterson both asked Viken to sentence Larry to 10 years in prison.
"He clearly overreacted to his brother attacking him in his sleep," Harmon said. The "anguish" recorded when law enforcement told Larry that his brother died is proof that Larry wasn't trying to kill Eric.
Harmon said he discussed going to trial and arguing self defense since Eric attacked Larry first but Larry wanted to take responsibility and not put his family through the pain of a trial.
Patterson agreed that Eric attacked Larry first but said the fight had ended and anger and alcohol made Larry attack his brother.
Eric was sitting on the floor at the corner of his bed when Larry attacked him, Patterson said. There was blood splatter all around the bed except for the obvious "void of blood" where Eric had been sitting. Patterson said Eric could walk and talk after the attack but eventually passed out and died.
Larry began to cry as Patterson described the scene. He did not speak during the hearing but wrote an 11-page letter to Viken.
Viken said the letter showed that Larry understands how his killing impacted his entire family. He said he received many other letters from Larry's friends and family who said he is a skilled mechanic, hard worker and generous person.
But Viken said he was concerned that Larry still seemed to be blaming Eric for his own death since he wrote "it is hard to understand why he did what he did" when he attacked me first. The judge said the fight was over when when Larry decided to violently attack his brother.
Viken also mentioned Larry's past assault and domestic violence convictions and said he needs to complete cognitive behavioral and alcohol treatment.
What follows is from the factual basis document signed by Larry:
Larry and Eric got in a fight early in the morning of Jan. 22 after Eric woke up Larry, who was sleeping on a couch in the living room. Eric forced Larry to the floor and Larry cut his head after hitting it against the corner of a wall.
The fight ended, Eric went to the basement and Larry stayed upstairs.
But Larry became angry so he went to the garage and obtained a "pipe-like blunt object" that was about two-feet long and had the circumference of a boom handle.
Larry then went into the basement where he hit Eric, who was kneeling at the corner of the bed, in the back and the back of his head at least twenty times, causing "significant lacerations."
Larry left Eric in the basement and walked back upstairs. Eric was able to walk a short distance to a brother's home where someone called 911.
Medical workers tried to save Eric but he died of a hemorrhage — or bleeding — caused by blunt trauma. The autopsy found he had more than 20 cuts on his head and an unknown amount on his back.
Eric, the youngest of nine children, grew up in the Porcupine area, graduated from Red Cloud High School, and earned two associate's degrees from Oglala Lakota College in Lakota and general studies. He also studied fine arts at Chadron State College in Nebraska.
Eric had "an artistic mind" and was "an accomplished, trained and educated artist" who worked in multiple mediums, the obituary says. He was also an accomplished musician who played multiple instruments and wrote and composed his own songs.
He worked at the IHS's Health Information Department for nine years.
"Eric will always be remembered for his creative mind, his gentle character, his generosity, his consideration for others, his willingness to help where he was called upon, and for the genuine compassion he exemplified throughout his life," the obituary says. "He will be greatly missed by many."
Sign up for our Crime & Courts newsletter
Get the latest in local public safety news with this weekly email.