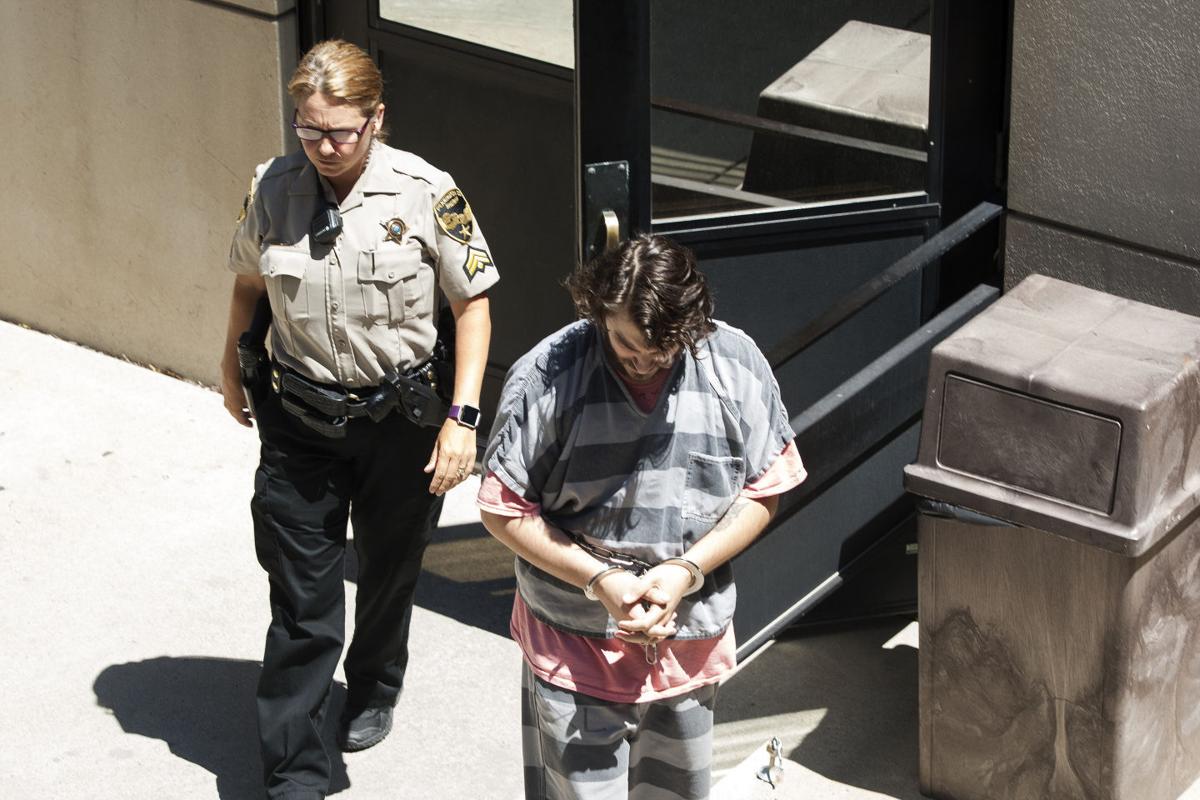 A prosecutor, defense lawyer and judge agreed Wednesday that a man who helped re-bury Jessica Rehfeld and failed to report her murder but later cooperated in the investigation should not go to prison unless he violates his probation.
Michael Frye, a 29-year-old from Rapid City, was sentenced at the Pennington County Courthouse to a suspended execution of five years in prison, meaning he will only go to prison if he breaks his five-year probation term.
Judge Robert Mandel said he's handled many murder cases over his career and it's not uncommon for the murderer to try to hide their crime and evade responsibility.
"What's so unique" and "disturbing about this case" is that Frye and Brown, people who weren't even involved in the murder, also agreed to assist and cover up the crime, he said. Their failure to report the crime made Rehfeld's disappearance even more unbearable for her family.
The judge said he questioned the purpose of a prison sentence in this case because even if he sentenced Frye to the maximum punishment, he would be eligible for parole in about seven months. Mandel also cited arguments from the prosecutor and defense lawyer who said Frye had been cooperative and helpful in securing Klinetobe's conviction. 
Frye can't own any weapons or drink alcohol during his probation, Mandel ordered. Frye also needs permission from his probation officer to leave the area and must complete moral reconation therapy.
Lara Roetzel, deputy state's attorney in Pennington County, said Frye's crime was horrible. She said he only made things worse for the Rehfeld family by deciding to "keep that secret for a year" as Jessica's father, Michael, "looked for her every day for a year." 
But once Frye was arrested, Roetzel said, he admitted his role and expressed remorse. He's been "nothing but cooperative" and "on his best behavior," she said.
That's "not something we've seen from the majority of the defendants," Roetzel said as Frye silently cried and wiped his eyes with a tissue.
Roetzel said she's not sure what sending Frye to prison would achieve since he's stayed out of trouble for 3.5 years shows he can be successful on probation as he "works to make amends" to the Rehfelds and the community.
She acknowledged that Michael Rehfeld has a "significant disagreement" with her sentencing suggestion, but he did not speak to the judge and did not want to speak with the Journal.
Defense lawyer Jamy Patterson said there are "no words to express the remorse" Frye feels but sending him to prison "would not benefit anyone."
"I am sorry," Frye said in court. "I hate myself for what I did" and think about and regret it every day.
"Mr Rehfeld, if I could have gone back in time" I would have helped your family and not do what I did, he said.
Frye told the Journal that Klinetobe threatened him and his family, but he still can't figure out what caused him help with the re-burial and fail to report the murder.
Hirth — who is accused of being the person who stabbed Rehfeld and is the only defendant whose case remains unresolved — is expected to appear in court on June 18 for the second part of his competency hearing. Doctors at the state mental health hospital say Hirth's competency has been restored while experts hired by his lawyers say he is is still incompetent.
Sign up for our Crime & Courts newsletter
Get the latest in local public safety news with this weekly email.