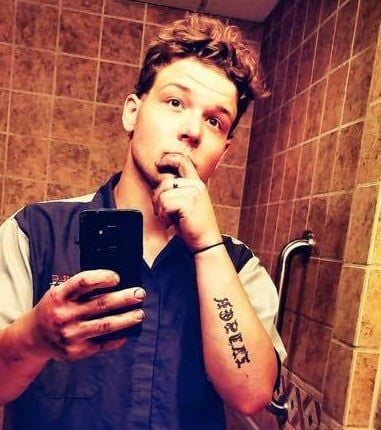 Dakota Zaiser, a 22-year-old from Rapid City, was found Sept. 22 and is suspected to have been killed by the same man accused in the double homicide, according to a news release from the Rapid City Police Department.
"It's a very unique series of homicides for Rapid City, technically this guy is involved in a triple homicide," police spokesman Brendyn Medina said of suspect Arnson Absolu.
Zaiser was last seen before the double homicide and was reported missing in the days after the killings, Medina said. He said detectives believed Zaiser was hanging out with Absolu and may have been in the area during the shooting at Thomson Park. Detectives wanted to speak with Zaiser since he may have witnessed and had information about the shooting. 
Information gathered during the investigation into Zaiser's disappearance led law enforcement to search a forested area north of Sheridan Lake, the news release said. He was found "in a manner consistent with an attempt to conceal his body."
Medina said Zaiser was covered up but not buried underground. He said he couldn't comment on how exactly police learned where Zaiser was because it would compromise the ongoing investigation.
An autopsy has been completed but further forensic testing is needed to determine the cause of death, the news release says.
Medina said he can't comment on how Zaiser died due to the investigation. But he said police are confident Absolu killed him after learning about their relationship and events that happened before and after the double homicide.
Based on decomposition, police believe Zaiser was killed hours or days after the double homicide, Medina added.
All three killings may be related to drugs, police have said. Medina said he couldn't comment on what specific evidence leads police to believe that.
Zaiser's homicide and the Tuesday death of a 16-year-old girl killed by a suspected drunken driver means there have now been 12 criminal homicides in 2020, according to police. Nine of them have occurred in August and September, and at least one other death is being investigated as a possible homicide.
This year is the highest number of Rapid City homicides since 2012, beating out the nine recorded in 2015, according to data from the police department. This year's spike is not part of an upward trend in killings, which have fluctuated between two and 10 between 2012 and 2020.
Anyone who has information about Zaiser's whereabouts on Aug. 24th or his interactions with Absolu immediately following the double homicide should contact police at 605-394-4134. An anonymous tip can also be sent by by texting the letters RCPD and the information to 847411.
Sign up for our Crime & Courts newsletter
Get the latest in local public safety news with this weekly email.