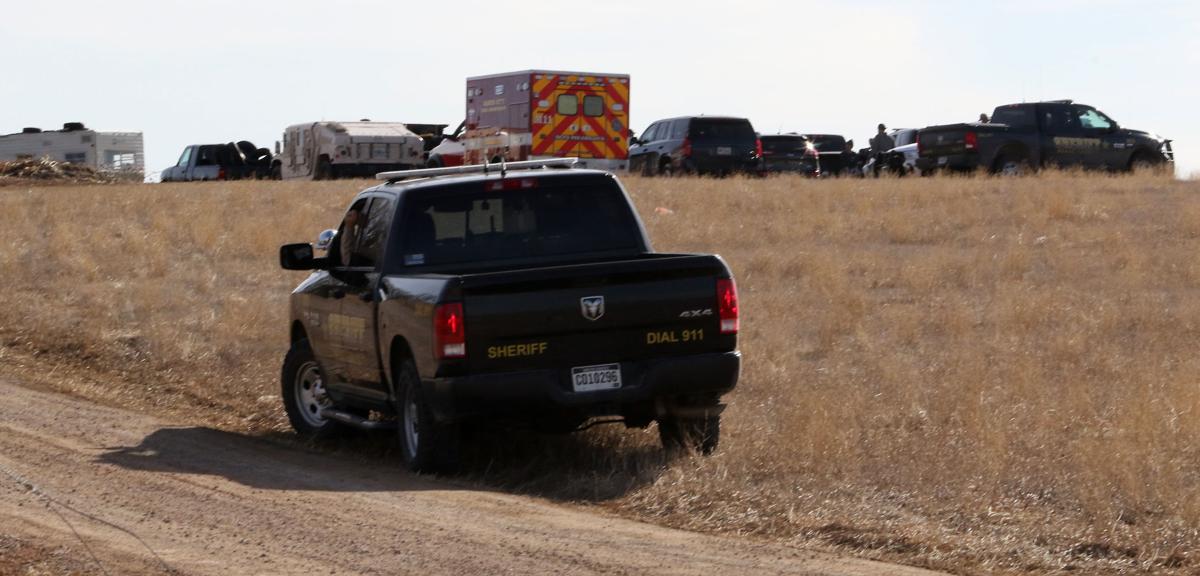 Eighteen firearms, methamphetamine and marijuana were found at the house after Michael Blood and Carmen Mann surrendered after speaking with ATF crisis negotiators, Special Agent Riley Cook testified Monday. He said the pair has a history of criminal convictions and fleeing from and obstructing police. 
The standoff occurred last Thursday morning at Blood's home on Elk Vale Road, a dirt road that's a few miles west of Ellsworth Air Force Base. Law enforcement at the scene included the ATF, Meade County Sheriff's Office and the Rapid City-Pennington County Special Response Team. 
Blood, 57, is charged with being a prohibited person in possession of a firearm for allegedly possessing guns while being a drug user, according to his complaint. He's accused of owning two shotguns and two semi-automatic pistols from March 2019 through February 2021.
Blood is also charged with receiving a firearm while under indictment for obtaining one of his pistols between August 2019 and February 2021 while under indictment in Pennington County Court for drug possession and ingestion. His third charge is possessing a stolen firearm.
Mann, Blood's wife, is charged with being a prohibited person in possession of a firearm for being found with a revolver on Thursday after being convicted of a felony.
The pair pleaded not guilty on Friday. 
Mann, 62, had a detention hearing at the federal court in Rapid City on Monday. She and her lawyer, Connor Duffy, appeared via a video feed from the jail. Magistrate Judge Daneta Wollmann appeared through a feed from her office, while Cook and prosecutor Benjamin Patterson were in court. 
The ATF helped a fugitive task force arrest Blood at his house in September 2019 for a state felony arrest warrant, Cook testified. Mann later arrived and began yelling at law enforcement. 
A Highway Patrol trooper tried to conduct a traffic stop on Blood on Feb. 16, 2021, but Blood fled, Cook said. The trooper pursued Blood all the way back to his home where Mann placed herself between Blood and the trooper's vehicle, allowing Blood to run into the house. Mann told the trooper to stay off their property.
While at the property, the trooper observed a firearm — later determined to be stolen — sitting on the console of Blood's vehicle, Cook said. Law enforcement has previously seized firearms from his car. 
The ATF then planned to serve the arrest and search warrants against Blood on Thursday, Cook testified. Agents saw Mann lock the front door as they arrived in marked and unmarked vehicles. 
Cook said the agents tried to enter through the front door and a kitchen window where they saw Blood "brandishing a firearm" and Mann sitting "within arm's reach" of a gun at the kitchen table. The agents backed off and had the couple speak with ATF crisis negotiators on the phone and stationed outside the house. 
The couple agreed to come out after nearly three hours, Cook said. Blood came out first followed by Mann, who was still hesitant to surrender. 
Agents then searched the house where they found 18 firearms in various locations, including in closets, under a bed and leaning against the outside of the house, Cook testified. They also found meth and marijuana. 
Patterson asked that Mann be detained pre-trial, saying she was a flight risk and danger to the community. Duffy noted that Mann was never seen holding a gun, just sitting in front of one in a house where Blood kept weapons in various locations. He said Mann was afraid of law enforcement during the standoff and asked that she be released pre-trial on condition that she stays away from Blood and lives at her home in Rapid City. 
Wollmann ordered that Mann be detained pre-trial, saying she's exhibited "escalating" behavior that's "adverse and hostile" to law enforcement, which makes her afraid to send a pre-trial officer to monitor Mann. She noted that Mann has a 2012 conviction for the same crime she's charged with now and a "consistent pattern" of not attending court dates to the point that prosecutors once charged her with failing to appear. 
"I was scared for my life, for my husband," Mann said through tears before Duffy turned off her microphone. 
These charges are Blood and Mann's first federal charges in South Dakota, court records show. However they both have a history of state charges and convictions.
Blood is being temporarily detained at the Pennington County Jail before his detention hearing on March 19.