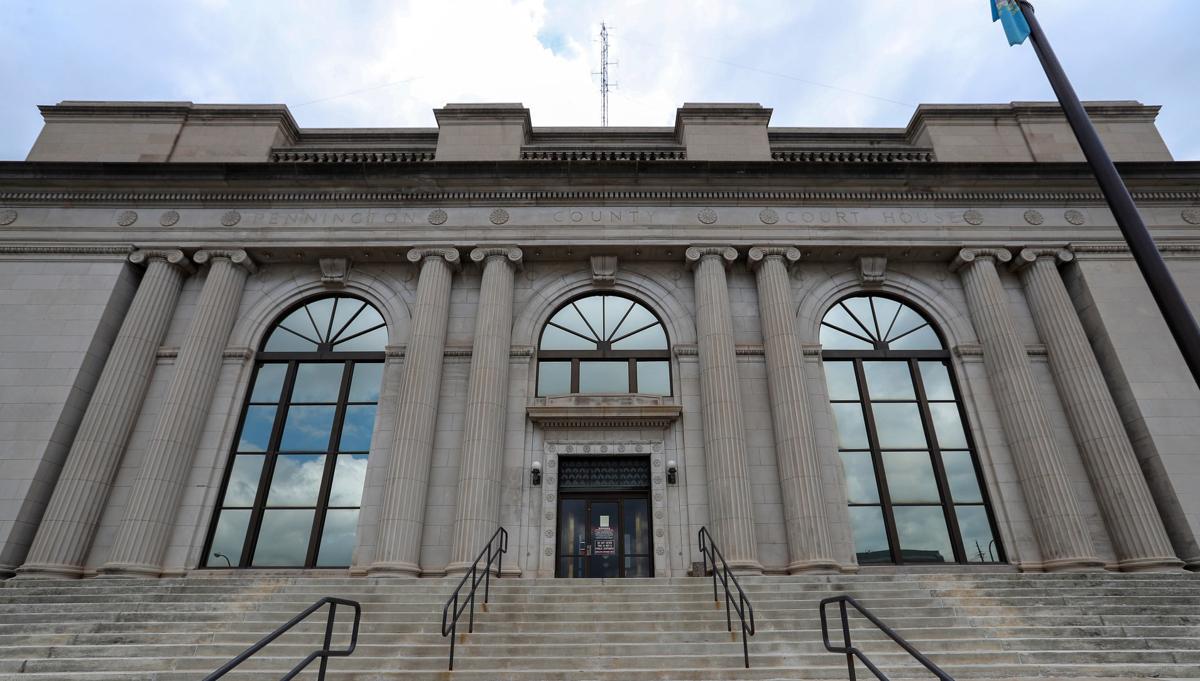 Most people accused of making terrorist threats in Pennington County have been charged with targeting law enforcement or health-care facilities over their social media accounts. 
Although the terrorist threat law has been on the books since 2005, no one was charged with it until June 2018 in Pennington County. Since then, three others have been charged with the crime. 
Pennington County State's Attorney Mark Vargo said he's not sure what's behind the sudden trend. But he said it could be about prosecutors getting used to what kind of cases are appropriate after a new law is passed and changing norms when it comes to social media.
"There's a whole psychological and sociological discussion that we could probably have about the nature of the internet and its effect on civility and people feeling free to say things when they're more or less anonymous that they would never say in person," Vargo said. 
The latest terrorist threat case is against Robin Capsel, a man accused of writing an Oct. 2 Facebook post where he threatened to shoot staff at Regional Health Hospital.
In the first Pennington County case, a woman was found not guilty by reason of insanity after she made Instagram videos threatening to bomb Regional Health's mental health hospital and encouraging people to buy guns to shoot police officers. 
Another social media case is against a man accused of threatening the police department and sheriff's office through Facebook messages. The man is disabled and working with the State's Attorney Office to be accepted into mental health court, his defense lawyer said Thursday in court. 
The one case that doesn't involve social media is against a man who engaged in a three-hour armed standoff with law enforcement during an August 2018 incident in Box Elder. He's facing 22 felony counts, including attempted first-degree murder, and his terrorism threat charge relates to him allegedly telling dispatch he had hostages and a grenade. He also allegedly conducted a countdown as if he was threatening to shoot someone. A judge recently ordered him to undergo a psychiatric evaluation to determine if he was mentally ill at the time of the standoff. 
The terrorist threat law is one of two South Dakota laws outlawing terrorism-related crimes, said Neil Fulton, dean of the University of South Dakota School of Law. 
The terrorist act law was requested by Gov. Bill Janklow "directly in response to 9/11" and approved by the Legislature in 2002, said Fulton, who helped write the statute. The terrorist attack on Sept. 11, 2001, also led South Dakota to create its Office of Homeland Security in 2003.
"There was definitely a state-level response following 9/11" across the country, Fulton said. He said most state leaders were probably concerned with attacks from Al Qaeda and other Islamic militants at the time, but he noted that various ideologies, such as white supremacy, can inspire terrorism. 
The state's terrorist act law defines terrorism as committing a crime of violence (homicide, rape, arson, etc.); using chemical, biological or radioactive material; or any explosive or destructive device in order to intimidate or coerce civilians; influence government policy; impact government conduct by assassination or kidnapping; or seriously impair public communications, transportation, utilities or other public services. People convicted of the crime can be punished by up to life in prison without the chance of parole. 
Only one person in South Dakota has been charged with terrorism — in 2008 in Minnehaha County — but it was dismissed by prosecutors, according to data from the state's Unified Judicial System (UJS). 
Before the state's terrorism law was passed, Fulton said, people could have been charged with the federal terrorism law if the incident involved multiple states or occurred on federal jurisdiction (Native American reservations, Ellsworth Air Force Base, for example), or with various South Dakota crimes of violence. The new law is "about the intent" by making it a specific crime to be violent in order to terrorize the public or government, he said. 
It's when "you're trying to disrupt normal operations and intimidate the government," rather than just commit an act of interpersonal violence, Fulton said. 
The terrorist threat law, meanwhile, bans people from threatening to commit an act of terrorism and can be punished by up to five years in prison. It was created in 2005 when the Legislature revised the entire criminal code, Fulton said. 
There have been 69 terrorist threat cases in the state, but 42 were dismissed, UJS data shows. 
Fulton said a threat is criminal when it's a "true threat," a definition that is determined by examining statements in context.  
A true threat is not protected by the First Amendment because it's meant "to frighten or intimidate one or more specified persons into believing that they will be seriously harmed by the speaker or by someone acting at the speaker's behest," according to The First Amendment Encyclopedia published by Middle Tennessee State University.  
"The nature of the terroristic threat is not just the question of their intention to follow through, but their intention to place somebody in fear," Vargo said when asked if he's concerned the law is catching people who are mentally ill and need treatment or those who have no intention or ability to carry through with their threat. 
He compared the terrorist threat law to laws that say people can be charged with aggravated assault for pointing a gun at someone but never firing the weapon or using it to hit someone. 
"If I point a firearm at you and I know that it's not loaded but you don't, the harm, the trauma that you undergo is no different than if that gun was loaded and I did intent to shoot you," Vargo said. "Because you don't know at that moment and that's exactly what this terroristic threat is designed to eliminate."
Vargo said once someone is charged, it's up to the court to decide if the person should be convicted or needs mental health treatment.
It's about finding a resolution "given what you did and what we can do to ensure that it never happens again," he said. 
Capsel, 57, was arrested after he wrote an Oct. 2 Facebook post that said "Got my shhh piece today. The quiet maker" and had a photo of something that looked like a pistol silencer or suppressor, according to police reports. He wrote that the weapon could handle 90 rounds before it melts, that he only needs two minutes, and that he "walked it off" three times and knows it's 18 steps between the elevator and "N Station." Police wrote that he was referring to a nurses station at the hospital.  
A month earlier, the reports say, Capsel posted a Journal article about a man convicted of soliciting the murder of his late wife's doctor and wrote, "He may be her hero ... maybe it's worth getting someone who hurt your girl."
Capsel allegedly told police he was mad at the hospital for how they treated his girlfriend who died at the hospital. He said he understands why people may think he was making a serious threat, but said that he was venting and didn't really plan on hurting anyone. He also said the photo of the silencer or suppressor was actually a socket wrench extension he borrowed from a co-worker. 
Officers found Capsel's co-worker who gave them the socket and confirmed that Capsel had asked to photograph it, the reports say. Law enforcement found no guns, ammunition or suppression in Capsel's apartment. 
Two officers then went to the hospital where they measured the amount of steps needed to walk from the elevator to the nurses station. On one floor it took 18 steps while on the other it took 19. 
"It appears (Capsel) had carefully planned this out and his mention of 18 steps was not just a number chosen at random," an officer wrote.