One young Rapid City man planned an armed robbery and provided the handgun while the other pulled the trigger, but both are equally responsible for killing a Box Elder teenager, a judge said Wednesday.
"One set up the deal and brought the gun and the other one wielded it," said Mark Vargo, Pennington County state's attorney. However they "acted in concert and are very much joined and similarly involved in the crime."
Martinez and Waters, who are 21 but were 19 at the time of the shooting, were sentenced at the Pennington County Courthouse after pleading guilty to first-degree manslaughter, a crime punishable by up to life in prison without the chance of parole.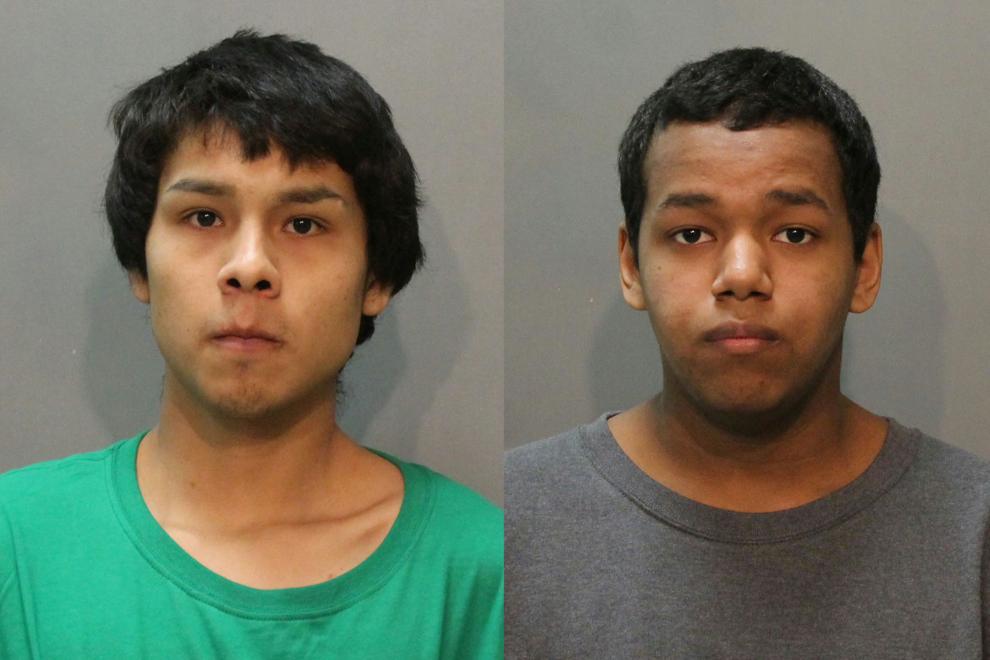 Martinez brought a handgun with him when he went to Waters' house on Feb. 26, 2019, according to testimony. Martinez told Waters someone was coming over to sell him marijuana and asked Waters for help robbing the weed. Waters agreed and Martinez handed him a gun.
The seller pulled into Waters' alley with Hinton and two others in his car. Waters said he pointed the gun inside the car but accidentally pulled the trigger when the vehicle started to drive away and his hand got caught in the window. The bullet struck Hinton in the head.
Judge Robert Gusinsky said he and prosecutors believe Waters because the three surviving witnesses all told police they thought it was an accident. In South Dakota, people can be convicted of the main crime if they aid and abet it, like Martinez who provided but did not shoot the gun.
The pair was originally charged with aiding and abetting first-degree murder, committing a felony with a gun, conspiracy to commit first-degree robbery, and aiding and abetting an attempted first-degree robbery.
About 20 of Hinton's relatives and friends attended the hearing, and 12 shared victim-impact statements.
Hinton was close to his family and enjoyed the outdoors, road trips, cooking and listening to music, his loved ones said. He wrestled, played baseball and pool. He planned to join the National Guard and become a music producer.
Hinton helped others even in death since he was an organ donor, said his grandfather, Charles.
Losing someone like this leaves a "hole in your life and soul," Charles said.
You "took away the best thing in my life," said Oley Hansen, Hinton's other grandfather.
"I lost my best friend," said his cousin Maya.
The family said they opposed the plea deal and want Martinez and Waters to go to trial so they could face a longer sentence. However, many loved ones said they also feel sorry for the defendants and their families, recognized how young the "boys" were, and hoped they get help and change.
A family friend said he spent 25 years in prison and that Martinez and Waters had two choices — make bad decisions in prison and continue a life of recidivism, or help themselves so they can give back to society once they're released.
Jamie Hansen, Hinton's mother, said that she hopes Martinez and Waters receive therapy in prison and that they help someone in the future instead of harming them. 
I want them to "change somebody's life, change their own lives," Hansen said while wearing a silver necklace spelling out Emmanuel's name. 
Hinton's loved ones silently cried as Gusinsky read a letter Hansen wrote about her son's life and the painstaking details of his death. Hansen wrote about the frustration of not being able to immediately see her son at the hospital since he was considered a "crime scene."
When she was finally allowed to see him she saw a pool of blood on the floor, but Hinton was still alive and able to squeeze her hand. After he was revived through CPR, the doctors asked Hansen what she wants to do if he codes again. She said she looked at Hinton and told him it's OK if he needs to go.
He squeezed my hand one more time before "he passed away right before my eyes," Hansen wrote. "A piece of me left with him that night," she wrote, adding that she and her children are now struggling with anxiety, fear and PTSD. 
Gusinsky's sentence was more than the 50 years Vargo requested for Waters. Vargo said the defendants' age should be taken into consideration and asked for a longer sentence for Martinez, who he said was more culpable and had taken less responsibility. 
"That trigger — it was only there but for Andre Martinez," Vargo said. Martinez was taken in by the SWAT Team while Waters turned himself in the next morning and agreed to be a witness. 
Defense lawyers each tried to argue that their client was less culpable than the other. 
Waters testified against Martinez and was cross-examined by Randy Connelly, Martinez's defense lawyer. 
Waters admitted he at first blamed the shooting on Martinez so Connelly questioned why we could trust his story now. He admitted to pulling out the gun because he was upset the seller wasn't handing over the marijuana but said he didn't mean to shoot the gun. 
Connelly said his client has been remorseful since day one, so much so that Martinez at first thought he deserved the death penalty. Martinez has also had perfect behavior in jail, Connelly said.
John Murphy, Waters' lawyer, said survivors told police that Martinez was smirking during the robbery. 
It's clear Waters "was recruited" and Martinez was "having my client do his dirty work," he said.
Waters has severe mental health and cognitive challenges that make him easily manipulated, Murphy added. 
Murphy admitted that Waters lied at first, but said he gave a full confession hours later and apologized for not telling the truth. He said it's normal for defendants to lie at first, especially when they are young, afraid, tired and have a cognitive impairment like Waters. 
There were about 20 people in the courthouse to support Martinez and Waters. 
Keith Martinez said he, Martinez and their six other siblings grew up very poor; his mother and stepfather struggled with substance abuse; and the family moved across the country living in motels, trailer homes or with family. He said the worst living space was a one-bedroom trailer near Kyle that had a gas stove and no running water.
Molbay Martinez explained how his grandson was bullied for his mixed Lakota, Black, Mexican and white heritage. He said Martinez tended to be a follower but also stood up to defend his mother from people who wanted to hurt her. 
Despite these challenges, Martinez "always had a smile on his face" and enjoyed fishing, playing video games and caring for his pet rabbit, Keith said. He said his brother had a learning disability but was attending high school classes while working the night shift at Taco Bell to support himself. Martinez earned his high school diploma in jail and had plans to go to college. 
Keith said his brother didn't use drugs and had never robbed anyone before. He said he thinks his brother planned the robbery because he needed money to pay his bills. Keith said he has no idea where his brother got the gun, which Vargo said remains missing after Waters returned it to Martinez. 
Martinez cried as he told the Hinton family that he will never be able to truly understand their loss and he feels he should be punished by spending the rest of his life in prison. 
Carrie Middletent said Waters is her nephew but "he's practically my son."
I want you to know "he's not a monster," she told Gusinsky. 
Middletent said Waters made terrible choices that night but he was a helpful relative who worked hard to support his family and two young children. 
"I'm really sorry for what I did and know I took something that can't be replaced," Waters said through tears. He said he's spent every day in jail praying for his and Hinton's family, and is prepared for a long prison term.