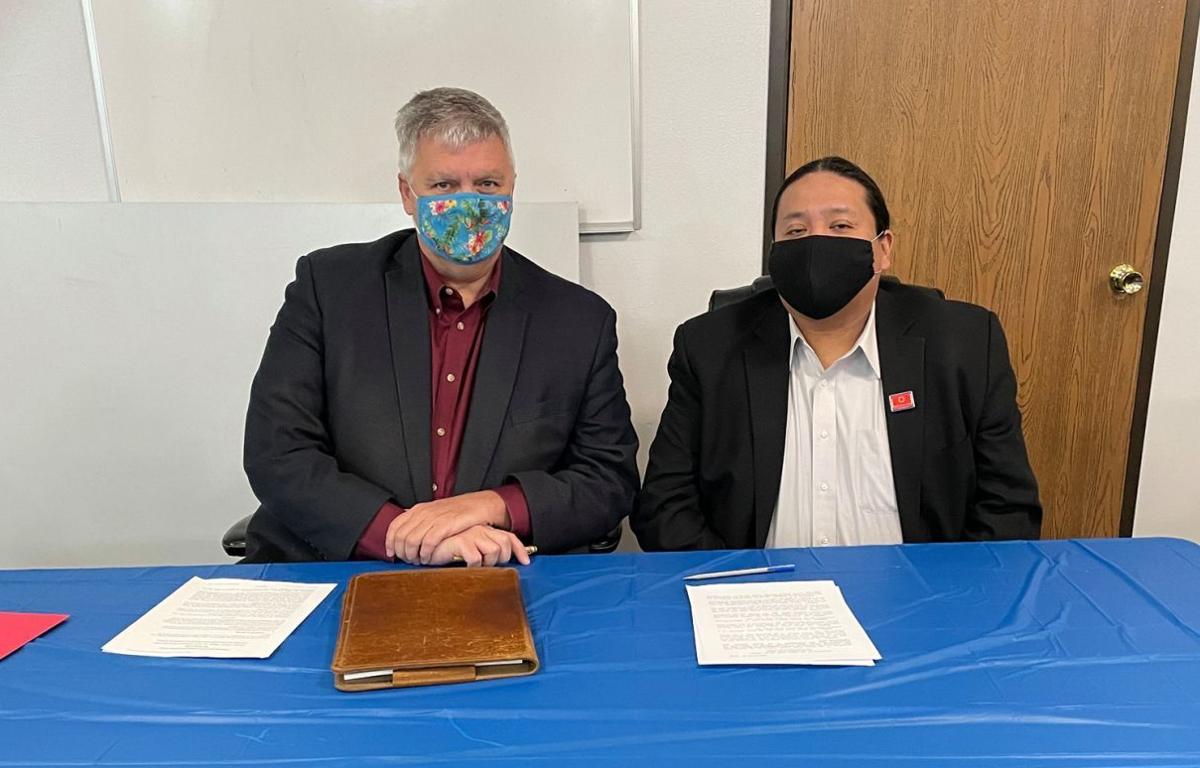 The Pennington County State's Attorney Office and Oglala Sioux Tribe have come together to provide more treatment options for pregnant Indigenous defendants and make sure they know about county diversion programs. 
"It's a good way to remedy one of the problems of overincarceration and making sure that our communities are at the table when these discussions are begun," said Kevin Killer, president of the Oglala Sioux Tribe. "This is building trust and doing things in a good way."
"This is an expansion of our diversion opportunities so in that since it's not new and groundbreaking, but it's the cooperation between Pennington County and the Oglala Sioux Tribe that I think is extremely important about this," said State's Attorney Mark Vargo. "I think that it helps us get the word out to people who might be involved in the system, that these opportunities exist."
Vargo and Killer met in Rapid City on Tuesday to sign an agreement between the tribe/Native Women's Health Care and the state's attorney office. 
The agreement means that the state's attorney office will be able to connect more defendants with Indigenous-led healthcare while the tribe will be able to let them know that there are programs that combine treatment with avoiding a conviction and/or prison time, Vargo said. 
Native Women's Health Care is affiliated with the Oglala Sioux Tribe and based in Rapid City. It serves Native American women who are Medicaid eligible and are of childbearing age or pregnant and struggling with substance abuse. 
The agreement says the state's attorney office will refer pregnant Native American defendants to the health center and that the health center will serve as a team member when their clients are accepted into diversion or the drug and DUI courts. 
The drug and DUI courts provide treatment and accountability for defendants with a history of drug use and DUIs and allows participants to avoid prison time if they complete the program.
The diversion and drug diversion programs also provide treatment and accountability but are geared toward people without significant criminal histories. Participants' charges are dropped if they complete the program and their arrest, case file and charges will be expunged and sealed if they're not arrested for another year. 
Both programs are aimed at addressing the root cause of people's behavior and avoiding recidivism. 
The agreement also notes that Native Americans are disproportionately represented in the Pennington County courts and jail. Native Americans comprise 58% of the jail and court population even though they represent about 10% of the county population, according to the agreement and most recent Census estimate.
Killer said it's important for the tribe and county to work together since there are many tribal citizens who live in the county, which is within the boundaries of the 1868 Ft. Laramie Treaty. He and Vargo both noted that the state's attorney office has already referred people to Native Women's Health Care but this agreement formalizes a partnership and strengthens communication. 
Killer said that he hopes the agreement will mean that eligible women are connected as quickly as possible to a diversion program, drug court and/or the health center, and receive treatment in a culturally competent way. 
"This is a doctor saying to you: 'You need to do these things and they're going to be hard,'" not a police officer, prosecutor or judge saying so, Vargo said. "People can have greater faith that they really only care about you getting well."
A lot of people struggling with substance abuse want to quit but are hopeless, Vargo added. 
This agreement will help people "see a way out, to know that I can both deal with my criminal case and with my addiction, and that there are these people out there whose job it is to help me," he said.