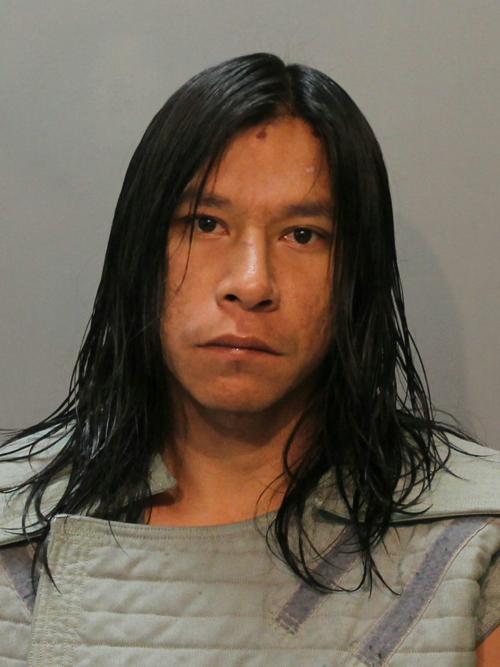 A prosecutor, judge and police reports from 15 Rapid City officers described a violent and fatal beating at a Rapid City apartment building on Saturday evening.
Lawrence Mexican is accused of leaving Harry "Packy" Black Bear in a "pool of blood, covered in blood" with "blood splatter on the wall," Magistrate Judge Scott Bogue said during Mexican's preliminary appearance on Monday.
Black Bear was found dead around 10 p.m. at the Palms Apartment at 710 Meade Street across from Safeway and just off Mount Rushmore Road.
Mexican, who appeared at the Pennington County Court from a video feed at the jail, is charged with second-degree murder in the beating death of Black Bear, a 48-year-old from Rapid City.
The 29-year-old defendant, also from Rapid City, appeared sad but calm as he learned about his charge, rights and punishment if convicted — mandatory life in prison without parole.
A prosecutor said Mexican went to the apartment Black Bear was at, knocked him to the ground by punching him in the face, and continued hitting Black Bear each time he tried to get up. Mexican then "stomped" Black Bear in the head several times.
She said Mexican has previous convictions for violent assaults and asked Bogue to set his bail at $1 million cash-only because he's a "danger to the community."
A defense lawyer asked for a $100,000 cash or surety bond, saying the $1 million cash-only bond is "essentially no bond" given Mexican's financial status. The lawyer also cited Mexican's young age, his daughter and the fact that the had a relative to live with. But Bogue agreed to the $1 million cash-only bond.
Black Bear's and Mexican's families did not attend the court hearing. The prosecutor said she could not comment on the motive for the killing or how the suspect and victim knew each other.
Mexican is not yet scheduled for a second court date.
What follows is alleged in 15 reports from police officers and detectives.
Police learned about the assault after a convenience store clerk called 911 to report that a man and woman told him that their cousin was beat up. The clerk told dispatch that the woman identified the suspect as a man named Lawrence.
A responding police officer found a man outside the Palms Apartment who said someone was attacked inside his room. The officer found Black Bear lying on his back surrounded with blood like Bogue described.
The officer couldn't find a pulse so he called 911 and began CPR but medics pronounced Black Bear dead soon after they arrived. Another officer described finding a black metal pole covered with blood on a counter inside the apartment.
The man found outside his apartment told an officer that four men attacked Back Bear because he owed them money. He said he tried to break up the fight but couldn't so he ran outside to ask his neighbors to call 911. A woman sitting next to the man also told two officers that four men entered the room to assault Black Bear.
But a woman found inside the apartment only mentioned Mexican — not four people — attacking Black Bear, her cousin.
Officers found Mexican around 3 a.m. on Sunday in the overflow parking lot south of the Civic Center. One officer said he saw blood on Mexican's shoes while another wrote that there was blood on his shoes, socks and cigarette package. The second officer said Mexican's preliminary breath test found that he was intoxicated over the legal limit.
Mexican exercised his right to remain silent and did not speak with police. But a judge signed a search warrant letting detectives collect evidence from his body, clothing and belongings. Detectives finished processing the crime scene by 4:20 a.m. on Sunday.
The two cousins who reported the assault at the convenience store were found around 9:30 a.m. on Sunday. The male cousin first said "they did this to my cousin," making it seem like multiple people attacked Black Bear, an officer wrote. But he later said "he did this to my cousin," making it seem like there was only one suspect.
The cousins were later brought to separate interview rooms and shown a lineup that included Mexican. The police reports do not say if the cousins identified Mexican as the suspect.
Brendyn Medina, spokesman for the police department, said detectives are confident that Mexican was the "sole individual responsible" for Black Bear's death based on evidence at the crime scene and the formal interviews with the witnesses, which aren't described in police reports. ​
Sign up for our Crime & Courts newsletter
Get the latest in local public safety news with this weekly email.