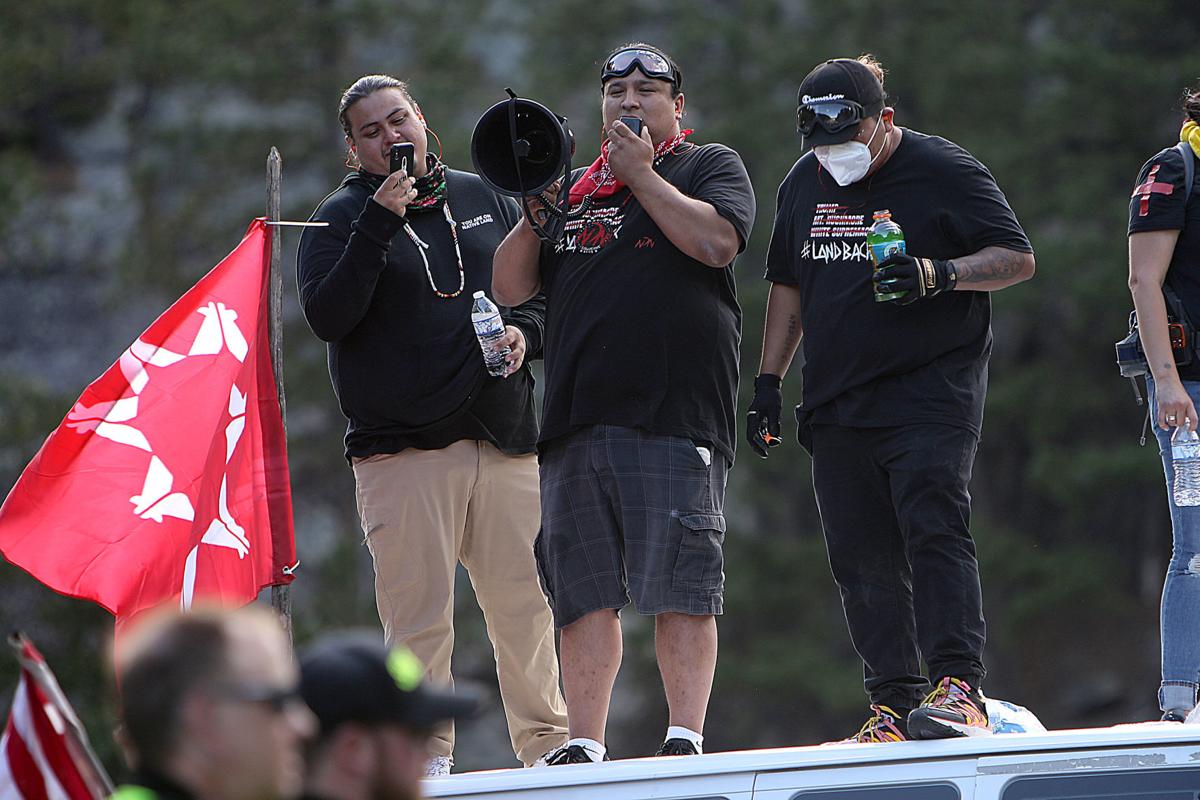 A leader of Friday's Mount Rushmore protest stole a shield from an Air National Guardsman while some protesters used violence against law enforcement, according to police reports. Documents also outline how deputies used pepper spray and pepper balls against the protesters.
"I witnessed an airwoman get her body shield ripped from her hands while trying to push against the crowd," Pennington County Deputy Brandon Akley wrote in a police report. "After this protester robbed (the guardsman) of her shield, he took up a defensive positions with the rest of the protesters in front of us."
Akley described the suspect as a Native American man with black clothing and a red bandana, and said he was later identified as Nick Tilsen.
"We will use the same tools against you that you use against us," Akley said Tilsen told guardsmen and deputies who asked him to return the shield. 
More than 30 pages of police reports are attached to the case file of Tilsen, who's charged with second-degree robbery for allegedly stealing the $225 shield and simple assault for allegedly assaulting the guardsman. The documents describe the protest and have information about eight of the protesters who were arrested.
Tilsen — a citizen of the Oglala Sioux Tribe and president of the Rapid City-based NDN Collective — and 20 other protesters face misdemeanor charges for blocking Highway 244 near Mount Rushmore where President Donald Trump spoke at an Independence Day fireworks celebration. One counter-protester is charged with disorderly conduct.
About 150 demonstrators used vans and their bodies to block a checkpoint — preventing ticket holders from reaching the event through that route — in order to protest the president and monument while calling for the Black Hills to be returned to the Lakota people. Tilsen was one of about 15 people who remained in the street knowing they would be arrested after a 30-minute warning to vacate.
Tilsen, who was released on bond Monday, declined to comment on the charges against him.
The protest began Friday afternoon with about 150 protesters on the side of Highway 244 near the checkpoint at Iron Mountain Road. 
The protesters entered and blocked all four lanes of traffic around 4 p.m. before parking three vans across the road at 4:20 p.m., flattening and taking off some tires to make it more difficult to remove the vehicles, Akley wrote. Protesters stood on top of and around the vans, some holding signs, sticks and cardboard makeshift shields.
Akley said he and about nine other deputies formed a line to separate the protesters from people who were counter-protesting or watching the demonstration. He said protesters cheered as one yelled "today is a good day to die." He said another pointed a deer antler at the deputies in a "violent manner."
"Today is a good day to die" is a phrase that some attribute to Crazy Horse. 
Military Police with the Air National Guard responded to the scene around 5 p.m., Akley wrote. The reports do not say who requested the Guard and why it was requested at this time. Spokespeople from the sheriff's office and the governor's office did not immediately respond to questions about this.
About 30 guardsmen with shields formed a line with about 20 deputies walking behind them, Akley wrote. A loudspeaker was used to tell the protesters to leave the unlawful assembly but they stayed put.
Law enforcement began walking towards the protesters and this is when Tilsen stole the shield while others used their hands, makeshift shields, large sticks and bats to push back against, stab, or poke the riot shields, Akley wrote.
Deputies made the Journal and other reporters stand far away from the demonstrators during this first clash. The Journal could see the guardsmen walking towards the protesters with shields and some protesters pushing back with their hands, signs or the objects listed by Akley. The Journal was too far away to see how exactly the few protesters with those objects were using them and did not see the shield being taken. Two protesters were arrested at this time but the Journal could not see exactly what they were doing.
Deputy Dustin Meyer wrote in his report that Akley told him about the man who stole the shield so he took photos of Tilsen. He said he also took photos of Tilsen holding the shield at 5:17 p.m. Meyer said the shield was not spray painted at the time but later had the "POLICE" label crossed out and "land back" written on it.
The shield is a Paulson Model BS-9P worth about $225, Meyer wrote. Meyer said he spoke with the guardsman — identified in Tilsen's charging documents as Maria Gonzalez — who described the suspect in the same way Akley did. He said Gonzalez said Tilsen hit and grabbed her shield, and she was scared because she thought she might be pulled into the crowd of protesters. She said Tilsen used the shield for 45 minutes before a guardsman and deputy were able to pin him against a vehicle and take the shield. 
Meyer said the protest continued to about 7 p.m. until just a small group, including Tilsen, remained. He said he arrested Tilsen, who said he didn't want to speak after being read his Miranda rights.
Deputy Jennifer Dingmann wrote that Tilsen asked about his robbery charge as she drove him to jail. She said she explained it was because he stole the shield and Tilsen, who was upset, said he was assaulted by the shield and he will work out the issue in court.
The documents include six arrest reports for people who were peacefully arrested at the end of the demonstration.
There's also a report for the second protester the Journal saw being arrested during the first confrontation. Deputy Alix Whittle wrote that Malik Osborne was removed from the crowed (she does not say who removed him) and does not accuse him of any violence. He was charged with disorderly conduct for engaging in an unlawful assembly.
Whittle wrote in a supporting report that protesters "continued to threaten, slander and taunt" law enforcement for hours, she heard a man yell "it's a good day to die," and saw another man steal a shield and use it as a weapon to hit the guardsmen's shields.
Another deputy wrote that he accidentally cut himself on the finger and a protester on her wrist while using scissors to take off her plastic handcuffs. He gave the woman first aid before an ambulance came to clean her two half-inch-long cuts.
Deputy Brian Burgner wrote that he was assigned to a mobile response team as a pepper ball gun operator. He said his team formed a line across the road and some protesters — including some with deer antlers, sticks, spray paint and the makeshift shields — began to approach them.
He said the group was given multiple warnings to disperse and his team leader eventually told him to fire the pepper ball gun near the front of the protesters' feet. Burgner said he fired six to eight rounds and protesters stopped advancing. He said he fired the same amount of rounds once protesters began approaching again. He said all of his rounds hit the ground, not people or property.
The Journal witnessed Burgner fire the pepper balls toward the ground. The weapon created gray, smelly smoke but did not appear to hit anyone.
During an effort to push protesters away from the vans, some protesters were "actively and violently pushing back" against the shields and law enforcement, Akley and Meyer wrote in their reports. Akley said he pepper sprayed two adult men in the face while Meyer said he sprayed three or four adult men in the face as they ignored commands to move back.
The Journal saw that more than 10 people — including women and at least one journalist — were impacted by the pepper spray. 
"I was pushed up against the vans and as I was trying to get around the van" I was sprayed "straight in my eye," Angela Ohmer said at the time.
Nataanii Means — who was later arrested — and a friend who didn't provide a name said guardsmen tried to take back the shield — which they said a guardsman pushed over to the demonstrators — from the protesters while some deputies removed protesters' gas or face masks before spraying at them.
Means said he was sprayed "point blank" in his face and neck as he was pushed between the vans.
The spray "was deployed to actively resistant demonstrators in order to get them to comply with loud verbal commands," according to a "response to resistance report" for Akley and Meyer. ​
Concerned about COVID-19?
Sign up now to get the most recent coronavirus headlines and other important local and national news sent to your email inbox daily.