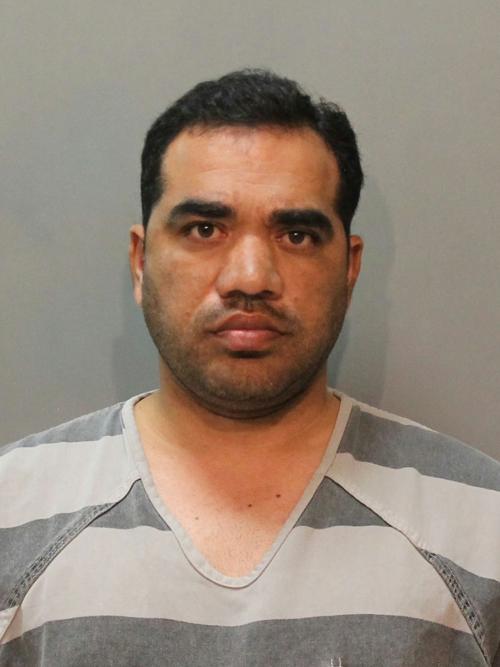 A judge overruled the requests of the defense lawyer and prosecutor when he sentenced a priest to six years in prison Friday for sexually abusing a 13-year-old girl inside a Rapid City church last fall. 
What the lawyers asked for is "not adequate" for John Praveen's crime, Judge Robert Mandel said at the Rapid City state court. 
Mandel said his job was to judge Praveen, not the Catholic Church, but he must take into account that the crime was worsened by the fact that Praveen abused his authority as a priest. 
He sentenced Praveen to six years in prison, minus 178 days of time served, and said Praveen would be eligible for parole after three years. Mandel said if Praveen is granted parole, the parole board could ask Homeland Security to immediately deport him to Hyderabad, India or have him first serve parole in any state. 
We're "deeply thankful for the outcome," the victim's mother said in a phone call after the sentencing. She said the judge's understanding of the seriousness of the crime is "deeply healing" to her daughter and the family is extremely pleased with the "very sensitive and caring" way the police and Pennington County State's Attorney Office handled the case. 
The sentencing came after Praveen, 38, pleaded guilty to one count of having sexual contact with a child under the age of 16, a crime that carries a maximum 15-year punishment. As part of the plea deal, the prosecution dropped another charge that allegedly occurred earlier in September 2018. Both Mark Vargo, Pennington County state's attorney and defense lawyer John Murphy said in court that Praveen admitted to the other accusation, which took place in the victim's home, to police. 
The plea deal also said the prosecution would ask for a jail sentence rather than prison. Vargo asked Mandel to send Praveen to the maximum jail sentence of one year. Murphy asked for a 180-day sentence, saying his client admitted guilt, was found to have a low risk of re-offending and has already been punished with a high bond and not being able to find a place to stay due to being "vilified" in the media and community. 
Praveen admitted in a signed document to touching the girl's breasts above her clothes without her consent for sexual gratification, while in a basement classroom of the Cathedral of Our Lady of Perpetual Help in Rapid City. Vargo said Praveen "solicited" the girl in a confession booth, found her as she tried to hide, and reached underneath her sweater to touch her above the leotard she was wearing. 
I "send my sincere apologies to the family and the victim about what I have done," Praveen said through tears in court Friday. He said he knows saying sorry isn't enough, and that he wishes he could take back what he did. He promised to never hurt anyone again. 
Praveen joined the Diocese of Rapid City for a 10-year assignment in December 2017 and first worked in Eagle Butte on the Cheyenne River Sioux Tribe reservation. In June 2018, Praveen transferred to the Cathedral of Our Lady of Perpetual Help and worked there until he was arrested and charged Oct. 2, 2018.
The victim and her immediate family did not attend the sentencing and it appeared that no local priest attended as they have in the past. 
Vargo and the victim's mother — through a letter read by Kelsey Weber, a deputy state's attorney — described the psychological, social and spiritual damage Praveen caused to the victim, her family and the wider Catholic community. Vargo, the mother and Murphy also all criticized, to varying degrees, the Rapid City Diocese's response to the incident. 
"It's difficult to explain the damage done to the mind and future potential of our daughter, ir-erasable memories and life-long effects that the choices of John Praveen have caused," the mother wrote. "His actions have affected her views of her personal value, her personal voice and how men value her. When she says no, should anyone listen?
"His attack was not only on her body, but her soul, dignity, emotional development and sexuality," the mother wrote. Praveen "knew exactly what he was doing" since priests learn about their responsibilities and the sacredness of the body during their extensive training. 
In an emailed statement, Rapid City Bishop Robert Gruss apologized to the victim and her family on behalf of the Diocese of Rapid City, calling Praveen's actions "sinful," traumatic and a betrayal.
"I am deeply sorry that they had to experience these sinful actions at the hands of a priest," Gruss wrote. "The pain and suffering of this family have been great. Only those who have been victims of abuse of any kind can understand the trauma. The experience of betrayal is great. Crimes of sexual abuse can never be tolerated, most especially among priests."
The victim's mother wrote that Praveen solicited his daughter during confession, a place that is supposed to be about trust and respect, and abused her after giving Mass while wearing his priestly garb. 
"Where and when he perpetrated the crimes adds to our horror and his culpability," she wrote. "He had every outward and inward reminder of who he was and what his responsibly was" but he abused her anyway. 
The mother wrote that her daughter was able to run away and hide from Praveen "only to have him hunt her down" and keep abusing her. She pleaded with him to stop as he kissed her neck and face while holding down her arms. 
Praveen has caused her daughter to question how God views her and the credibility of the church, and since she was targeted in the confession booth, she can no longer fully participate in her faith, the mother wrote. Her daughter was then re-traumatized when Praveen was briefly out of jail after a woman posted his $10,000 cash-only bond.
She wrote that her older daughter has decided to completely leave the Catholic Church while her son feels guilt for being unable to stop Praveen. The family has been isolated by other relatives who don't understand how they are trying to maintain faith after the incident. 
Praveen's abuse also harmed the credibility of the church and all priests, and "other victims who have never seen any justice but read about yet another case in the paper," the mother wrote. 
"We suffered a profound sense of abandonment by our church for several months due to lack of outreach, lack of response to our expressed needs for her, lack of fervor in solving the problems and improving procedures. We looked to our church for comfort, correction of the lies his actions taught her and direct care of her soul. Unfortunately, despite nice public statements of ministering and care, that was not her experience," she wrote. "We fear that once he serves his sentence he will return to India to no consequences" because local church leaders "have not indicated to us that they will advocate remotely for his removal." 
In his statement, Gruss said the Diocese of Rapid City cooperated with civil authorities throughout the case. 
"Now that sentencing has been completed, it is my hope that the healing process for the victim and family can move forward. As the Church, while respecting their privacy, we will continue to offer assistance to the family as they desire it," he wrote. "We continue to offer our prayers for this victim, her family and for all victims of abuse. We also pray for Father Praveen, that he will seek God's mercy and forgiveness as he lives out the consequences of his actions. It is my understanding that Father Praveen offered his own words of apology. He will need our continued prayers as well."
All U.S. priests convicted of sex crimes are sent to intensive treatment after serving their sentence, Gruss said in a previous email. After treatment, they are either suspended or laicized, what many people refer to as "defrocked." A suspension means a priest can no longer wear clerical attire, has no priestly duties, and lives a life of prayer and penance under the supervision of a bishop. Laicization is a process conducted by the Vatican and means while technically still a priest, the priest lives his life as a lay person. 
An email to the archbishop of Hyderabad asking if Praveen will receive treatment and what role he will serve was not returned. ​But Murphy said a representative from Praveen's order said they plan to expel him when he returns to India. 
After Weber finished reading the mother's letter, Vargo said he's worried if Praveen couldn't control himself in a church, how could he control his actions in the future. 
He said Praveen has received letters of support from those who barely know him while "no one seems to care" about his victim. He also said that when one of the victim's relatives told a priest that she was angry about what happened, the priest told the relative that maybe she never had a relationship with God. Those who "rallied around a predator" because he is a man of God did so at the expense of a child of God, Vargo said. 
The family's fear of what would happen when reporting Praveen is "exactly what transpired," Vargo said. 
Murphy said both sides are "baffled" by the response of the church community and hierarchy. He accused priests of using Praveen as a "pawn in their public relations game" when they invited a Washington Post reporter to tag along as they visited Praveen in jail, without the prior consent of Praveen. The visit was described in a positive, front-page Washington Post story about how a priest and his congregation were dealing with Praveen's arrest within the context of the global Catholic child sex abuse crisis. 
"The Diocese will remain vigilant and transparent in fulfilling its policies and procedures regarding reported sexual misconduct. We must also never lose sight of those victim-survivors who have suffered because people in positions of power and authority have failed to act as the Gospel demands," Gruss' statement says.