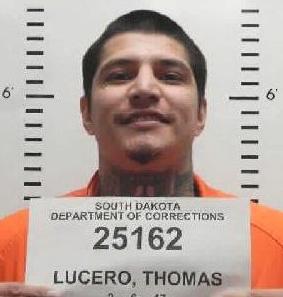 The handcuffed man struggled to sort through a giant stack of court records on his desk. The sound of men yelling occasionally echoed in the distance. 
Thomas Lucero appeared Jan. 24 at the Pennington County Court through a video feed from the Jameson Annex at the penitentiary in Sioux Falls, where he's serving a 12-year sentence for a first-degree robbery in Minnehaha County. 
It's "highly unique" for a murder defendant to proceed pro se, or without a defense lawyer, according to Scott Roetzel, the assistant attorney general who's prosecuting the case. 
Roetzel said this is the first time he's heard of this happening in the 28 years he's worked in South Dakota. 
Representing oneself is an "enormous risk" and "presents difficult issues for the judge, the prosecutor and (advisory) defense counsel," said John Murphy, a Rapid City lawyer who has defended murder suspects. 
Difficulties and frustration from all parties were on display during Lucero's recent hour-long motion hearing. Lucero also faces the challenge of having to communicate and send and receive documents while locked up nearly 350 miles away. 
"There are some significant downsides when you decide to represent yourself," Judge Jane Wipf-Pfeifle reminded Lucero at the motions hearing. 
A Fall River County grand jury indicted Lucero in September 2017 on a first-degree or alternate second-degree murder charge for allegedly shooting Moses Dubray in the head on Jan. 11, 2017.
Dubray, 32, was found dead that day near state Highway 89 after walking away from the Rapid City Community Work Center the previous day. He had been serving a 10-year sentence with five years suspended for third-degree burglary in Bennett County. 
Lucero was also indicted on an aggravated assault charge for allegedly using a gun to assault someone the same day Dubray was killed. The victim is not named in the indictment because that person is an informant who testified before the grand jury.
Lucero, who was on parole for his robbery conviction at the time of the murder and assault, turned himself in later that month in response to a warrant issued against him for being a parole absconder. 
Fall River County doesn't have a jail to detain people long-term so Lucero was initially held at the Pennington County Jail, Roetzel said. Lucero agreed to have the hearings held at the Pennington County Courthouse so he, jail staff, the judge and lawyers wouldn't have to make the two-hour round trip to the courthouse in Hot Springs. 
He later asked to be transferred to the Jameson Annex and agreed to appear for hearings through the TV feed rather than be transferred to Rapid City, Roetzel said. The trial, which is scheduled to be held from April 27 through May 5, will take place in Hot Springs with a jury selected from Fall River County. 
Lucero was initially represented by defense lawyer Ellery Grey but asked that he be replaced in July 2018, court records show. He then asked to drop his second lawyer, Shiloh MacNally, and decided to represent himself in June 2019.
"I humbly believe that I do not have any other choice" because the previous lawyers did not provide effective assistance and were racially prejudiced, Lucero wrote in his motion to proceed pro se. Lucero is Hispanic, according to the Department of Corrections website. 
Lucero was "thoroughly" questioned and "understands the risks inherent in self representation and that the effectiveness of his defense may be diminished by his dual role as accused and attorney," Wipf-Pfeifle wrote in a July 2019 order granting his motion. Wipf-Pfeifle appointed Paul Winter of Rapid City to serve as standby council.
Lucero appeared calm and respectful as he argued various motions before Wipf-Pfeifle on Jan. 24. She rejected most of his motions, including one that cited a federal law for his state case but granted others requesting transcripts and documents in prison and to suppress certain evidence. Wipf-Pfiefle was patient with Lucero as she asked him questions, including why a federal law would apply to a state case. 
Lucero did complain, however, that Winter wasn't helping enough and couldn't trust him to serve as his defense if he decides he needs a lawyer. 
"If he can't help me at all," he should be dismissed and I should have a new standby council, he said. 
You have free articles remaining.
Wipf-Pfiefle told Lucero that while Winter can call him more often, it's not his job to conduct research or write motions for him. 
Everyone is "colluding against me" to censor me and force me to take a lawyer, Lucero said. 
That's not the case, Wipf-Pfiefle said, telling Lucero that he's been doing a fine job citing case law and following judicial procedure. 
Lucero plans to argue more motions in the future, including one asking to delay the trial for a year so he has more time to prepare. 
It's "very rare" for defendants to chose to represent themselves, especially in murder cases that are complex and have serious consequences upon conviction, Murphy said. 
"When it does happen, it happens typically in the least serious cases, such as court trials on minor misdemeanors where a defendant may not be eligible for court-appointed counsel or where the likely consequence of a conviction is so minor that it doesn't make financial sense to hire an attorney," he said. 
Murphy says he's been appointed standby council for several pro se defendants, but in each case they later decided to take him on as their formal lawyer when "they realized they were in over their heads, particularly when the case got close to trial."
He said people who represent themselves often decide to do so after becoming frustrated at their lawyer for explaining that certain evidence (polygraph tests, alleged bad behavior of the victim, etc.) can't legally be used at trial. 
"It seems fundamentally unfair to the defendant, and they naturally assume that their attorney isn't doing their job, when, in fact, the attorney is telling them the truth," Murphy said. 
Defendants can't just tell their side of the story, they must follow the technical rules that govern a trial;
They will be arguing against an experienced prosecutor;
Defendants may be giving the prosecutor an advantage;
The effectiveness of their defense may be diminished by being both the defendant and defense lawyer;
Defendants can't argue on appeal that they had unfair representation.
"Practicing law is not rocket science, but it does demand a high level of education to perform competently," Murphy said. 
Pro se defendants also make cases more difficult for judges, who are supposed to be impartial and not help or harm either side while also ensuring that justice is served. 
"That means the trial court judge is forced to figure out where the line is between letting a defendant represent himself at his own peril and intervening when the defendant is doing such a bad job (or where the prosecution is crossing lines so clearly) that an injustice is occurring," Murphy said. 
The situation is also difficult for prosecutors and the defendant, Murphy said. 
"The rules are rarely black and white, particularly on whether some evidence is admissible or some questions are proper," he said. "Attorneys are expected to test how far they can go to get favorable evidence admitted, with the knowledge that the other attorney will object if it appears they have gone too far," he said.
But the pro se defendant may not know when to object to evidence or questions asked by the prosecutor. 
Some pro se defendants have come out victorious, Murphy said. 
Derrick Wilson was acquitted of murder after representing himself during a 2017 trial in Syracuse, according to an article in syracuse.com. Wilson, who only completed school to the 9th grade, studied his case and the law while locked up in jail for two years. 
After being convicted of murder in 2008, Hassan Bennett successfully filed motions for and won a new trial when he represented himself last year, according to an article in the Washington Post.  The Philadelphia man was able to study law while incarcerated for nearly 13 years. 
Despite the occasional success story, Murphy recommends others against taking this risk. 
"Other than having more control over your own destiny" there's probably no benefit to going pro se, he said.