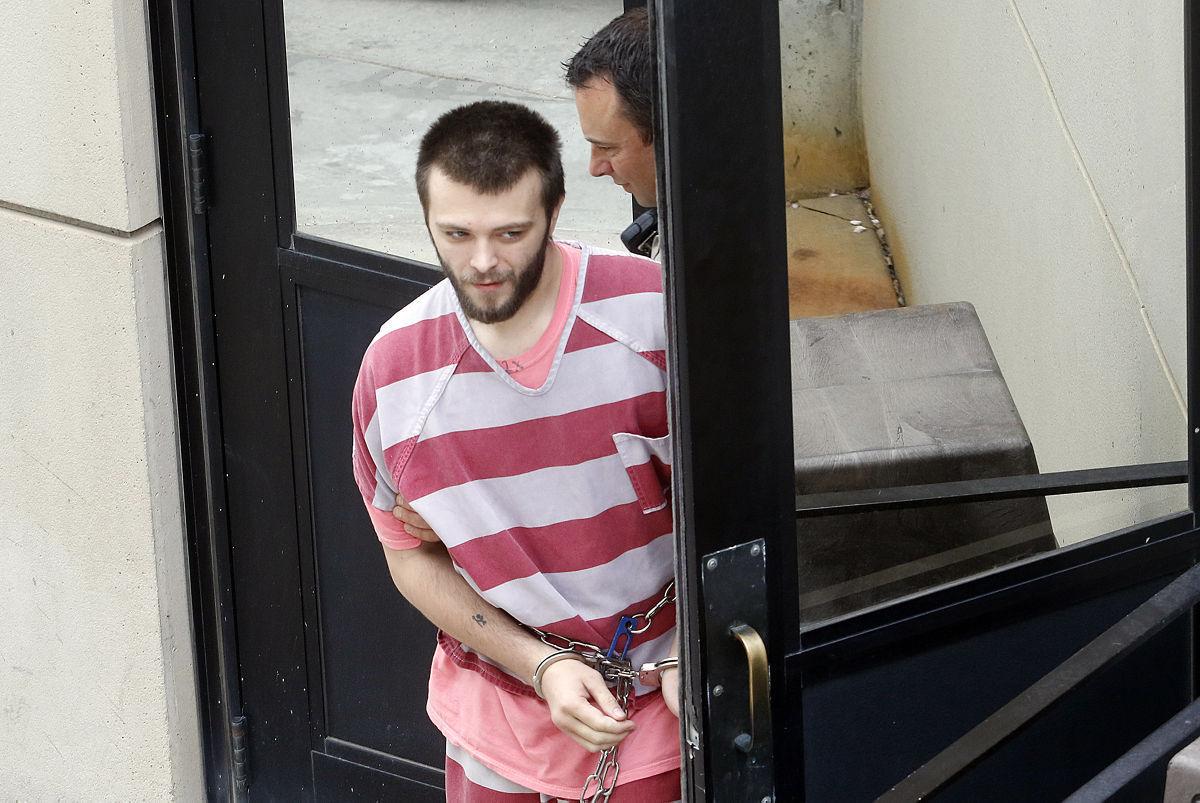 Jonathan Klinetobe is a master at "lies and deception" who recruited others and tried to evade being caught by crafting complex stories, making false police reports and steering police and his victim's family in the wrong direction said Lara Roetzel, chief deputy at the Pennington County State's Attorney Office,
Klinetobe and Rehfeld dated on-and-off in 2014 and 2015, Roetzel said. After Rehfeld ended the relationship in April 2015, Klinetobe began stalking her and threatening to kill Rehfeld, her new boyfriend and her family in phone calls and Facebook messages. He also began talking with Richard Hirth, who also knew Rehfeld, about needing to either threaten or kill Rehfeld because she had information on the Hell's Angels, which would pay them $500,000 for the bounty. 
Steve Neavill, a retired Rapid City police detective, said he found zero evidence that this story was real, or that Rehfeld or Klinetobe had any connection to the motorcycle gang. 
Hirth and David Schneider, both of Rapid City, began visiting Rehfeld on May 12, 2015, saying they wanted to protect her from Klinetobe and began driving her to her job at Walmart, Roetzel said. 
Rehfeld filed a protection order and police report against Klinetobe that same day, providing photographs of bruises Klinetobe gave her on the 10th and explaining how he threatened to rape and kill her and her family, Neavill said. 
Klinetobe became "enraged" after receiving the protection order on May 15, it was the "straw that pushed him over the edge" and made him commit to the murder, Roetzel said. Klinetobe discussed methods with Hirth and chose the murder date but it was ultimately Hirth who decided on the specific plot.
The next day, Roetzel said, Klinetobe called 911 to say 12 men assaulted him in a Rapid City park and said they were going after Rehfeld. Neavill said he found no evidence of this attack taking place. 
Rehfeld thought Hirth and Schneider were again going to give her a ride to work on the evening of the 18th so she "got in the car with the men who were about to kill her," Roetzel said. 
The murder, initial investigation 
Schneider drove his blue Dodge Avenger while Rehfeld sat in the front passenger seat and Hirth sat behind her, Roetzel said. Once they were in a secluded area, Schneider held Rehfeld down as Hirth covered her mouth and stabbed her at least seven times in the neck and torso. 
Rehfeld did not die an "easy or painless" death but "she did not go down without a fight," Roetzel said. She begged and pleaded with the men, and asked them why they were hurting her.
Once Rehfeld realized she was going to die, she asked if she could call her father to say goodbye and look up at the stars one more time, Roetzel said through tears. 
Hirth and Schneider put Rehfeld's body in the trunk, picked up Klinetobe and drove out to Teepee Gulch Road off of Highway 16 near Rockerville, Roetzel said. Klinetobe took Rehfeld's purse, phone, wallet and bloody necklace — which he treated as a "trophy" — and they all took turns acting as a lookout and digging a shallow grave. A photograph of the site shows a few logs piled on top of grass next to a small hill. 
Schneider's car battery died so the group had to flag down a car on the highway to help them jump start the battery, Roetzel said. Detectives later tracked down and interviewed the people inside that car, who remembered speaking with the trio. 
You have free articles remaining.
Klinetobe then told Hirth and Schneider not to tell anyone about the murder, that the Hell's Angels would go after them if anyone found out what they did, and had his mother agree to tell police that the group were playing video games and drinking beer at her house, Roetzel said. 
On May 19, Roetzel said, Klinetobe again called 911, this time saying four men with pistols and bandannas attacked him and said that Jessica was next. Neaville said there's also no evidence of this assault.
Detectives did interview Klinetobe — and were aware of the legal complaints against him — soon after Rehfeld went missing, Neavill said. He said a mutual friend of Rehfeld and Klinetobe told police on the 20th that she had dropped Rehfeld off at work. And detectives found a surveillance video on May 21 that showed a woman who looked like Rehfeld wearing a Walmart uniform walking into the store. Neaville said one of Rehfeld's sisters agreed it was her but other people shown the image told the Journal that it was poor quality and didn't look like Rehfeld. 
State's Attorney Mark Vargo asked if the investigation was put on the "back burner" due to the Walmart video and Neavill said yes. 
It's unclear whether detectives thought Klinetobe's history of violence and threats against Rehfeld were enough probable cause to issue search warrants against him, and why they didn't more aggressively search for Rehfeld since she hadn't been seen in person. Neavill, lawyers and family members can't answer these questions because they are under a gag order to not speak with the media.
Experts told the Journal at the time that they advise against declaring missing people safe unless they are positive about it, while some of Rehfeld's loved ones said they believe it was a mistake for the police department to publicly announce that she was not in immediate harm and were skeptical if investigators continued to look for her after that point. Police said they were working on the case the entire time.
Klinetobe had his friend Beverly Cheshier drive him to visit the burial site and he became worried it was too shallow and close to the road, Roetzel said. So two weeks later he hired Garland Brown and Michael Frye, both of Rapid City, to help him move and rebury the body further into the woods and deeper into the ground. A photograph of the second burial site shows a large pile of wood covering a grassy area. 
Klinetobe kept changing the amount of money he said the Hell's Angels would pay the men, saying it was still too dangerous to deliver it, and never ended up paying anyone, Roetzel said. 
Frye later told law enforcement that Klinetobe threatened to kill him, Brown and Cheshier if they told anyone about the murder, Roetzel said. But Cheshier later became so disturbed about it that she moved away and eventually reported the murder and burial site to police in Newcastle, Wyo. in May 2016. 
Roetzel said she wondered where the case would be today if Cheshier hadn't come forward.
She showed photographs of a garbage bag and Rehfeld's Walmart lanyard found at the first burial site, and a ring and Walmart vest found at the second one. She also displayed photos of Rehfeld's "mummified" body wrapped in a tarp. She said a lab was able to identify Rehfeld through a leg bone, and detectives were able to count stab wounds through her shirt and neck. 
Detectives also found Schneider's car, which he had been reupholstered and sold, Roetzel said. But she showed photographs of the stripped-down car, which still had blood stains on the yellow padding underneath the seats. She displayed photos of the items Klinetobe took from Rehfeld that were found in his house. But Klinetobe told police that Rehfeld's most recent boyfriend was the murderer and had his friends and family lie for him. 
Neavill read texts from Klinetobe found on Rehfeld's phone that said "you are dead," that she deserved to be raped and abused, and that the Hell's Angels have a bounty on her. 
Elizabeth Regalado, one of Klinetobe's defense lawyers, focused on Hirth's role in the murder when cross examining Neavill. 
Neavill told Regalado that Hirth took primary responsibility for the planning and execution of the murder, that he had to convince Schneider to participate, and that he made Klinetobe help with the burial. He said Hirth said he received a call from a third party the night of the murder saying the attack on Rehfeld had to be a murder. Neavill said detectives haven't been able to figure out who made that call.