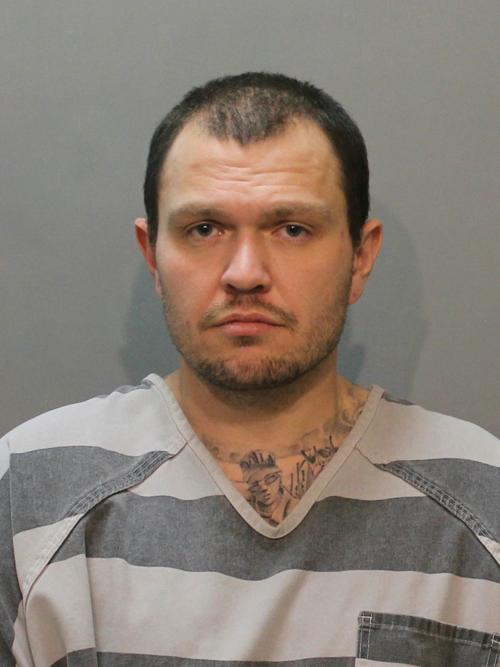 Billy Robertson, a 33-year-old from Rapid City, was emotional before learning of those charges during his initial appearance at the Pennington County Court on Thursday morning.
Robertson, who appeared via a video feed from jail, pounded on his chest twice as he approached the desk to speak with the judge. 
The Rapid City Police Department has accused Robertson of stealing two pickups, breaking into three homes or garages, and stabbing, assaulting or threatening six people during an early morning crime spree Tuesday. Robertson was apprehended by police after allegedly drove towards an officer who shot at him multiple times but did not hit him.
Magistrate Judge Marya Tellinghuisen told Robertson about his rights and charges:
First-degree robbery for stealing a Ford F-150 pickup from a man he threatened with a knife;
Two alternative counts of first-degree burglary for entering a home with the intent to commit an assault. Alternative counts means Robertson can only be convicted of one of the counts;
First-degree burglary for entering a home with the intent to commit a theft;
Two alternating counts of aggravated assault against a law enforcement officer for using a truck as a deadly weapon;
Aggravated assault for threatening a minor with a knife;
Aggravated assault for threatening a woman with a knife;
Two alternating counts of aggravated assault against a man;
Two alternating counts of aggravated assault for using a GMC Sierra pickup as a deadly weapon against a man;
Grand theft for stealing the GMC Sierra.
First-degree robbery is punishable by up to 25 years in prison while grand theft is punishable by up to 10. All other crimes are punishable by up to 15 years in prison. Robertson therefore faces up to 140 years in prison.
Tellinghuisen asked Robertson if he wanted a prosecutor to read the details of each charge and he said no because "it's kind of heavy on my heart right now."
A prosecutor cited the crime scene quote from interim Police Chief Don Hedrick when requesting a $500,000 bond.
"His actions could have killed someone" and were dangerous and reckless, the prosecutor added. 
He said Robertson harmed or threatened six people during a 30-minute crime spree while on parole from prison, and a bond algorithm found Robertson was high-risk due to the chance of him failing to appear in court and his past criminal history — a robbery and some drug convictions.
The robbery conviction may be related to the time Robertson was charged with first-degree robbery for robbing a casino at gunpoint in 2012, according to Journal archives. 
The 70 pages of police reports in Robertson's new case are sealed and the prosecutor did not mention a motive or whether Robertson allegedly targeted strangers or people he knew.
A public defender asked Judge Tellinghuisen to hold Robertson in jail without bond until Robertson's assigned defense lawyer can make an argument during a bond hearing. Tellinghuisen agreed to that request.
Robertson's mother attended the hearing and held her hands in a prayer position while looking at her son on the video screen.
"Love you mom," Robertson said before being escorted away.​
Sign up for our Crime & Courts newsletter
Get the latest in local public safety news with this weekly email.