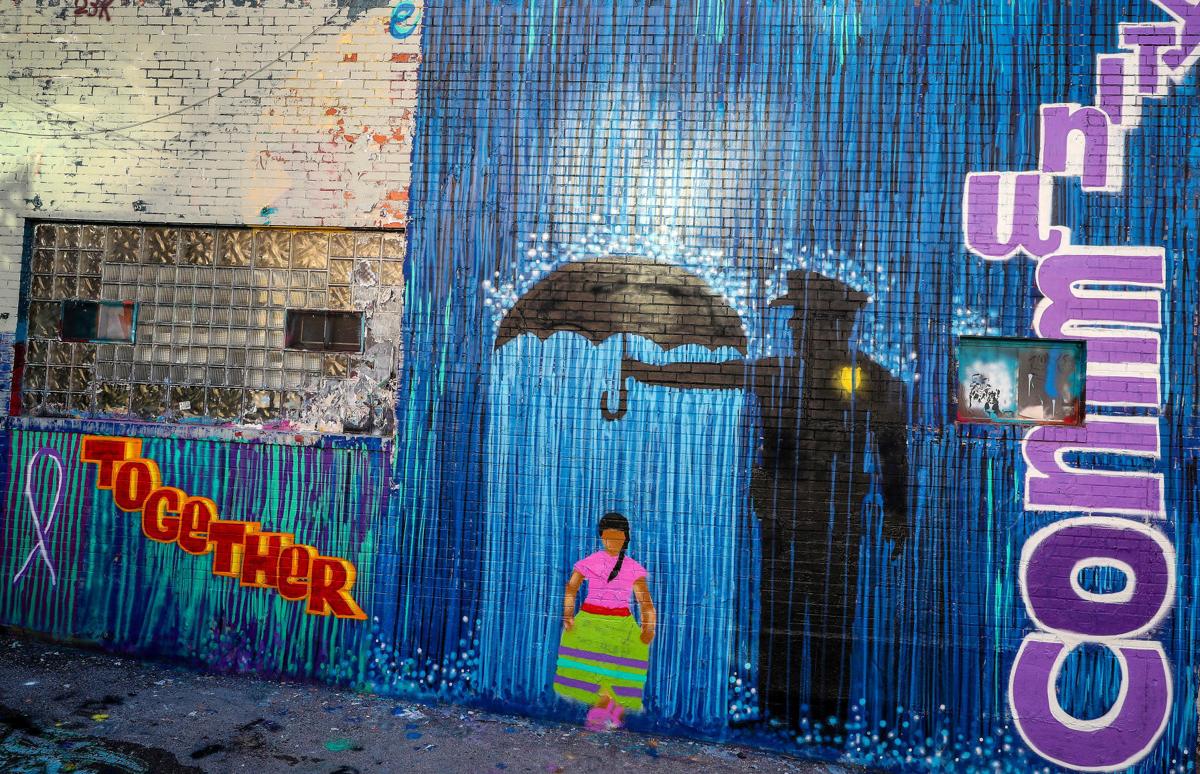 After 20 months of discussions, a Rapid City group is working with the police department to implement reforms and new projects it created to improve relations between law enforcement and the Native American community.
The purpose is to "develop community-initiated recommendations to promote collective healing" and "address historical gaps in trust," said Rich Braunstein, facilitator of the Collective Healing Initiative Work Group.
Braunstein, a professor of political science and criminal justice at the University of South Dakota, said the recommendations involve changes to the Rapid City Police Department, projects spearheaded by the Native American community, and programs that involve collaboration between the two groups.
"It's not all the responsibly of RCPD on its own. That's the notion of collective healing," he said.
"As a Lakota elder, I want a better life for our future generations," Bev Warne said of why she joined the group. We need "improved relationships between the Rapid City Police Department and the Native population of the city."
The 81-year-old explained that the group identified four major themes it wanted to address:
Enhanced dialogue and incident reporting;
Supporting Native youth;
Developing trauma-informed strategies and promoting healing;
Treating Native American community members as patterns in public safety an officer wellness.
The group then created 21 policies and practices to help work towards achieving those goals, Warne said. 
One recommendation is to have a third party host ongoing meetings between the police department and community members where they can discuss policy, crime trends, use-of-force incidents, and concerns about racist treatment from officers or community members.
Another is to create a Native American Community Street Team independent of the police department. The team — modeled after successful programs in Compton, California and Newark, New Jersey — would partner with the department but also transition the community from relying on police to solve internal conflicts.
Braunstein said team members are trained in how to respond to certain kinds of calls, such as those about homeless people, public intoxication, and domestic or gang violence. They may also be called to help people heal after a violent crime. Braunstein said some street teams respond to these calls instead of the police while others arrive with or before them.
Don Hedrick, acting police chief, said the department has already been looking into the street team model and is open to the idea.
"We look forward to seeing how a concept like this can work in Rapid City and we will lean on the CHI Work Group's research with outside experts to help us explore this further," he said.
The work group is one of three prongs of the Collective Healing Initiative, a three-year $990,000 grant. The others programs are the Rapid City Police Department's Quality of Life Unit and a peer support program.
The grant funds those programs but also staff, training, wellness programs, and a police activities youth coordinator, Hedrick said. Money has also gone to the OneHeart Campus and the Mniluzehan Okolakiciyapi Ambassadors who help with the programs.
The Rapid City initiative is unique because it's the only one that focuses on the relationship between Native Americans and police rather than the Black community and police, Braunstein said.
Braunstein said he's paid for his role as the facilitator, consultant and researcher. Group members are unpaid volunteers but have occasionally been paid for specific roles they take on. Participants learned about the group after being approached by Braunstein, recently retired Police Chief Karl Jegeris or their friends.
Between 50-60 different people have participated in meetings but there's about 20 people who regularly attend, Braunstein said. Most members are Native Americans but there are a few white and Black people who attend.
Warne said a group of teenagers attended one meeting while Braunstein said younger Black Lives Matter activists recently came to learn about the group. But he said most of the core members are older adults since they have more time to volunteer.
The group first met in October 2018 and spent five or six months "hearing from the community" through listening sessions, Braunstein said. Community members shared experiences they've had with the police, as well as gaps in services and trust.
Members then began brainstorming solutions and created draft recommendations in December 2019 or January 2020, Braunstein said. The group circulated the draft, created a public Facebook page and made a video about the project so it could receive further community input.
The group sent the final document to the police department in March and, after a break due to the coronavirus pandemic, began meeting with police leadership in June to discuss how to implement the recommendations. Braunstein said the conversations involve whether existing or new infrastructure is needed to implement the ideas and discussing the specifics of certain recommendations, such as the street team.
The grant ends on Sept. 30 but the group plans to continue meeting over the next several years to ensure the recommendations are put into practice, Braunstein said.
Coming up with the recommendations was an "arduous, long process" since it was "a group of people with strong opinions," said Warne, who recruits, mentors and helps retain Indigenous nursing students. But she said everyone was "very respectful."
During the first phase, there were "a lot of stories about people feeling like they were stopped (by police) just because they were Native," said James Rattling Leaf, Sr., who works as a cultural consultant.
But Warne said she's already seen progress from the police department in recent years.
She said the department called on her and other members of the Rapid City Council of Elders to speak with a pawn shop and the hospital after complaints of racial profiling — a role that a street team could take on. The police department also approached the council to help edit a four-hour long power-point that educates new officers on Lakota history, culture and trauma, from 1492 to the present.
She and Rattling Leaf both say officers learning about these topics are key, and the recommendations include ways for the department to expand its engagement on the issues.
"A lot of things that happen today" are related to the community never reconciling things that happened in the past, said Rattling Leaf, a 55-year-old member of the Rosebud Sioux Tribe.
Both also say they're also excited about the focus on Native youth. The recommendations focus on stopping negative practices and creating positive ones, such as providing tours of the police station and creating more murals with youth.
The policy to "stop treating groups of Native youth as 'threats' to public safety" addresses concerns that some officers unnecessarily stop Indigenous youth who are just walking home or hanging out at night, Braunstein said.
The document tells the department that "every instance of physical use-of-force, including the lowest levels of force including" the presence of an officer, can be traumatic to Native youth.
There's also suggestions about providing trauma training to the Native American community, making sure the outcomes of police reforms are measurable, and increasing diversity at the department.
"There are some recommendations for policies and procedures we already have in place, and there are some recommendations that offer an opportunity for outside-of-the-box approaches to tackling issues within our community," Hedrick said. "We are committed to the process and working with the group to get a strategy and framework to implement these recommendations."
Sign up for our Crime & Courts newsletter
Get the latest in local public safety news with this weekly email.