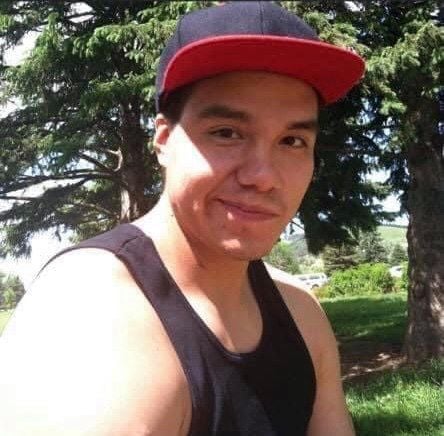 Cheyenne Fast Wolf was separated from her three brothers when they were sent to different foster care families as young children.
She and her big brother, Lance Baumgarten, were able to reunite through Facebook when they were in their early 20s, and he drove from Lemmon to Pierre to see her. 
"Lance was so exited, he just wanted to meet me because I was his baby sister," Fast Wolf said earlier this week.
She and Baumgarten continued to keep in touch with each other even when he was in prison.
"He always helped me out when he was locked up," said Fast Wolf, who now lives in Madison. "We always wrote letters back and forth."
Fast Wolf, Baumgarten and a second brother were planning for another reunion in August, this time with their biological mother, Evelyn Eagle Chasing Black Elk.
Baumgarten hadn't seen his biological mother in several years. The family wanted to take a picture together since Black Elk was struggling with her health due to cancer and being hit by a car.
"We as a family were trying to reunite because all of us kids were adopted out," Fast Wolf said. "We already knew our mom was on a limited time."
"Lance, he was a very humble, kind, sweet gentleman," she said. "To me he was the best big brother that any only daughter could ask for. Now that he's gone, I don't have that any more. I really struggle. I struggle every day because my mom and my brother are gone now," Fast Wolf said over the phone through tears.
She said Baumgarten, whose birth father was Veryl Janis Sr., worked at a construction company and sold beadwork as a side gig. He made beaded medallions, dream catchers and earrings highlighting the cause of missing and murdered Indigenous women.
Baumgarten and another brother were adopted by their foster parents, Jean and Dan Baumgarten of Lemmon, Fast Wolf said.
Barry Allman, a 30-year-old from Box Elder, is accused of murdering the 33-year-old Baumgarten. By the time of the stabbing, Allman was also a suspect in an earlier homicide and had a federal arrest warrant for allegedly abusing his girlfriend and shooting at her sister, federal court records say.
Local law enforcement was sent an alert to be on the lookout for Allman in relation to the federal warrant and shooting, according to Brendyn Medina, spokesman for the Rapid City Police Department. Extra patrols were also scheduled for the area of the victim's residence.
The Journal asked why officers couldn't find Allman until after Baumgarten's killing since they were in contact with his girlfriend.
Officers "made contact with known associates and checked residences and locations Allman was known and believed to frequent," Medina said. "It is not uncommon for associates of a suspect to be uncooperative, untruthful or not forthcoming when speaking with police. Police did everything they could to determine his whereabouts, but our ability to locate a suspect is only as good as the leads generated in the investigation."
Allman was the "primary suspect" in the Aug. 3 fatal shooting of James Donner, federal court records say.
That case "remains under investigation," Medina said about whether Allman remains the prime suspect.
Allman, who is currently detained at the Pennington County Jail, is scheduled to return to court for his murder charge at 1:15 p.m. on April 9. ​​
Editor's note: This story has been updated to reflect that Baumgarten planned to reunite with his birth mother after not seeing her for several years, not since they were separated.