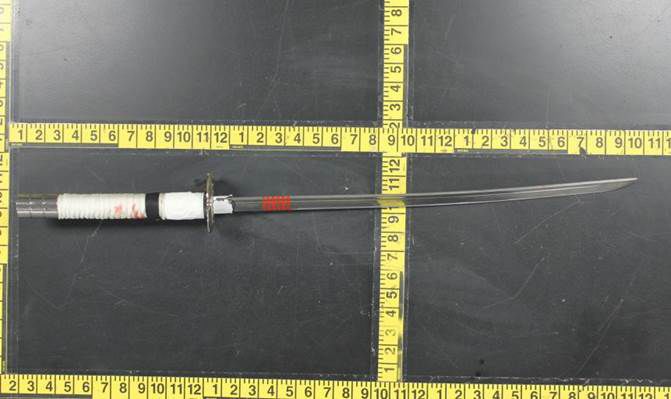 A Rapid City man was arrested Wednesday evening after threatening officers with a samurai-style sword, according to a news release from the police department.
Trenton Rattler, 28, was charged with aggravated assault against law enforcement and two counts of threatening law enforcement. He also had two warrants.
Someone called 911 around 11:40 p.m. Wednesday to report that a "suspicious individual" was pounding on their door on the 700 block of East Indiana Street, the news release says.
A police officer arrived and found a man matching the description. The man, later identified as Rattler, emerged from behind a tree, walked towards the officer's patrol vehicle and pulled out the samurai-style sword. The officer ordered Rattler to drop the sword, but he didn't.
"At one point, the man held the sword over his head as if he were about to charge the officer," the news release says.
The officer pulled out his handgun and again told Rattler to drop the sword. Rattler began walking away with the sword.
Rattler ended up on the 800 block of East Tallent Street and other officers arrived to provide cover with beanbag shotguns. Rattler continued to ignore commands to drop the sword so officers fired several of the beanbag rounds at him, the news release says.
Rattler finally dropped the sword and officers were able to detain and identify him. A medical unit arrived to evaluate Rattler and cleared him to be taken to jail.
Once Rattler was inside the patrol car, the release says, he made several threats to kill first responders who were on the scene and began banging his head against the vehicle.
Officer put Rattler in the WRAP safety restraint system — which restrains people's legs and arms but let's them sit up so they can easily breathe  — before driving him to jail.
Sign up for our Crime & Courts newsletter
Get the latest in local public safety news with this weekly email.