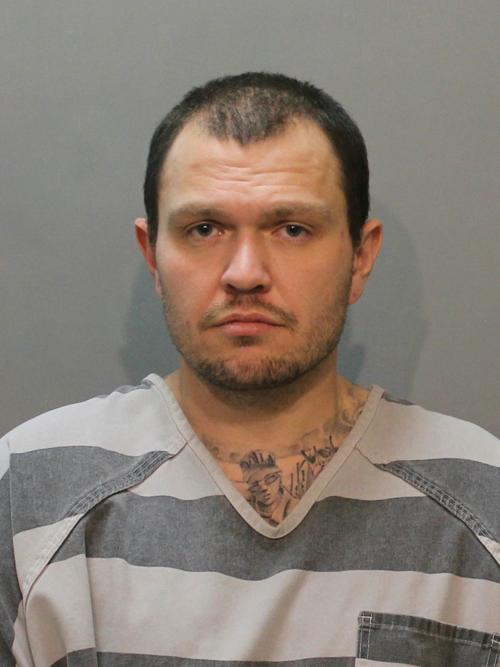 A Rapid City man was convicted of three crimes after 12 other charges were dismissed, including one accusing him of driving a pickup toward a police officer who then shot at him. The man could still spend the rest of his life in prison. 
After a two-day trial in April, a Pennington County jury found Billy Robertson guilty of aggravated assault, grand theft and first-degree burglary for stealing a man's pickup from his garage and harming him on July 21, 2020. 
Prosecutors dropped the most serious charge, aggravated assault against a law enforcement officer, three days before the trial "for the reason of best interest of justice," court records show. 
Robertson wrote in a letter to the judge that the charge was dropped after he and his lawyer watched a video of the incident. 
"I pressed for the video, not my attorney, soon as the video surfaced, charges dropped," he wrote. 
Robertson's first-degree burglary conviction would usually carry a maximum punishment of 25 years in prison. The charge instead carries a maximum punishment of life in prison without the chance of parole due to South Dakota's habitual offender laws.
The 34-year-old has been convicted of seven previous felonies, ranging from meth possession to grand theft to first-degree robbery, according to court records.
But Robertson, who has fought his case with multiple handwritten motions and letters from jail, is scheduled to take the "very rare" step of challenging his "Part 2 Information," the document that lists his past convictions, said State's Attorney Mark Vargo. 
Most defendants admit they are the same person as the person listed in the document, but they have a right to ask a jury to prove that's the case beyond a reasonable doubt, Vargo said. 
Robertson is scheduled for a July 7 trial on his Part 2 Information, court records show. If he goes through with his plan, it would be the first trial of its kind in Pennington County in 10 years or more, Vargo said.
Officer assault, shooting
That assault charge was made in relation to Robertson allegedly driving a stolen pickup toward Officer Joshua Hoefler.
Hoefler was in the area for an unrelated call when he saw Robertson's vehicle as it drove through Meadowbrook Golf Course and exited near Marco's Pizza on Jackson Boulevard, the police department said after arresting Robertson.
"The vehicle veered toward the officer creating a life-threatening situation" and Hoefler shot his gun at the vehicle multiple times, the department said. Robertson was not hit and fled on foot after stopping in the area of Jackson Boulevard and Sixth Avenue.
The Rapid City Police Department, like many other agencies, limits when officers can shoot at people in moving vehicles due to the risk of the vehicle crashing into officers or civilians. 
"Shots at a moving vehicle or its occupants are prohibited, unless the occupants are using deadly force against the officer or another person present," according to department policy. 
Vargo declined to comment on the shooting or detail why prosecutors dropped the charge. 
"Our attempt was to make sure that we could present the best case that we could to the jury," he said. 
The South Dakota Division of Criminal Investigation investigates officers who kill or seriously injure civilians but not when officers use lethal force that doesn't end up hurting anyone.
The police department asked the Pennington County Sheriff's Office to review the shooting since it didn't fall under DCI's responsibilities, said Captain Scott Sitts. It was also reviewed by a member of the police department's command staff.
"The third party external review showed there was probable cause to arrest and charge Mr. Robertson with aggravated assault against law enforcement," Sitts said. "The internal policy review and review of the incident determined the officer acted within policy, and the use of force was reasonable and justified, as Mr. Robertson's actions and decisions did threaten and place the officer's life in danger."
Vargo and Sitts both declined to let the Journal watch the body and dash camera video footage of the incident. Robertson's defense lawyer did not return messages from the Journal. 
Vargo said he could not legally share the videos, that they could only be viewed through a public records request after sentencing. 
"This was a critical and traumatic event for the involved officer and innocent citizens. While attempting to apprehend a violent and dangerous individual and keep our community safe, the officer became a victim of assault and was nearly run over by a motor vehicle," Sitts said. "In light of the circumstances and out of respect to the multiple victims in this case, we politely decline your request to view video footage of the incident."
Robertson was originally accused by police of going on a 30-minute crime spree that involved stealing another pickup, breaking into two homes, and stabbing, assaulting or threatening six people, including a child and the police officer.
Robertson's three convictions relate to him stealing a pickup from Brad Tucker's garage on Country Club Drive. 
Tucker, who officiates track meets and umpires high school baseball games, is a former college football player, high school coach and school principal. 
He put his athletic skills to use when, barefoot and dressed only in his boxers, he decided to physically confront Robertson, who was armed with a knife and started driving away.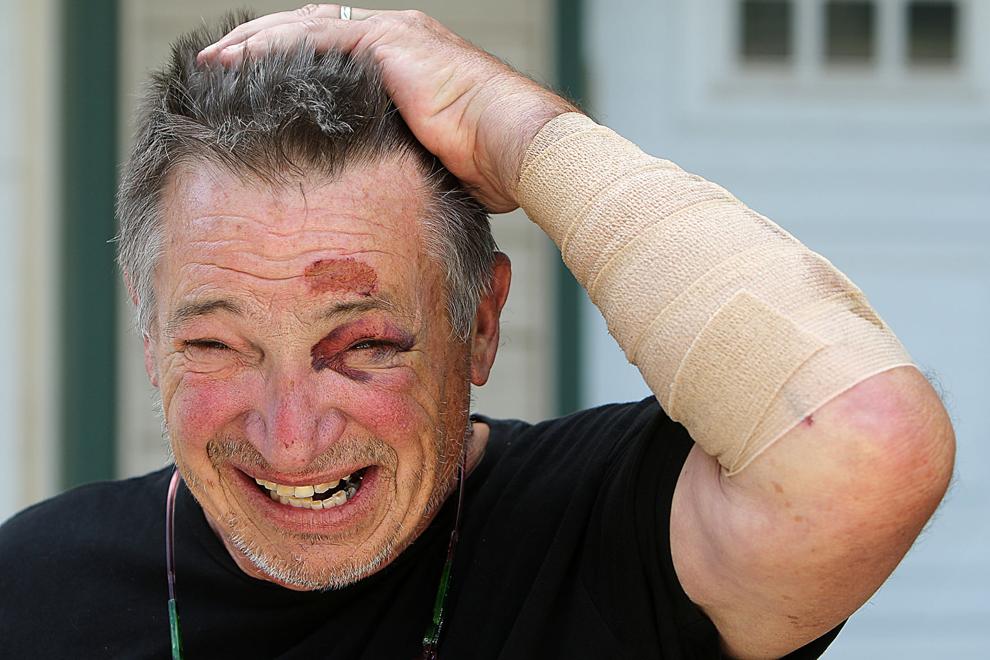 Tucker told the Journal last year that he successfully pulled Robertson out of the moving pickup. They both fell out of the car and Tucker found himself scratched, bruised and missing a toenail from the scuffle. Tucker's driverless pickup ended up crashing into a neighboring home. 
Tucker said Robertson got back into the vehicle he arrived in and drove west. He later heard sirens and gunshots. Tucker also found a bottle of fireball whisky in the car that forensic experts said matched Robertson's DNA, court records show. 
Jurors convicted Robertson after deliberating for two hours and listening to testimony from nine people, including Tucker. Robertson did not testify or call any witnesses. 
Robertson will remain in jail through the sentencing phase unless he can post his $750,000 cash/surety bond.