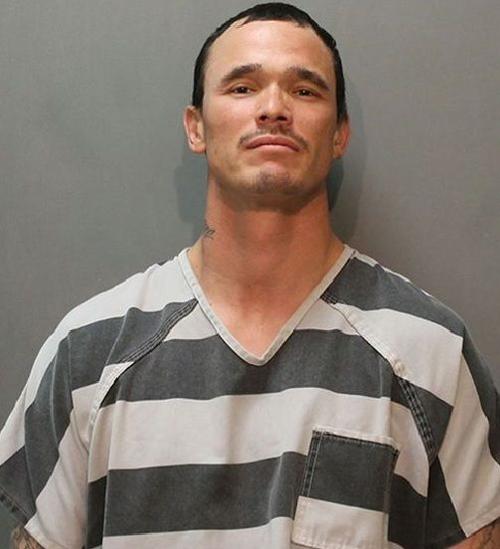 A smiling 15-year-old girl ran with her arms open through snow flurries to hug a loved one outside the Pennington County Courthouse after learning a jury convicted the man who raped her and two other children. 
The Thursday afternoon news was especially emotional since the first trial of Teddy Guzman ended in a hung jury after all but one juror agreed he was guilty. 
"What these girls have been through in the pursuit of the truth has been hell, and I am so proud of them and so grateful to the jury for seeing that what happened to them was a horror and for putting an end to Teddy Guzman's reign of terror," prosecutor Lara Roetzel said through tears outside the courtroom.
"I think we had one problem with a particular juror member and I think sometimes it's hard for people to believe that terrible things really happen, but they do," Roetzel said of the first trial. "It's a terrible business to have to put victims through this experience and there's a lot of things wrong with the criminal justice system that makes children relive this trauma, which is why I'm so proud of these girls for being able to go through it a second time."
The girls have all changed and struggled after their assaults, witnesses testified. 
The 15-year-old, who was 12 at the time of her rapes, "used to be happy all the time and she's not now," her father testified last Thursday. "She doesn't want to do anything," her mother said. "She just has no ambition anymore."
"I stopped caring about things," a victim testified last Friday. "I stopped being good. I stopped being nice to people."
The youngest victim no longer trusts men, Roetzel said Wednesday. 
More than 25 family members, prosecutors and court staff gathered in a courtroom to watch the verdict announcement on a video feed set up due to the COVID-19 pandemic. 
Guzman, wearing dress clothes instead of his striped jail uniform, swayed and held his hands behind his back as he stood waiting for the jury to enter. Several people in the overflow room cried and hugged each other as the forewoman announced that the jury unanimously agrees that Guzman is guilty of raping three girls and sexually touching one of them. Guzman did not have any physical reaction. 
The 38-year-old Rapid City man was convicted of three counts of first-degree rape and one count of having sexual contact with a minor between January 2015 and December 2017. The oldest girl was 12 when she was raped, another was between nine and 10, and the youngest girl was five or six. 
Guzman now faces at least 15 years in prison and up to life without parole on each of the rape counts when he is sentenced on June 8.
The jury reached its verdict around 3:20 p.m. Thursday after deliberating for about nine hours between Wednesday and Thursday. 
Roetzel and defense lawyer Conor Duffy, who declined to comment after the trial, made their closing arguments on Wednesday afternoon after 4.5 days of testimony. 
Guzman has a pattern of how he rapes children and the victims had no reason to make false accusations against him since they resulted in more than three years of invasive questioning and physical exams, Roetzel argued. 
There is no physical evidence in the case and the children changed their stories after being coached and pressured by an interviewer, foster mother and the prosecution, Duffy countered. The different stories create reasonable doubt, he said. 
The jury made its decision after hearing testimony from the three victims and watching recordings of their original forensic interviews. There was testimony from a fourth girl who said Guzman raped her, but she is not included in his indictment. 
The fourth girl "was able to find the strength to come forward this time" after declining to testify during the first trial, Roetzel said. 
The jury also heard from one of the girl's parents, the forensic interviewer, a foster mother, a detective, doctors, and an expert in forensic interviewing, trauma and child sexual abuse victims and perpetrators.
Guzman did not testify but prosecutors read part of his testimony from his first trial. Attorneys weren't allowed to tell the jury that this was Guzman's second trial and instead referred to anything from the first one as happening during "prior testimony."
The Journal does not name minor victims or adults who would give the victims' identities away. The girls will be referred to by their ages when the rape allegations began to be reported in 2017, when the girls were 12, 10 and eight.
Habit of 'raping little girls'
"We are creatures of habit," we tend to brush our teeth, navigate through a grocery store and enjoy sex a certain way, Roetzel said at the beginning of her closing arguments.
"Teddy Guzman's habit is raping little girls" by approaching them from behind when they are lying down, she said.
Four women watching the trial through the video feed began to cry as Roetzel summarized the witness testimony.
There were other children in the room during the November 2017 sleepover who might have been asleep or woke up but were too afraid to say anything, Roetzel said.
The 12-year-old testified she "couldn't take it anymore" so told her mother what happened the next month, Roetzel said. The mother called the police and brought her daughter to the Monument Health ER where a doctor told the girl she should have reported the rape sooner and the nurse had to tell the doctor to stop asking so many invasive questions.
During her first interview, Roetzel said the 10-year-old girl denied being raped and having the conversation with the 12-year-old. She also told "fantastical" stories about the 12-year-old having a haunted house where she gets pulled into the basement.
About two weeks later, the girl told a foster mother what happened so a second interview was scheduled where she said Guzman once made her touch him sexually in a car and once raped her while the eight-year-old was in the room. The girl was relaxed during the beginning of her testimony last Friday but became quiet, cried and covered her eyes when recounting the assaults. 
"I didn't tell everything" and "I felt bad for lying" during the first interview, but I didn't trust the interviewer I just met, the girl testified. 
Roetzel said the girl testified that Guzman told her she was filling in for his girlfriend — who law enforcement confirmed was in jail at the time — and that she shouldn't tell anyone what happened or else they will be mad at her. She said he previously showed her porn and said he wanted to have sex with her like they did in the video. 
The two best friends haven't been allowed to contact each other since the oldest girl reported the rape so they can't be coordinating statements, Roetzel said. Duffy later questioned if the girls followed that rule since there are so many social media apps they could use to communicate. 
The eight-year-old was not interviewed until seven months after the 12-year-old girl reported her rape. Roetzel said she testified that Guzman told her she was his favorite. 
The fourth girl testified that Guzman also raped her during a sleepover even though she has "no skin in the game" since she's not a formal victim, Roetzel said. 
Roetzel said Guzman denied raping the girls in his police interview and testimony during the first trial but confirmed the timeline and activities the girls said happened before the assaults. He also admitted to being high on meth the night the 12-year-old was raped.
Roetzel cited testimony from Hollie Strand, the expert witness, who said it's common for children to delay or never report sexual abuse, that trauma can impact memory and create different reactions in victims, and that it's common for children to not divulge all details during the first interview.
She also cited studies that show it's rare for children to make false allegations of abuse and when they do, most of them eventually recant since they are not good at sticking to lies for long periods of time.
The "overly emotional tear-your-heart-out testimony" from the victims "was emotionally difficult because it was designed to be that way," Duffy told the jury.
The goal of the prosecution is to frighten and anger you so you forget your duty of evaluating the evidence and making a decision based on the standard of "beyond a reasonable doubt," he argued.
Duffy accused the 12-year-old girl's mother of planting the idea that Guzman raped her. The girl was crying hysterically when she said "mom, he did it." The mother asked what she was talking about and said "what, sex?" when she didn't answer. "Yes," the girl said. With who, the mom replied. "Teddy," the girl said.
The mother testified that she asked if the issue was about sex since her daughter was so upset and mentioned the word "he."
Duffy asked the jury to rely on the forensic interview videos which are "so much different" than their testimony during trial.
For example, he said, the 12-year-old said in her interview that Guzman raped her one time after she went to the bathroom but now says Guzman raped her three times and hit her on the head when she was already asleep.
"That's a different story," said Duffy, adding that it doesn't make sense that none of the other children at the sleepover witnessed the rapes. 
He said the 10-year-old said in her second interview that Guzman only tried to rape her and denied having the conversation after the sleepover she now says she had with her best friend.
The eight-year-old said she was present for this conversation even though the two other girls said that's not true, Duffy added. 
Duffy said the forensic interview technique used for children was developed with good intentions but has "lost its way."
Strand testified that interviewers shouldn't ask leading or repetitive questions and the goal is not to obtain an abuse accusation but to elicit accurate information that is later evaluated by law enforcement.
But Tifanie Petro, the forensic interviewer, was "laser-focused on getting a disclosure," Duffy argued.
He said Petro kept questioning the 10-year-old even though she made "explicit, repeated denials" that she wasn't abused. He said it was a leading and repetitive comment when Petro mentioned 14 times that the girl's best friend told her about the conversation they had after the sleepover. 
A foster mom then "created false memories in these children" and forced the "extraction of these disclosures" by telling them they would be brave if they made a rape allegation, Duffy said. He said the woman previously testified that the 10 and eight-year-olds were together when the 10-year-old made her allegation, but didn't give a clear answer when asked about this during the second trial. 
The girls' testimony has more details and changes because Roetzel and her team "groomed" them for years, Duffy said. What would the many interviews with her team look like?
He said the eight-year-old girl testified that "my dad sexually abused me" in a way that was so dry that it was unnatural and evidence of "groomed therapy" over the past several years.
"I am not a mastermind," Roetzel said in her eight-minute rebuttal. "This is not a play."