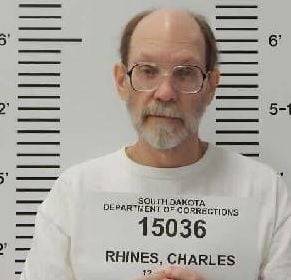 A Rapid City man might be executed as soon as Sunday after a Minnehaha County judge denied his request to delay his execution over the drug to be used.
The state countered that Rhines' argument is based on pentobarbital's performance in a low-dosage setting, and that it works quickly enough when given in high doses used in executions in South Dakota and other states. It also argued that Rhines' objection could have been brought long ago. 
The judge agreed with the state Thursday, writing in a 23-page order that when the drug is used in lethal doses it operates "virtually the same" as or even quicker than other drugs that Rhines had cited.
A jury sentenced Rhines to death in 1993 after finding him guilty of premeditated first-degree murder for stabbing Donnivan Schaeffer, a 22-year-old from Black Hawk, while burglarizing a Rapid City doughnut shop.
"Justice for Donnivan is long overdue," Attorney General Jason Ravnsborg said in a news release. "Our courts have recognized the constitutionality of the state's execution protocol for years ... Rhines has had his day in court. It is now time for him to serve his sentence."
Pentobarbital has been used in recent executions in Georgia, Missouri, Texas and South Dakota in October 2018 when Rodney Berget was executed for the 2011 murder of prison guard Ronald "R.J." Johnson during a failed escape and in 2012 for the other attacker, Eric Robert. 
Rhines is scheduled to be executed between Nov. 3 and 9. The exact execution date will be announced at least 48 hours in advance.