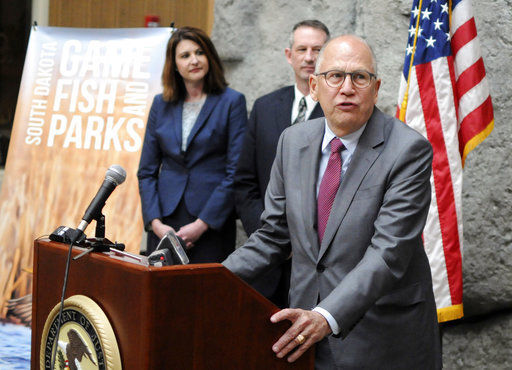 A Rapid City man who trafficked more than 100 eagles or parts of the birds has been sentenced to five years of probation and ordered to pay $15,816 in restitution.
Viken ordered Fairbanks to pay the $15,816 in restitution to the National Fish and Wildlife Foundation. The restitution is in addition to a $10,000 fine Fairbanks has already paid.
As part of the plea deal, prosecutors dropped charges of breaking the Migratory Bird Treaty Act, the Lacey Act, and seven counts of violating the Bald and Golden Eagle Protection Act.
Fairbanks and two of his sons were three of 30 people and pawn shops indicted in 2017 as part of Project Dakota Flyer, a two-year investigation into the black market for eagle and other migratory bird parts.
Project Dakota Flyer used undercover techniques to purchase eagles and other protected bird parts from 51 suspects in South Dakota, Wyoming, Montana, Nebraska, Iowa and over the internet, according to Journal archives. People were found to be trafficking more than 35 species from every continent except Antarctica.
The Fairbanks are enrolled members of the Standing Rock and Lower Brule Sioux tribes and were involved with the Buffalo Dreamers dance group, according to Journal archives. They were also involved in the illegal eagle trade from July 17, 2014, to Feb. 11, 2016, according to the factual basis documents they signed.
According to the documents:
The federal government learned about their business in 2014 when a confidential informant (CI) learned that Troy was involved with killing and selling eagles and eagle parts.
In July 2014, Fairbanks and his son Majestic traded the CI 28 eagle feathers for $5,415 worth of bear claws, elk teeth, fur, silver jewelry and other items. In September, Troy sold the CI a Cheyenne Dog Soldier bonnet for $1,000 in cash and $500 worth of bear claws. In December, Troy offered to sell the CI a Dog Soldier bonnet made of more than 800 turkey feathers, the biggest he'd ever made.
Troy received $6,021 in cash from the CI in May 2015 after selling him raptor feet, an eagle head, eagle wings and 223 loose feathers. The feathers came from eagles and hawks but also the Andean condor, a federally listed endangered species. In September and October, Troy received $2,100 in cash and two fur coats from the CI after selling him an eagle feather bustle and 262 protected bird feathers.
When federal agents searched the Fairbanks home on Feb. 11, 2016, they found and seized regalia and eagle feathers, wings, feet and carcasses. The USFWS forensic lab tested the traded, purchased and seized items from the Fairbanks and found they came from at least 112 different eagles or eagle parts — including from bald and golden eagles — and at least 15 other bird species.
Majestic was sentenced in February to one year of supervised release after pleading guilty to violating the Bald and Golden Eagle Protection Act, a crime punishable by up to one year in prison. Troy Young, Majestic's brother, pleaded guilty to the same crime but it's unclear if he's been sentenced yet since his case is not appearing in a federal court records search.
Troy Fairbanks is one of the last defendants of the Project Dakota Flyer investigation to be sentenced, according to a news release from the U.S. Attorney's Office in South Dakota. So far, 29 defendants have been sentenced, resulting in $56,000 in fines and $196,546 in restitution.
Sign up for our Crime & Courts newsletter
Get the latest in local public safety news with this weekly email.