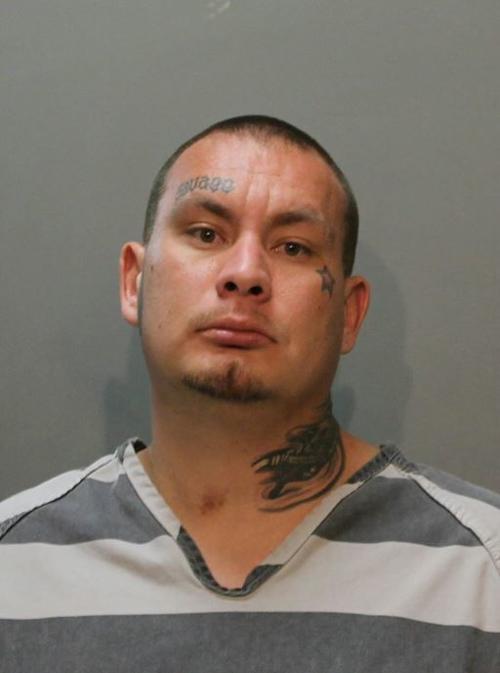 A judge will decide on a jail transfer for a Rapid City murder suspect after he complained about being pepper sprayed and restrained to a chair for hours after a self-harm attempt at the Pennington County Jail, while a captain testified that the man made numerous attempts to commit crimes and intimidate witnesses from within the facility. 
Barry Allman wrote to a judge that his constitutional and inmate rights "are being violated greatly" in solitary confinement after he was able to live in the general population in the Pierre and Winner jails. 
"This is not something that's unfair to him," he's in solitary for witness intimidation and has allegedly murdered someone, prosecutor Roxanne Hammond said during a hearing on Wednesday. "He just doesn't like the restrictions that have been put on him." 
Allman, a 30-year-old from Box Elder, is charged in Pennington County Court with second-degree murder in the Aug. 6 stabbing death of Lance Baumgarten, a 33-year-old from Rapid City. If convicted, he faces a mandatory sentence of life in prison without the chance of parole. 
By the time Allman was arrested on Aug. 7, he was already a suspect in an Aug. 3 homicide and had a federal arrest warrant for allegedly abusing his girlfriend and shooting at her sister in July, according to federal court records. He has not been charged in relation to any of these crimes and no one has been arrested in the shooting death of James Donner, the other homicide victim. 
Allman filed a motion, affidavit and letter to Judge Matt Brown last month asking to be transferred to the Winner Jail as he awaits trial for his murder charge. 
Captain Wade Anderson, who is in charge of security at the Pennington County Jail, testified Wednesday that Allman has been in solitary confinement for 23 to 24 hours a day for the vast majority of the time he's been in jail from Sept. 17, 2020, through Nov. 4 and since he was re-booked for the homicide charge on March 17. 
Allman, wearing a red-and-white striped prison uniform designated for high-security inmates, testified that he must find time to shower, call friends and family, contact his lawyer and/or file requests to the jail through a computer system during his one or two hours of freedom. He said this time can be reduced to 30 minutes if there's a disturbance or other circumstance in the jail.
Allman said a guard stands right next to him when he calls his lawyer, which would violate attorney-client privacy rights. He also said he's blocked from contacting 27 people. Those people either blocked Allman themselves or were granted formal court protections, Anderson said. 
Defense lawyer John Murphy argued that Allman was in solitary for vague accusations of witness intimidation and other infractions that occurred in the fall, not since he was booked again in 2021. 
Anderson said Allman had one infraction this year — for trying to email someone he isn't allowed to contact — but the jail is allowed to use past behavior in determining housing assignments.
Anderson said he got a report from an investigator with the sheriff's office last fall that Allman was using other inmate accounts to coordinate crimes and contact witnesses in order to try to convince them not to testify against him. He said video footage and an inmate interview also prove that Allman yelled at another inmate from within his cell to try to intimidate her. 
The captain told Murphy that he didn't recall if the investigator provided specific allegations in the report and he didn't do further investigation because it's routine for the jail to use and trust information from law enforcement. 
Restrained after self-harm
Anderson also addressed Allman's complaint about the pepper spray and "four-point restraint chair," which restrains people to the chair with ankle and wrist cuffs.
He said Allman was twice put in the chair, once in response to putting a clothing item around his neck in the fall. In response to the self-harm attempt, a corrections officer used pepper spray before putting Allman in the chair for three hours. 
Guards clean off anyone who has been sprayed, Anderson said. Inmates strapped to the chair have a medical assessment and are then monitored every 15 minutes with the goal of releasing them as soon as it's safe.
Allman wrote that he had to go to the bathroom on himself during this time but no one addressed his claim during the hearing. Jail policy says people's hygiene needs must be taken care of while restrained. 
The chair is used to prevent inmates "displaying uncontrollably violent behavior" from hurting themselves or others only "when all other reasonable methods have proven ineffective," the policy says. Anderson did not address why this restraint was chosen over the other option — an empty, padded cell.
Allman also said he was upset about delays in physical and mental health treatment. He said he requested help within 48 hours of arriving to jail on March 17 but didn't receive mental health treatment until early May and is still waiting to meet with a physician. 
Inmates who file a sick call request for urgent medical issues are seen as soon as possible, Anderson said. He said Allman filed a medical inquiry, which is when inmates want to meet about a non-urgent issue and therefore is addressed at a slower rate. It's unclear if this policy applies to mental health as well. 
Allman's other complaints included a lack of sleep due to mentally ill inmates kicking the walls and speaking to themselves throughout the night. Anderson did not address this issue.
Anderson said Allman is not being treated any differently than any other inmate who has a similar charge and behavioral history in jail. He said Allman has filed objections during his weekly housing assignment but has not appealed those decisions that keep him in solitary. 
Brown said he needs to decide whether he would be "jumping the gun" to order a transfer before Allman exhausts all of his grievance remedies within the jail. 
Allman's appeals in jail would be "fruitless" because "there's nothing for him to defend against" since he hasn't been told about the investigator's specific allegations, Murphy said. He noted that his client has not been charged with anything related to intimidation. 
Hammond said Allman being in Winner would make it harder for his lawyer and family to visit him, and more difficult for Pennington County authorities to monitor his communications. 
Brown said he would issue his ruling by Tuesday after going over documentation provided by the jail. Allman is scheduled for trial Dec. 6-17.