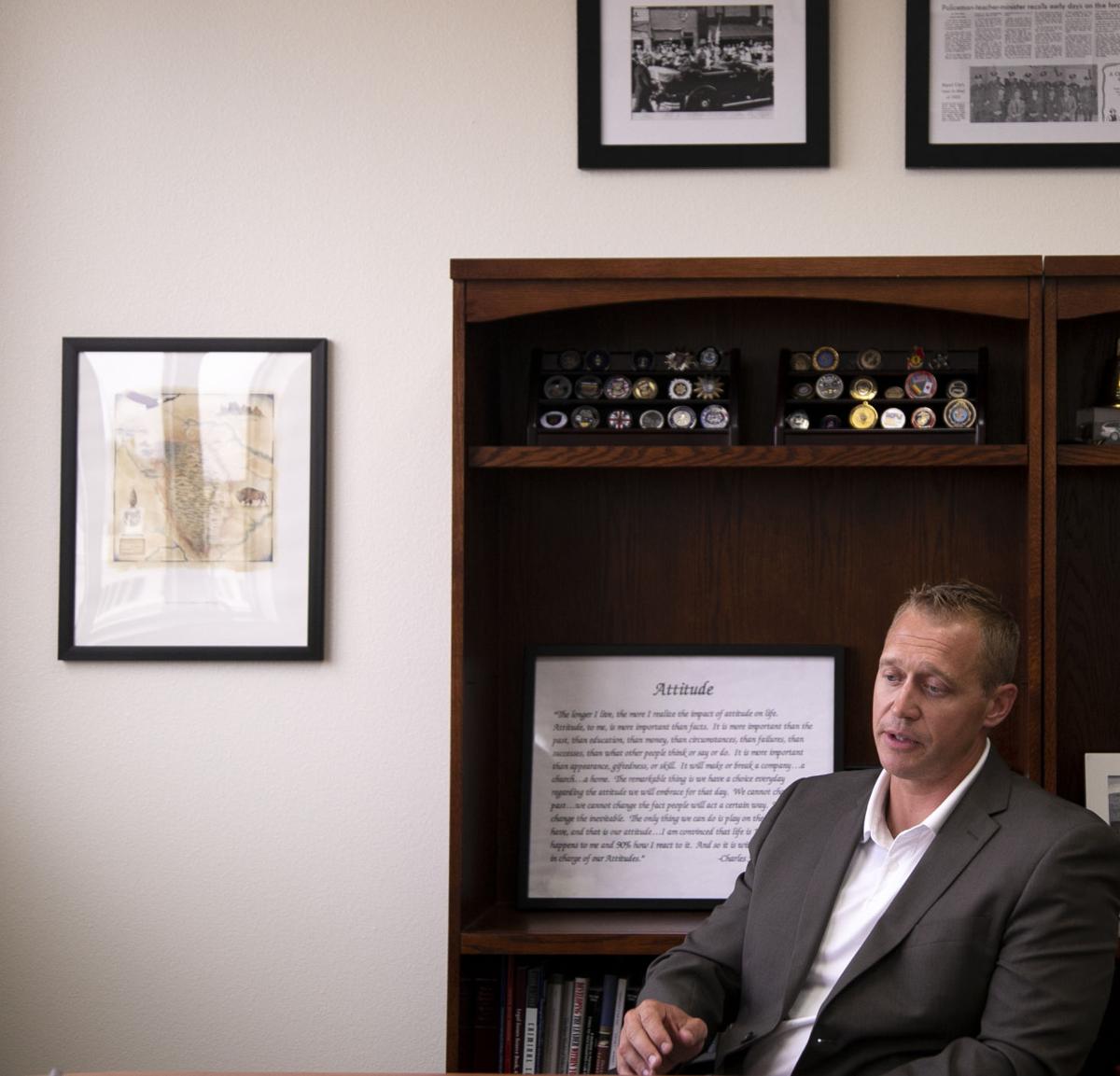 Rapid City's police chief began his new job amidst national and local calls to reform or defund the police while handling six homicides between Aug. 3 and Sept. 3.
At the same time, Don Hedrick is tasked with responding to the entire community — some who want more resources for police and others who want the police department to scale back its role in the community. 
Another group — who identified themselves as citizens, business owners, city employees and family members of law enforcement — sent an anonymous Aug. 11 letter to the mayor, city council and Journal saying they want the city to take crime and officer safety more seriously.
The police chief said the budget is increasing so much because this year the city is counting the department's grant money, whereas last year it did not.
"If you compare apples to apples, meaning comparing both years excluding the grant funding, the increase is less than 1% over last year," he said.
The Journal sat down with Hedrick to ask him about new programs he wants to implement and whether he's open to ideas proposed by community members.
Policing, crime prevention
"We all know that some types of crime are very often the result of socio-economic factors," but "we also must acknowledge that there exists a disproportionate amount of victimization within our minority population," Hedrick said about crime in Rapid City. "Trauma-informed policing training has helped officers understand some of the root causes of distrust among our minority population."
Hedrick said he's not interested, however, in making changes when it comes to preventative patrols, traffic stops, and pulling over to check in with people walking or sitting outside at night.
Some reform activists have called for officers to end or spend less time on these patrols and stops so officers can focus more on solving crimes and because they say these actions are more likely to impact poor people and people of color. Some other cities — such as Berkeley, California, which is creating an unarmed civilian agency to handle traffic stops — are implementing new policies to address these issues. 
"We're not just walking around frisking people" and "I don't think a complete hands-off approach is going to work," Hedrick said.
He said the department stopped doing some proactive policing during the beginning of the coronavirus pandemic but certain crimes, like burglary, "skyrocketed."
Data from the police department  shows there were 49 burglaries between March 15 and April 15 this year compared to 26 during that time period last year. Aggravated assaults, vehicle thefts, arson and homicides also increased but not by as significant a margin as robberies. Sexual assaults and thefts decreased, while drug arrests decreased from 149 to 70. 

"There is an expectation from the community that we are out proactively trying to address issues and crime," Hedrick said. "If there was something that we were doing that was creating more harm than good, we would be very open to reevaluating what that practice is and how can we do it in a way that doesn't cause a problem for the department and community."
Hedrick said the department is hoping to address high-crime areas with a new $1 million community-based crime reduction grant from the Department of Justice.
He said the grant will allow the department to analyze data to figure out where and when crime is most likely to occur and if there are repeat offenders. The department will then meet with residents of those areas to work to gain their trust and hear what they want from the police. 
"We could go in and be heavy-handed and make a whole bunch of arrests and really would that bring crime down?" Hedrick asked. "Maybe for the short term, but if we're in there building a partnership and working with the folks in the community that want to see a positive change, helping empower them to make their community safer, we feel like that's a better approach."
Hedrick said this may be an opportunity to create a violence interrupter program where community members are trained to help de-escalate situations.
Both the police reform/defund activists and the anonymous letter writers have concerns about police officers responding to calls related to intoxication, mental health and homeless people who need transportation to the Care Campus.
They say these are social, not criminal issues; that they take up officers' time when they could be focusing on solving serious crimes; and that police responding to these issues is not helping relations between the department and Native American community
"We do that outreach because nobody else is doing it — that's it," Hedrick said. "Our officers are the ones that have become the 24/7 caretakers of the vulnerable in our community because there's nobody else out there doing it."
He said if officers didn't respond to these calls and patrol downtown and the bike path where many homeless people spend time, they may become dangerously intoxicated, commit a crime or become crime victims themselves.
"If there are people out there that want to partner with us and help us I would ask, when can they start," he said.
"We would need to ensure any potential organization had training, policy and procedure in place to provide these services in a manner that is safe for both its personnel and the community," Hedrick said. "In order to preserve continuation of these services, these organizations would need to be established before any transfer of funding could take place."
Hedrick said he doesn't think the department could completely stop responding to these issues because sometimes people who are intoxicated or going through a mental health crisis are not compliant or become violent.
"I do know that at times the uniform can cause, it can trigger an emotional response based on something that happened in the past," but people may react poorly to civilians or counselors trying to help them too, he said.
The police chief said he's researching whether a program like CAHOOTS — based in Eugene, Oregon — could work in Rapid City. The program sends out unarmed pairs of medics and trained crisis workers rather than police to respond to mental health, substance abuse, welfare and conflict resolution calls.
Hedrick said the department recently assisted Journey-On, a local nonprofit, to secure funding to create a street outreach program focused on homelessness and victimization. A grassroots group has recently begun patrolling the bike path, but it's unclear if they've been in communication with the police department.
Hedrick said he wants to prevent youth crime through social interventions and officers forming relationships with young people.
"Are there things we can do earlier on before things escalate?" he asked.
Hedrick said the department recently received a $375,000 grant from the Department of Justice that will be used to create a Coordinated Youth Outreach Unit.
He said the department will use the money to connect youth and their families to social workers and other experts to make sure they're receiving resources to address the root causes of the kid's behavior.
"When the crime occurs or when even a status offense — like a runaway — occurs, we're the ones that are called," Hedrick said. The program will let us "call in experts to help us mitigate it before it becomes a bigger problem."
"We're trying to find outside-of-the-normal solutions and we're trying to bring in experts to help us because these issues that we're facing are bigger than the police," he said.
Hedrick also wants to expand the department's youth outreach programs.
He said officers began playing basketball with kids during Summer Nights in downtown Rapid City and the casual activity morphed into the Rapid City Police Activities League, a community-run nonprofit.
Hedrick said he wants to add more sports — and ones that are safer for coronavirus — to the program, such as lacrosse, skateboarding and spikeball.
"I just think it's so positive for police officers to have engagement with the youth in a way that is positive for both them and us," he said. "Some of the kids we've been working with maybe haven't had a good experience with police officers in the past but how cool is it that they can go home and tell their family that 'I got to play basketball with a police officer.'"
Officer well-being, diversity
Hedrick said he wants to prioritize officer well-being and make the police force better reflect the community's racial diversity.
The police chief said he'd like to find a grant to create a wellness coordinator position that would oversee the department's chaplain, psychologist, fitness/nutrition team, and peer support team — which are all currently housed in different divisions — and make sure they're  meeting officers' needs.
"We recognize that if officers are struggling in certain areas of their lives, they are not in a healthy place to be out in the community working to help others," Hedrick said. "We believe in a holistic approach to officer wellness, and that is why we have resources in place — many of them in-house — to address their mental and physical well-being."
The department has 129 sworn officers and five are Native American, three are African American, two are Hispanic, and one is Asian or Pacific Islander. The rest are white, some other race or chose not to report.
Hedrick said the department has hired new officers through the Akicita program at Western Dakota Tech, a mentorship program for Native American students studying criminal justice. He said he'd like to expand the program to other colleges and universities, including Oglala Lakota College, as a way to recruit more Native American officers. ​
Sign up for our Crime & Courts newsletter
Get the latest in local public safety news with this weekly email.