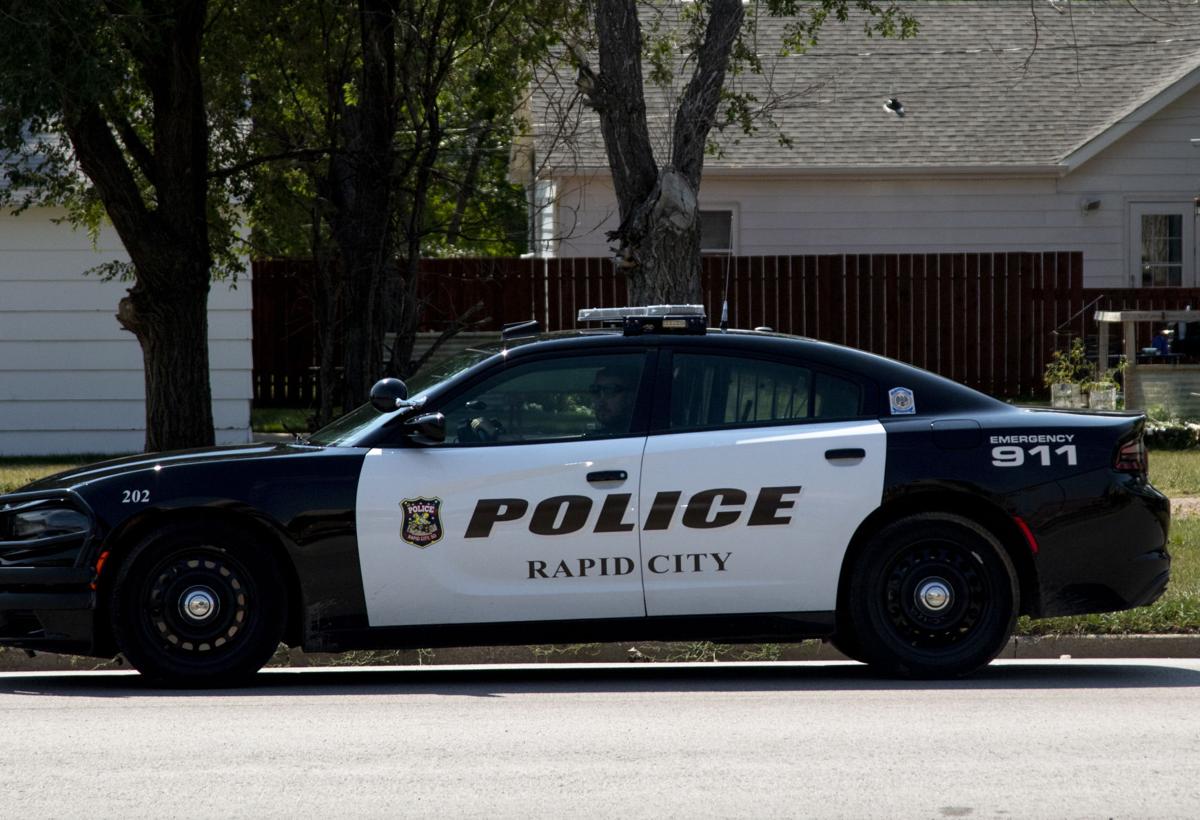 A Rapid City police officer was treated at the hospital after a man he tried to detain bit and broke the skin on his arm earlier this month, according to police reports and spokesman Brendyn Medina. 
"We got into a physical altercation on the ground where he eye-gouged me several times and bit me on the right bicep," Officer Wyatt Derr wrote in a police report. "He bit me in this location several times, eventually breaking the skin and leaving a bruised and bloody area." 
Cody Cedar Face "continually refused officer directives and said he would kill me all while trying to grab my gun," Derr added. 
Derr said he was eventually able to handcuff Cedar Face with the help of pepper spray, knee kicks and another officer. A medic at the scene evaluated the bite before Derr went to the hospital. Cedar Face was taken to jail where a technician took blood samples to see if he had drugs in his system or any communicable disease he could pass on to Derr. 
Cody Cedar Face, a 25-year-old from Rapid City, is charged with aggravated and simple assault of a law enforcement officer in relation to the April 17 incident, court records show. He's also charged with obstructing and threatening Derr and giving him a false name. 
The assault charges are in the alternative, which means Cedar Face could be convicted of one or neither of them, but not both.
Police reports explain how Cedar Face allegedly came into contact with Derr and assaulted him before being arrested.
Derr was leaving a Knollwood Heights apartment after clearing a disturbance call at 12:53 a.m. on April 17 when he came across a man — later identified as Cedar Face — who appeared to be under the influence of a substance since he was moving his arms frantically and speaking incoherently. Derr asked for the man's name and Cedar Face responded "anonymous" before Derr let him leave. 
The officer walked back to his patrol vehicle and saw that the majority of his front passenger window was cracked. He didn't see a rock or other item that might have been used to break the window, and he began to look for Cedar Face. 
Cedar Face said he didn't know what happened to the vehicle and Derr didn't see any blood or cuts on him from breaking glass. Cedar Face refused multiple times to share his name before saying he was Lucifer Morning Star.
"It was unfortunately discovered later this was the name of a DC comic book character," Derr wrote. 
Derr told Cedar Face to put his hands behind his back after he "began looking around the area like he was trying to find a location to run to."
Cedar Face ran away and later fell, Derr said. He said he got on top of Cedar Face before they "engaged in a physical altercation on the ground."
Cedar Face stuck his fingers in Derr's eyes, Derr pulled Cedar Face's fingers away and Cedar Face then got on top of him, the officer said. Derr said his radio and earpiece fell off, Cedar Face punched him once in the face and he returned a single punch to the face. 
"I will (expletive) kill you," Derr said Cedar Face told him before biting the inside of his right bicep multiple times and trying to gouge his eyes again.  
Derr said he could hear an officer over the detached radio and Cedar Face responded, "Can't respond out here (racist slur). You're dead out here" while threatening to "get" and "take" Derr's eye.
"Where's your gun at," Derr said Cedar Face asked before looking at his firearm. Derr said his body camera accidently turned off before this comment due to the fight. 
Derr said he used his stun gun on Cedar Face, who got off of him, and used it a second time since Cedar Face was trying to stand and walk away as Derr told him to stay put. 
The officer said the second stun gun hit had no impact so he pepper sprayed Cedar Face in the face from about eight feet away. Derr said he took Cedar Face to the ground, got on top of him and held his arms down.
Derr said Officer Kyle Remington arrived to help but Cedar Face would not release his arms from under him. Both officers wrote that they used their knees to to hit Cedar Face in an attempt to make him release his arms. 
A use-of-force report matches all the kinds of force Derr and Remington said they used. 
Cedar Face was eventually handcuffed and arrested after medics evaluated his scratches from the fight and said it was safe for him to go to jail, a third officer wrote. He was not charged with breaking the window of the police car. 
Cedar Face, who is jailed on a $50,000 cash-only bond, will have a preliminary hearing on May 3 unless he is indicted beforehand, court records show.