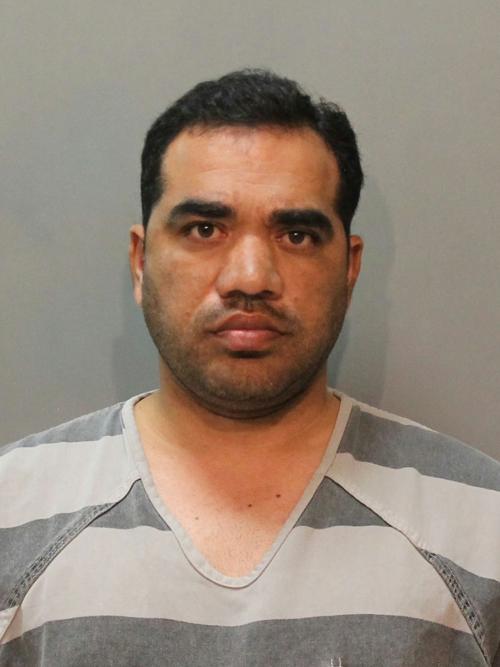 A Catholic priest in the Rapid City diocese has been charged with sexually assaulting a minor. 
John Praveen, also known as John Praveen Kumar Itukulapat, 38, was arrested today and charged with two counts of sexual contact with a child under 16, a class 3 felony which carries a punishment of up to 15 years in prison and/or a maximum fine of $30,000 on each count, according to a press release from the Rapid City Police Department. 
A joint investigation into the allegation began Sept. 30 by the RCPD and Pennington County Sheriff's Office after a juvenile victim came forward to report the incidents, the press release said. The investigation revealed that Praveen made sexual contact with the child on two separate occasions. The RCPD and PCSO thanked the leadership of the Rapid City Catholic Diocese for cooperating with the investigation. 
"This is obviously an ongoing, high-priority investigation," Captain Corey Brubakken of the PCSO Criminal Investigations Division said in the release. He said anyone with any relevant information to the case should contact investigator Jesse Fagerland at 394-6115.
The diocese learned of the accusation from the RCPD and PCSO Monday evening, Bishop Robert Gruss said in a press release. The diocese is "fully cooperating" with the investigation and removed Praveen from his position. 
Gruss encouraged anyone else who may have been abused to contact the police or the diocese's victim coordinator at 605-209-3418.
"Our prayers and concerns go out to this the young person and the family, and all those who have suffered from any type of abuse," he said. 
The dioceses' December 2017 newsletter said Praveen joined the diocese for a 10-year period after working in India, where he was born. 
The newsletter said Praveen and another Indian priest were assigned as parochial vicars to All Saints Church in Eagle Butte and all of its parishes. Eagle Butte is located in Dewey and Ziebach counties and is the headquarters of the Cheyenne River Sioux Tribe. 
In June, Praveen transferred to the Cathedral of Our Lady of Perpetual Help, a church in Rapid City, Bishop Gruss said in an email to the RCJ. 
Gruss said Praveen's position involved typical priestly duties including conducting mass and going on home visits. 
He said the time and location of the alleged abuse is under investigation by the police. 
The allegations against Praveen come after an August Pennsylvania grand jury report that listed more than 300 Catholic priests accused of sexual abuse over seven decades and 1,000 child victims.
That report was released a month after the resignation of Cardinal Theodore McCarrick, a former archbishop of Washington, D.C., who was accused of sexually abusing children and adults for decades.
"These horrific actions bring deep sadness and shame to me and many of my brother bishops," Rapid City Bishop Robert Gruss said in an August statement about McCarrick and the grand jury report.
In his statement, Gruss called for the creation of national, independent panel of lay (non-clergy) Catholics "completely separated from any source of power in the church" to help make lasting reforms to prevent clergy abuse and hold abusers accountable. 
He said since the 1990s, the Rapid City Diocese has followed policies including conducting background checks on clergy, training on codes of conduct and creating safe environments, investigating abuse allegations and notifying the police. 
Gruss said the diocese conducted a background check on Praveen, but did not explain what that process specifically looks like. 
"There is nothing in his background to suggest such behavior. His religious superiors in India verified that he was a priest in good standing," Gruss said. 
Sign up for our Crime & Courts newsletter
Get the latest in local public safety news with this weekly email.