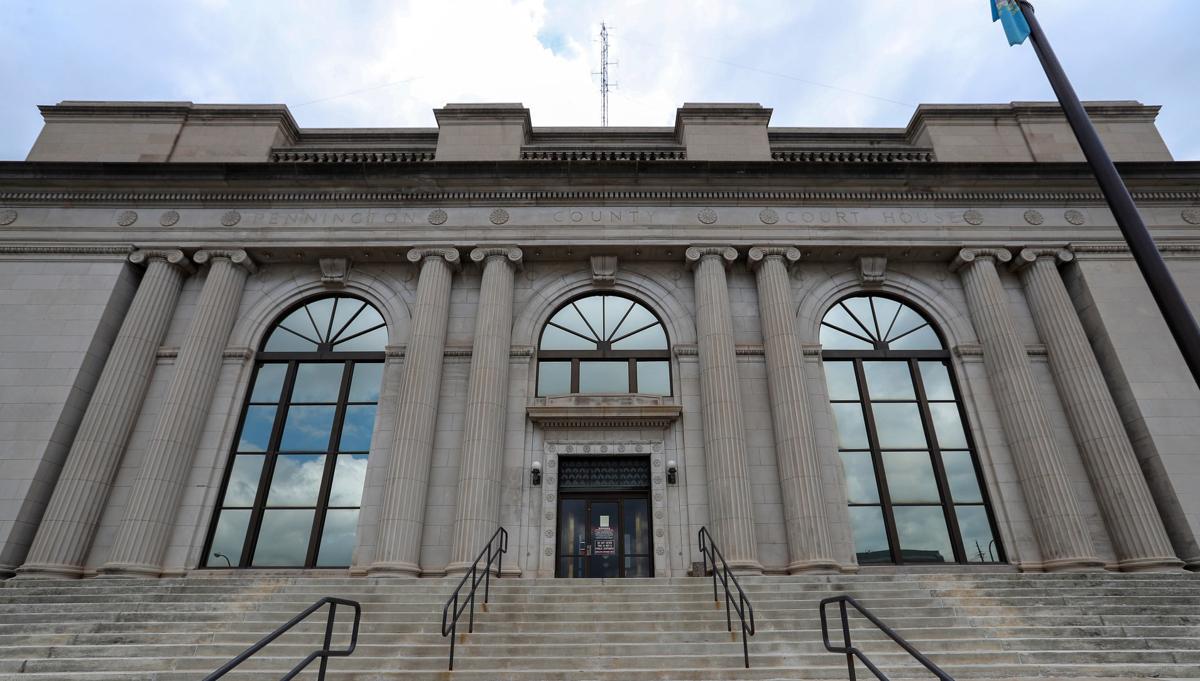 A Rapid City man labeled by a prosecutor as a "serial rapist" was sentenced this week to 45 years in prison.
Andrew Johnson Jr. was sentenced Monday at the Pennington County Courthouse after pleading guilty to fourth-degree rape, two counts of aggravated assault and possessing child pornography.
The 24-year-old was originally facing more than 300 years in prison on a plethora of rape, assault, kidnapping and child porn charges.
Lara Roetzel, chief deputy state's attorney, asked for a 50-year sentence, saying Johnson is a "serial rapist" who is a "danger to every woman he comes into contact with." She said he doesn't take responsibility for his actions or understand how he's physically and emotionally harmed people. 
Defense lawyer Paul Andrews had asked for a 20-year sentence with 13 years suspended, arguing his client is still young and can be kept on a "short leash" and change his behavior with therapy while serving the probation term.
Roetzel said that Judge Heidi Linngren noted that he had committed new crimes while out on bond, made blackmail threats, and was not accepting responsibility for his actions.
Linngren said she had to weigh punishment with rehabilitation but her main concern was public safety, Roetzel said. She said the judge called Johnson a "violent predator" who "terrorized these women" and has "no clue how much you hurt people."
In his first case, Johnson was charged with two counts of second-degree rape, three counts of kidnapping, two counts of aggravated assault and four counts of simple assault against his 17-year-old girlfriend between June 2017 and January 2018.
Roetzel defined the relationship as one filled with emotional and physical "terror" with Johnson often shoving, hitting and ripping out the girl's hair and telling her how to dress and where she can and can't go.
The two assault convictions are for Johnson twice choking his girlfriend until she blacked out, Roetzel said. She provided photos of the injuries to Linngren.
"She thought she was going to die," Roetzel said.
Roetzel said Johnson kidnapped the girl by forcing her into his car at Rapid City High School and making her promise not to break up with him. She said he twice raped the girl, once videotaping the assault.
When the girl tried to break up with Johnson, Roetzel said, he threatened to blackmail her by releasing explicit photos and videos of her. She then shared a screenshot of the blackmail messages with Linngren. 
Roetzel told the Journal that while 16 is the age of consent in South Dakota, it's illegal to take explicit photos of people under the age of 18.
Johnson's bond was originally set at $50,000 cash-only, but Linngren agreed to lower it after his family promised they would keep an eye on him and only let him leave the house for work. Johnson was released from jail in May 2018 after his father recruited friends and family members to help pay for the reduced $15,000 cash bond. 
Roetzel said Johnson went on to rape two other people — including a 15-year-old — while he was out on bond.
Johnson pleaded guilty to one count of fourth-degree rape after originally being charged with second-degree rape, possessing child porn and three counts of fourth-degree rape while dating the girl between January and May 2019.
Roetzel said Johnson began meeting up with the girl after sending her a Facebook friend request. The 15-year-old didn't report the rapes herself, but law enforcement began investigating the case after receiving a tip from Facebook. Roetzel said the girl cooperated and explained that Johnson raped and took photos of her several times.
Johnson was later charged with third-degree rape for having sex with an incapacitated woman in a hotel in April 2019, Roetzel said. That case was dropped as part of the plea deal. Roetzel said a man in the hotel room called 911 to report that Johnson was raping a girl as she slept. 
Andrews said that much of what Roetzel discussed were "unproven allegations," not the crimes that Johnson had been convicted of. 
He said his client voluntarily completed an anger management course, has strong family support, admitted to his "inexcusable" crimes, and wants therapy so he can change.
Johnson's young age makes him "capable of redemption," Andrews added.
He said prison time will give Johnson the punishment he deserves while the probation time will allow him to attend therapy to deal with his immaturity and understand the impact of his actions.
Johnson apologized to his victims, their families and Linngren at the hearing.
He looked at his family and apologized for "disgracing our name" and the money they spent on his case.
Johnson cried as he said "there is no justification" for what he did and takes "full accountability and responsibility" for his actions.
I "hate and resent myself' and think about what I did each day, he said.
Sign up for our Crime & Courts newsletter
Get the latest in local public safety news with this weekly email.