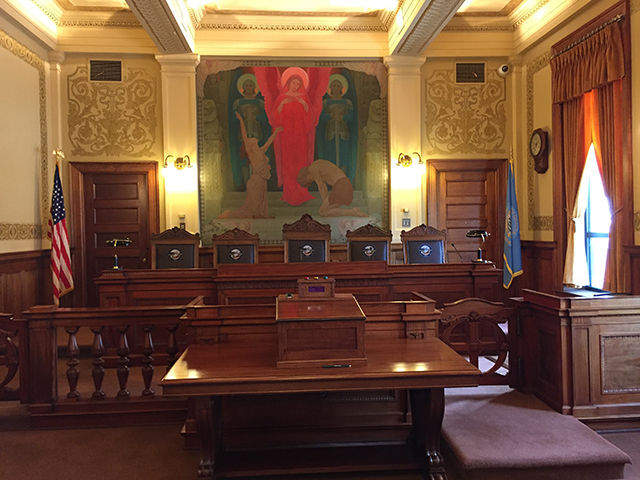 A 64-year-old man with multiple medical conditions and whose lower leg was amputated after a work injury is not permanently, fully disabled, according to a South Dakota department and judge. He needs to look harder for work and should be willing and able to make a two-hour, 108-mile daily commute.
Steven Billman was working at Clarke Machine, Inc. when he cut his foot on a metal shaving on Feb. 6, 2015, according to the ruling. Three days later, he sought treatment at a clinic where doctors found his foot was infected and transferred him to Avera Hospital in Sioux Falls.
Avera found the infection so serious that surgeons needed to amputate Billman's right leg just below the knee. Billman then moved to Volga to live with family and received a prosthetic leg in June 2015.
A doctor found that Billman is 80% disabled and can't do certain activities, while the Social Security Administration found he is unemployable based on the nationwide job market.
Billman has multiple medical conditions, including diabetes and peripheral neuropathy, a condition that causes weakness, numbness and pain, usually in the hands and feet.
He began experiencing more problems with managing his diabetes after the surgery and had to be taken by ambulance to the ER after becoming unresponsive multiple times. He also had to have corrective amputation surgery in June 2016.
The Department of Labor and Regulation granted Billman partial disability payments for 2.5 years worth $11.20 an hour. He appeared before the department in December 2018 to argue he deserved permanent, total disability benefits.
Billman said his physical restrictions include: 
He can't lift more than 20 pounds, lean on his knees or walk on uneven surfaces;
He must replace his prosthetic leg's sock lining multiple times a day;
He can only sit for about 1.5 hours before needing to stand up and can only sit for a total of five hours per day;
He must take up to five days off work each month to remove his prosthetic.
Billman said he began searching for jobs in March 2018 since he had to recover from his surgeries and learn how to use his prosthetic leg. He applied for 12 jobs in the drafting and design field, but said he's worried his age and disability will make it hard to find work, as well as the fact that he's not familiar with the newest technology.
Billman's vocation expert testified that he conducted a "good-faith job search" and it didn't make sense for him to go through new technology training since he would be at retirement age once he completed it.
The vocation expert for Clarke Machine and its insurance company said Billman — who she never interviewed — should have started looking for jobs earlier and expand his search to other fields.
The department said Billman did have some disabilities. But they said he can still do some physical work, has the ability to adapt and learn new technology, and his age doesn't prevent him from finding work.
Billman's vocation expert is a certified rehabilitation counselor but the department said it found the company's expert — who does not have that certification — more persuasive.
The department denied Billman's request, saying he is not obviously unemployable and didn't make a reasonable job search. For example, he failed to look for work in Sioux Falls, a two-hour, 108-mile daily commute from Volga.
Billman appealed to the Hughes County Court where Judge Christina Klinger upheld that he was not obviously unemployable and inappropriately limited the geographical size of his work search.
The Department of Labor and Regulation looked at each of Billman's factors in "a silo" rather than examining his "physical condition, in combination with the employee's age, training, and experience" as required by law, the justices wrote.
"While Billman's age, physical condition, and training each, on its face, may not inhibit his employment, when analyzed together it becomes clear that Billman" can't find work, they wrote. 
Every single person who testified before the department said Billman's age would impact his job search so the department was "clearly erroneous" when it wrote "there is no clear evidence that Billman's age has prevented him from finding employment," the justices said. 
They said Billman would need to find an employer that is willing to accommodate his disabilities and spend the time and resources to train him, even though he is near retirement age.
The department said Billman could drive to Sioux Falls for work but failed to consider the physical and financial costs of that 108-mile commute, the justices wrote.
"Physically, Billman can operate a vehicle; however, the ability to operate a vehicle does not make one capable of a daily two-hour commute," they wrote. "In a state like ours that has precarious weather conditions for six months out of the year, such a commute is not feasible for a person who is operating a vehicle with one leg on potentially icy roads at night."
If Billman sits while driving two hours a day, that means he can only sit for three more hours at work, the justices noted.
The vocation expert for Clarke Machine, Inc. and its insurer provided the department with five jobs she said matched Billman's abilities. The justices said the expert failed to properly investigate those jobs, and at least three of the them would not work for Billman.
"The department's determination that Billman is not obviously unemployable is clearly erroneous," the justices concluded. ​