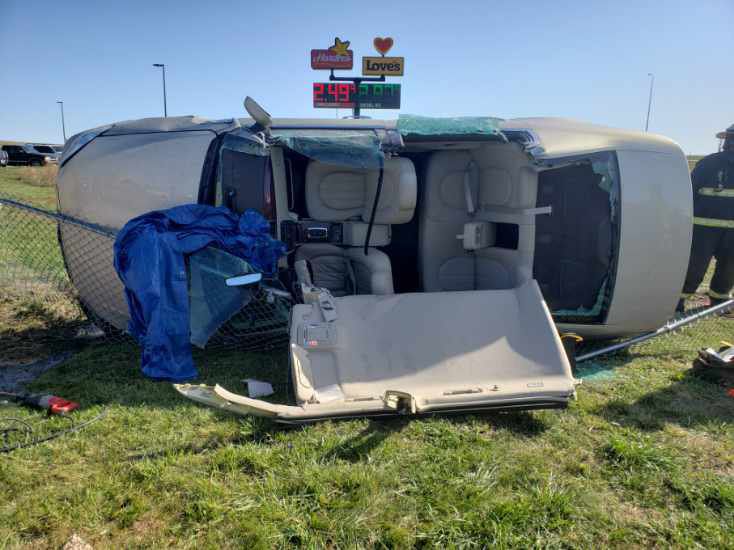 A 16-year-old girl who allegedly stole a car and fled from police at more than 100 mph was injured Monday morning after crashing on Interstate 90 near Box Elder. 
"Amazingly 16 year old female runaway was able to walk away from this crash," the Pennington County Sheriff's Office said on social media posts that include photographs of a gray sedan lying on its side with broken windows and a torn-off roof.
Morning pursuit of stolen vehicle ends in crash at Interstate 90 exit 67 in Box Elder. Amazingly 16 year old female runaway was able to walk away from this crash. @SDHighwayPatrol is handling the accident investigation. pic.twitter.com/VHuYsCEDV8

— Pennington County SO (@PennCoSheriff) October 7, 2019
You have free articles remaining.
A driver called 911 Monday morning to report that the girl was speeding and nearly hitting other cars at mile marker 173 on I-90 in Jackson County, according to Helene Duhamel, spokeswoman for the sheriff's office. 
Pennington County deputies began following the girl once she crossed into their jurisdiction but called off the chase in Wall for safety reasons since the teen was sometimes driving more than 100 mph, Duhamel said. They resumed the pursuit near New Underwood and the girl crashed near Exit 67, after Box Elder police officers put out spike strips to deflate the tires. 
The girl was taken to the hospital for injuries, Duhamel said. No one else was hurt. Authorities charged her with reckless driving, aggravated eluding and possessing a stolen vehicle after realizing she was driving a stolen car from Hutchinson County in eastern South Dakota.
The Highway Patrol is investigating the crash.