A Rapid City man is accused of using a hammer to murder a sleeping single father of three young children and seriously injuring two women, according to a prosecutor and the victim's family.
"It's really heartbreaking," said the victim's sister-in-law. "He loved his kids so much" and "they adored their dad."
Allac "AJ" Dismounts Thrice, a 28-year-old from Rapid City, is charged with first-degree murder for killing Rich Montanez, a 39-year-old from Rapid City, on Sept. 3. He's also charged with two counts of attempted first-degree murder for trying to kill two women.
Dismounts Thrice — who was released from jail six days before the assault — used a hammer to attack the three victims while they were in their beds, likely asleep, prosecutor Megan Krueger said during the initial appearance hearing at the Pennington County Court on Tuesday morning.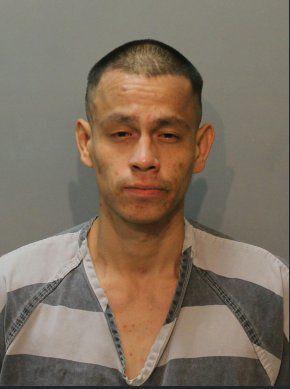 Montanez's 3- and 7-year-olds were sleeping in bed with him and began to scream when Dismounts Thrice came into the room with a hammer, Tiffany Dubray-Terzo, the victim's sister-in-law, said after the hearing.
She said a woman staying at the home on the 500 block of East Monroe Street escaped with the children after she and one of the kids saw their father being hit in the head.
The 7-year-old boy "saw everything" and tried to stop the attacker, said Tiffany's husband, Brandon Terzo.
Montanez later died at the hospital, according to the Rapid City Police Department.
Tiffany said the two other victims — Montanez's roommate and the roommate's friend — remain in comas or sedated in the intensive care unit after being hit in the head. She said one of them is only being kept alive with machines.
Tiffany said her brother-in-law was letting Dismounts Thrice, a friend of a friend, stay at his home since he was homeless. She said the woman who rescued the children and called 911 believes Dismounts Thrice was trying to rob Montanez.
Montanez was a "kind-hearted, hardworking man" who worked in construction to support his 7-year-old son, 6-year-old daughter and 3-year-old son, Tiffany said.
She and Brandon — who have six kids of their own — would frequently babysit Montanez's children when he was at work. Montanez's kids are now living with their grandmother in Bennett County and Tiffany and Brandon said they hope to remain very active in raising their niece and nephews. 
The attack was reported at 11:15 a.m. on Sept. 3, according to the Rapid City Police Department. Dismounts Thrice was arrested around 4:30 p.m. in Box Elder after a report of a suspicious man entering vehicles and storage sheds. Police then learned Montanez had died.
Dismounts Thrice appeared Tuesday morning before Magistrate Judge Marya Tellinghuisen through a video feed from jail.
Tellinghuisen read Dismounts Thrice his rights, charges and maximum penalties if convicted: the death penalty or life in prison without parole for the murder charge, and up to 25 years in prison for the attempted murder charges.
Krueger shared the alleged details of the attack and asked the judge to set a $1 million cash-only bond. A public defender said he had no comment on bond because Dismounts Thrice said he didn't want the office to represent him.
Tellinghuisen said she had to consider the seriousness of the allegation, public safety and Dismounts Thrice's past criminal record, which includes domestic violence, assaults and drug crimes.
"Why are you reading all of those," they aren't all proven, Dismounts Thrice said, interrupting Tellinghuisen.
The judge responded that she was reading his convictions, not just accusations, and set his bond at $1 million cash-only. She also gave him a no-contact order for the two surviving victims.
Dismounts Thrice began to cry as he silently walked away from the lectern at the jail.
Brandon said he doesn't understand how a man could attack people in their sleep, and both he and Tiffany believe Dismounts Thrice deserves the death penalty. 
State's Attorney Mark Vargo said it's too early to make a decision whether to pursue the death penalty but it would require at least one aggravating factor and input from the victim's family and defense lawyer.
This is the second time Dismounts Thrice has faced charges this summer, according to court records. He was charged July 22 with drug possession and receiving a stolen vehicle.
Dismounts Thrice's defense lawyer later asked a judge to reduce his $500 bond to a personal recognizance (PR) bond, meaning he wouldn't need to pay any money to get out, an email shows.
The defense lawyer wrote that his client couldn't pay the bond, his parole officer planned to supervise him, and he will participate in the 24/7 drug monitoring program until he's accepted into a drug treatment center.
The lawyer wrote that the prosecutor was fine with this arrangement and the judge agreed to the PR bond.
Dismounts Thrice left jail on Aug. 28 and appeared in court Sept. 1 before allegedly attacking his victims two days later.
Police are asking the public to help find Dismounts Thrice's backpack, according to spokesman Brendyn Medina.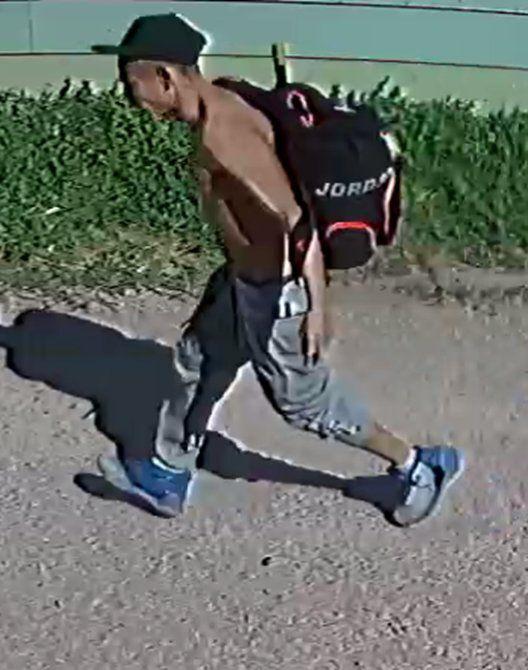 He said the backpack may have been ditched somewhere between Rapid City and Box Elder and have the weapon inside. The large black backpack says "Jordan" on it and has red accents. 
Sign up for our Crime & Courts newsletter
Get the latest in local public safety news with this weekly email.