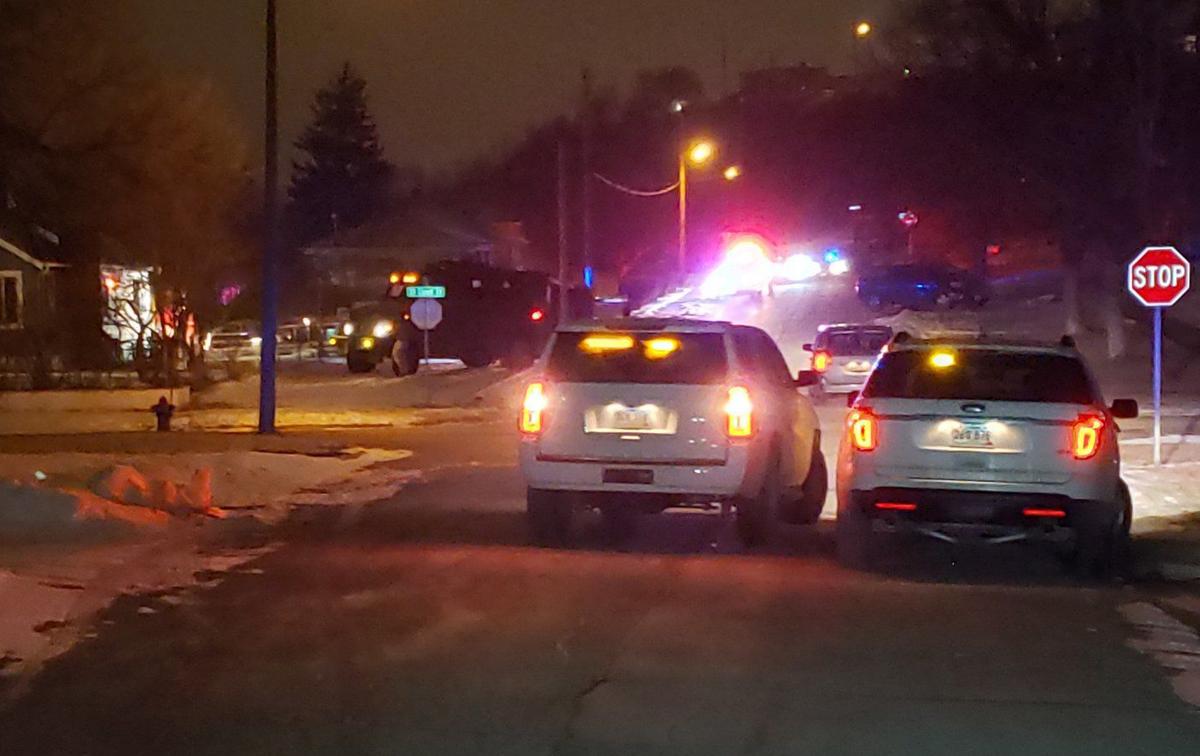 The man who allegedly robbed a Rapid City knife store at gunpoint was arrested Tuesday evening after setting a home on fire. The arrest leaves police searching for two other suspects after the city was hit with three armed robberies within a one-hour time span on Monday. 
It's "highly" unusual to have three armed robberies in one day let alone "three different robberies over the course of approximately an hour," Brendyn Medina, spokesman for the Rapid City Police Department, said Tuesday. 
Daniel Kline, a 19-year-old from Rapid City and the suspect in the M & K Knifeworx robbery at Rushmore Mall, was arrested on the 700 block of St. Cloud Street around 8:45 p.m., Medina said during a news conference near the scene. 
The robbery was reported at 3:50 p.m. on Monday, Medina previously told the Journal. Responding officers spoke with a store employee who said a man walked up to him at the checkout counter, displayed a gun and demanded money.
The worker said he complied before running to another store to call police, Medina said. Witnesses described the suspect as a thin white man between 20- and 25-years-old who was about 5 feet, 10 inches tall. He was wearing a black sweater, black hat and a black bandanna over his face. 
Police officers told surrounding stores to close their gates as they investigated, said mall manager Sandy Brockhouse. The stores re-opened after officers learned the suspect had fled through Knifeworx's back door.
Brockhouse said the mall's security manager told her this was the first armed robbery he's ever seen in his 20 years on the job. 
"It's very alarming," but "we're just very thankful for our relationship with our local law enforcement and their swift response to keep the mall, its patrons and its tenants safe," she said. Officers and mall security "did an outstanding job." 
Police officers used surveillance footage to identify a suspect vehicle, Medina said at the news conference. Officers found the vehicle Tuesday afternoon on the north side of Rapid City and spoke with the driver who provided more information about the robbery. That information led officers to Kline and the home on St. Cloud Street. 
The Rapid City-Pennington County Special Response Team was brought to serve the warrant due to the nature of the crime and Kline's history of violence, Medina said. SRT, which is similar to a SWAT unit, arrived around 8 p.m. and "issued numerous verbal commands" to Kline. While Kline refused to surrender, SRT was able to evacuate multiple people inside the home and at least one neighboring house. 
"We continued to try to call out the suspect," Medina said. But "at some point during the communication with the suspect, he made it very clear that his intentions were to burn the house down" and officers saw smoke coming out of the house. 
The Rapid City Fire Department, which was already at the scene on standby, began to fight the fire, Medina said. Photos sent to the Journal show a firefighter standing on a roof and looking into the home's attic area. 
You have free articles remaining.
Multiple neighbors reported hearing loud noises and seeing flashes to the Journal. Medina confirmed that SRT used "diversionary devices" meant to distract the suspect but he would not say exactly what the device is called. 
Kline eventually walked outside around 8:45 p.m. and was arrested on a warrant for first-degree burglary, Medina said. Other charges may be filed at a later time. 
Firefighters were still working as of 10 p.m. Tuesday night so officers were unable to search the house to see if they could find the stolen cash and gun used in the robbery, Medina said. 
The suspects in the two other robberies have not been identified, Medina said at the news conference. 
The first robbery happened around 2:50 p.m. at the south side Walmart when a man heading toward the exit displayed a knife after a worker asked to see his receipt, Medina previously told the Journal. 
The worker backed away and the man fled into a waiting vehicle, according to a news release from the police department. 
Medina said witnesses couldn't remember what the suspect was wearing but said he was a thin white man in his early twenties who was about 5 feet, 10 inches tall. 
Witnesses said he had a "bunch of stuff in his hands," including balled up clothing, but it's unclear if he was hiding other items inside of the clothes, Medina said. 
About 10 minutes later, someone at Boyds Drug Mart on East Saint Patrick Street set off a panic alarm, according to a Facebook post by the police department. Witnesses told officers that a man approached the pharmacy counter, displayed a firearm and demanded prescription drugs. The employees handed over the medicine and the man then fled in an unknown direction. The suspect is a 50-year-old white man with black hair who was wearing a yellow surgical mask, a Broncos cap and a brown jacket. 
Victims and witnesses to armed robberies should respond in whatever way they feel will keep them safe, Medina said. 
"First and foremost, you should do whatever you need to do to protect your own safety, and there's no solid black and white answer to that question," he said. "Money and things are replaceable, human lives are not."
Anyone with information about the suspects should call police at 605-394-4131 or send an anonymous tip by texting the letters 'RCPD' and the information to 847411.