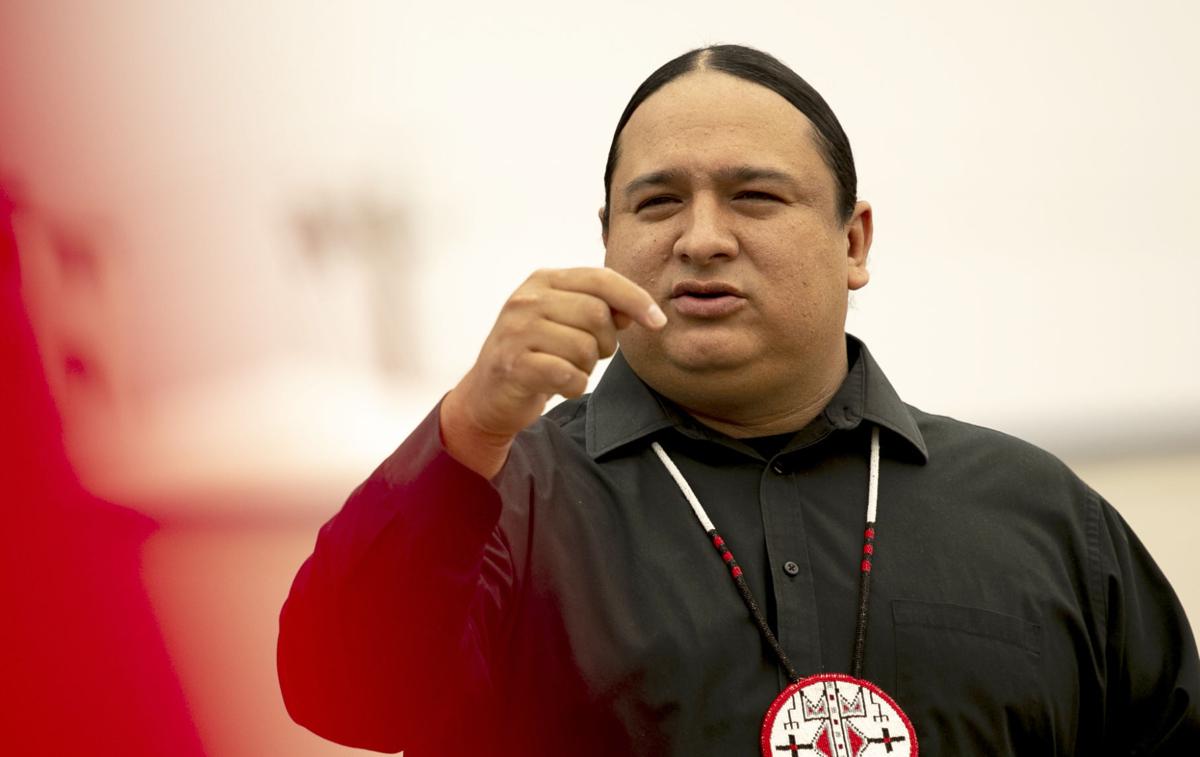 Nick Tilsen, a 38-year-old longtime social justice advocate from Porcupine, entered his pleas during his arraignment at the Pennington County Courthouse.
Tilsen pleaded not guilty to the following charges, which are accompanied by their maximum prison sentences:
Second-degree robbery, 10 years;
Grand theft, two years;
Two counts of simple assault against law enforcement, two years each;
Impeding a highway, one year;
Unlawful assembly, one year;
Disorderly conduct, 30 days.
The robbery and theft charges are in the alternative, meaning Tilsen could only be convicted of one of them.
A conviction on the robbery and all other charges would mean Tilsen could be sentenced to up to 16 years and 30 days in prison. A conviction on the theft and all other charges means he faces up to eight years and 30 days in prison.
The robbery and theft charges relate to Tilsen allegedly stealing a shield from a woman in the Air National Guard, who was part of a riot line that forced demonstrators behind three vans that protesters parked across the road.
Body camera footage played during Tilsen's preliminary hearing showed him quickly lunging toward the Guardsman, grabbing her shield and pulling it away from her. He was then seen holding the shield while standing in front of the row of Guardsmen.
The assault charges do not accuse Tilsen of physically assaulting anyone but attempting "by physical menace or credible threat" to put them "in fear of imminent bodily harm, with or without the actual ability to harm" them.
Tilsen is accused of putting the Guardsman and a Pennington County sheriff's deputy in fear or harm for allegedly taking the shield and trying to hit the deputy with his car before the protest began. The deputy testified that he thought Tilsen was going to hit him but body camera footage did not show Tilsen's van move fast or far forward.
The three misdemeanor charges relate to Tilsen and about 150 others engaging in the July 3 Indigenous-led civil disobedience action near Mount Rushmore, where President Donald Trump spoke at an Independence Day fireworks celebration. The group used vans and their bodies to block a checkpoint in order to protest the president and monument while calling for the Black Hills to be returned to the Lakota people.
Two deputies said during the preliminary hearing that the National Guard was deployed for a disruptive but non-violent protest. The Guard and other law enforcement used shields, pepper spray and pepper ball projectiles to force the group behind the vans and then off the road so ticket holders could attend the event at Mount Rushmore. 
Tilsen, a member of the Oglala Sioux Tribe and CEO of the Rapid City-based NDN Collective, was one of about 15 people who remained in the street knowing they would be arrested after a warning to vacate.
He is expected to return to court for a motions hearing at 1:30 p.m. on Nov. 6. Tilsen remains out of jail after posting a $2,000 bond.