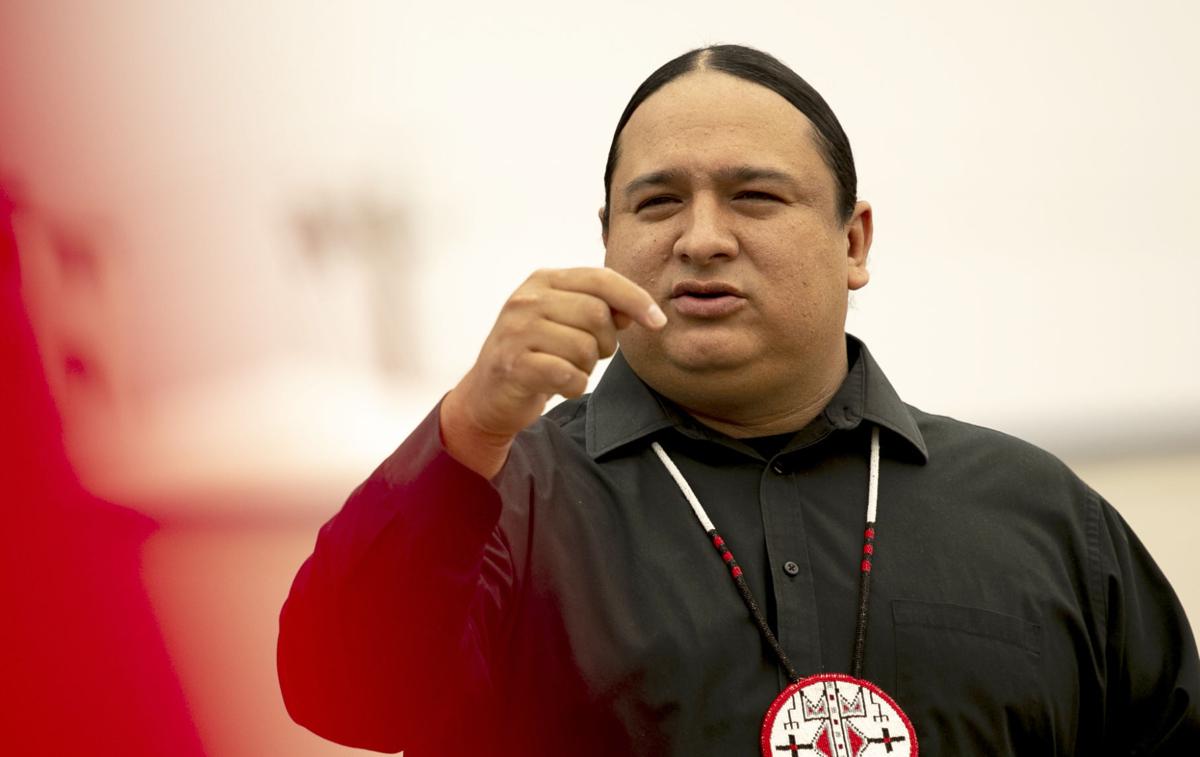 The charges against Nick Tilsen are the "results of the offensive" actions taken by law enforcement and the Guard that day, defense lawyer Bruce Ellison said during a motions hearing on Friday.
Ellison said his team needs to know if the deployments were legal, how the riot lines mobilized so quickly, and what law enforcement and the Guard were told to expect. He told the Journal that he has a report by a Pennington County Sheriff's Deputy that mentions assets from the Ellsworth Air Force Base being present at the protest so he also wants to learn information about the base's role. 
Kelsey Weber with the Pennington County State's Attorney's Office argued in her response that these materials are either tactical in nature, too burdensome and/or irrelevant to the case.
Judge Craig Pfeifle oversaw the motions hearing from the Pennington County Courthouse while the lawyers and Tilsen appeared over Zoom.
Tilsen, CEO of the Rapid-City based NDN Collective, is charged with second-degree robbery and grand theft in the alternative, meaning he could only be convicted of one of those charges related to allegedly stealing a Guard shield. He's also charged with two counts of simple assault and three misdemeanors: impeding a highway, unlawful assembly and disorderly conduct. A conviction on the robbery and all other charges would mean Tilsen could be sentenced to up to 16 years in prison.
Pfeifle did not rule on the discovery motion, saying he needed the defense lawyers to file a motion more clearly identifying the material they need and why. 
The judge did rule on two other motions, one in favor of the prosecution and one in favor of the defense.
Pfeifle ruled against the defense's request for a more detailed description of what Tilsen is being accused of in three of his charges. He agreed with Weber that the charges are already clear.
However Pfeifle agreed with the defense's motion to bar prosecutors and witnesses from labeling the rally as "anti-Trump."
"This is not a movement that goes away" when President Donald Trump leaves office, said defense attorney Brendan Johnson. The protest wasn't about Trump but about the Land Back movement that seeks to return land — in this case Mount Rushmore and the Black Hills — to Indigenous people.
"We want to make sure this doesn't become a referendum on Donald Trump," the trial should focus on the charges, Johnson said.
Weber cited Facebook posts by Tilsen and NDN Collective that mentioned colonialism and Land Back, but also Trump.
For example, she cited a post that said, "Trump's pre-Independence Day visit, an unwelcome intrusion on stolen land."
"It is clear Mr. Tilsen, through himself and his company, billed this protest as "anti-Trump," Weber wrote.
But Pfeifle agreed with the defense, saying he didn't want either side to make the case about Trump. 
Tilsen's defense lawyers filed a 17-page motion asking for a wide array of evidence from local, state and national agencies. 
Weber agreed that most of the evidence should be collected and shared but objected to some of the requests including:
Recordings between law enforcement agencies and military personnel during the protest;
National Guard documents that are tactical in nature;
Pre-deployment orders and briefings from the National Guard, post-protest briefings;
Law enforcement and military training materials on political protests, use-of-force, police "warrior training," and the various weapons they used or carried during the protest.
Weber called these requests "a fishing expedition with no clear end" that have nothing to do with Tilsen's guilt or innocence.
Training and pre-deployment materials relate to the legality of the deployment and tactics, as well as the mindset of law enforcement and military personnel going into the protest, Ellison argued in court. 
He also said he wants to know how security units of the Guard — pre-staged for security reasons due to President Trump's visit, according to the governor's office — arrived so quickly at both ends of the protest in order to act as a police force. 
Evidence Weber agreed should be shared include:
Audio recordings, photographs, and body-worn, dash-cam and drone footage taken during the protest and arrests;
Law enforcement and use-of-force reports;
Copy of the request to Gov. Kristi Noem to activate the National Guard and her order authorizing it;
Video seized or recorded by investigators, including a a Facebook video showing a Guardsman's shield being spray painted and a July 13 Zoom meeting presented by Tilsen to the Mniluzahan Okolakiciyapi Ambassadors;
Deployment orders for Ellsworth and any reports by Air Force personnel;
Evidence obtained from a search warrant issued to Facebook for account information, videos, private messages and other content from NDN Collective, Rapid City Fight For Change, the Independent Media Project, and other groups and individuals. 
The Journal's Facebook page was not mentioned in the motion but is listed on the search warrant, Ellison said. 
Tilsen is expected to return to court for a second motions hearing on March 5. ​