Oscar High Elk wore a button-down shirt, beaded necklace and a tight braid as he held a wooden staff with feathers on it while sitting next to his lawyers in a Philip courtroom on Wednesday.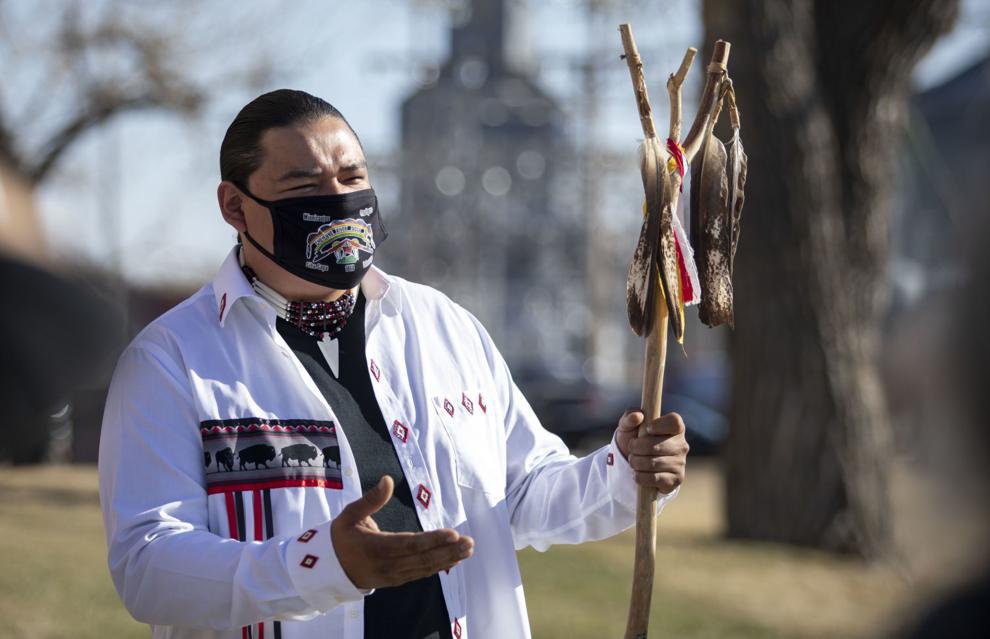 Former Attorney General Marty Jackley, acting as a special prosecutor in the case, wore a suit and tie at an adjacent table.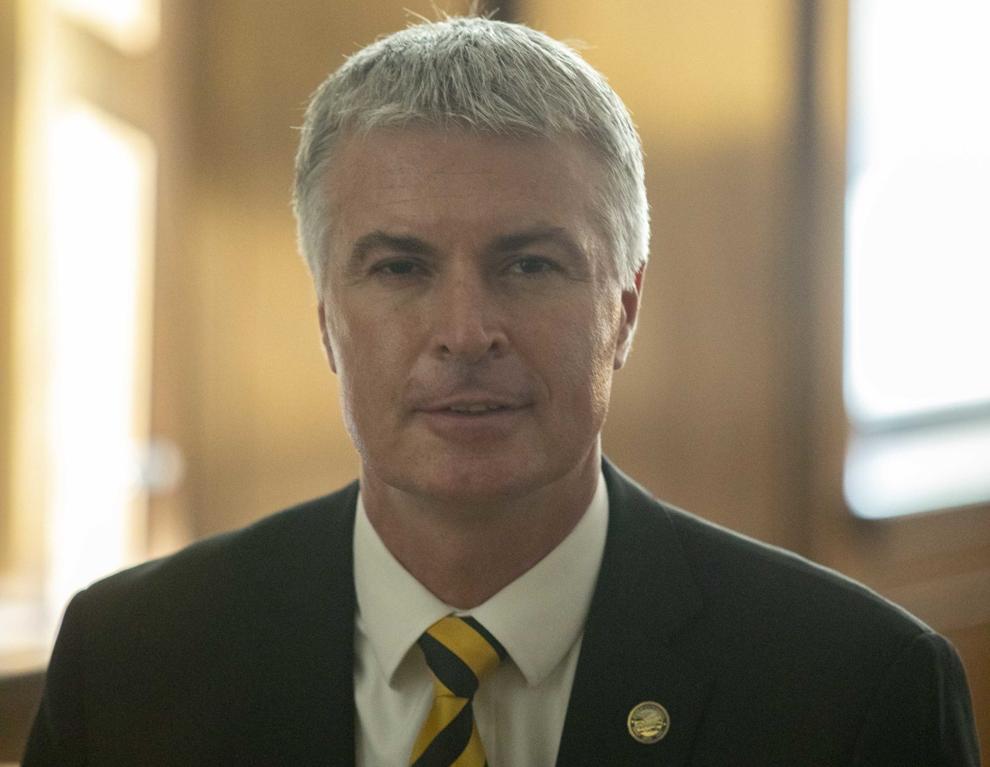 Both addressed a special judge who appeared on a TV screen through a remote feed as about a dozen people, most there to support High Elk, listened to law enforcement officers and civilians testify during High Elk's preliminary hearing. Other supporters prayed and shared a meal they cooked outside the Haakon County Courthouse.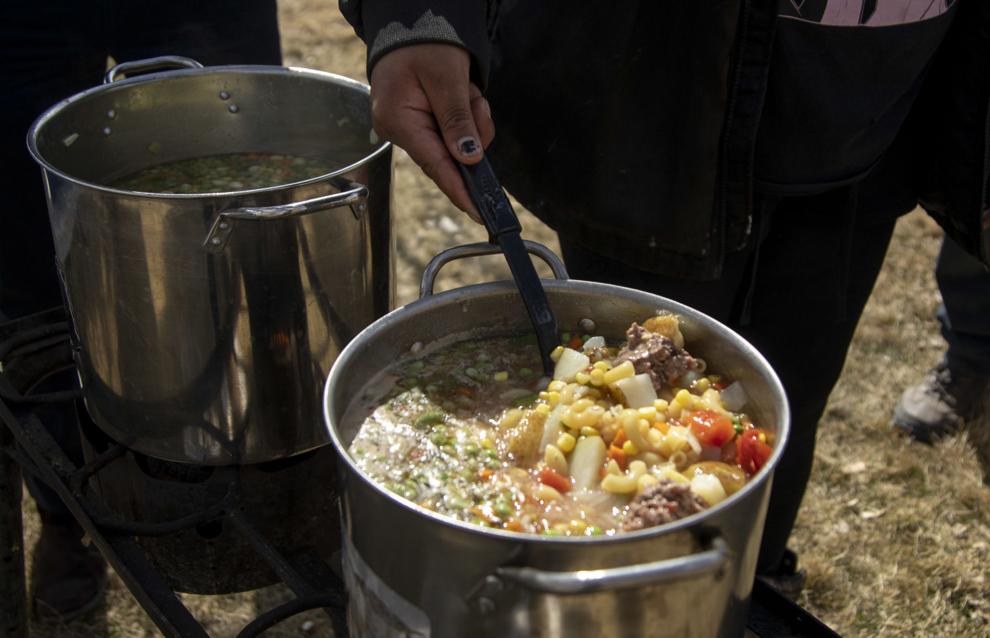 While TC Energy stopped all Keystone XL Pipeline construction after President Joe Biden revoked a key permit, High Elk is part of a small group that plans to maintain a camp until all pipeline infrastructure is removed. High Elk, 30, is also one of two camp members facing criminal charges. 
High Elk and Jasilyn Charger are both members of the Cheyenne River Sioux Tribe and veterans of the months-long protest against the Dakota Access Pipeline in North Dakota. They're now part of the Roots Camp set up on the Cheyenne River Sioux Reservation in protest of the Keystone XL Pipeline. 
Charger, 24, is charged with trespassing on a property after being told to leave after allegedly attaching herself to a pump station near Philip in November 2020. She has posted a $500 cash bond and faces up to one year in jail if convicted of the Class 1 Misdemeanor. 
High Elk was charged with two felonies, aggravated assault and aggravated eluding. The latter charge was dropped Wednesday when retired Judge Kathleen Trandahl ruled there wasn't probable cause that the crime had occurred. Probable cause is a lower standard than the "beyond all reasonable doubt" standard required for a conviction.
High Elk is also charged with 11 misdemeanors, including damaging property, false imprisonment, speeding and multiple trespassing charges. He had to pay a $10,000 cash bond to get out of jail and faces up to 22 years and about four months in prison if he's convicted on all 12 charges stemming from incidents in December. 
Some of High Elk's charges relate to him allegedly trespassing and damaging property at the now-closed TC Energy Command Post trailer near the Roots Camp. Others stem from him allegedly fleeing from deputies and nearly hitting a man after they were trying to stop him for reportedly preventing a woman from leaving her driveway. 
The charges against Charger and High Elk were filed by Stephanie Trask, former Haakon County state's attorney. Ralph Kemnitz said he took over her position — one he held for 38 years before going into private practice and then semi-retirement for 12 years — in January.
It's not uncommon for state's attorneys from small counties to bring in help from assistant attorneys general or private lawyers for cases involving homicide, rape, kidnapping and other major charges. 
"It certainly is not usual. Usually more serious cases are when a special prosecutor is brought in," said Bruce Ellison, one of High Elk's lawyers.
"I was asked because of the nature of these types of offenses. Obviously, this is extremely controversial," Jackley said.
Kemnitz said he's handled serious drug cases and an incest case since January, but he wants Jackley's help because the case is "very political," he's expecting large crowds in the courtroom and he needs the former attorney general's "polished approach."
"This one was kind of unique and there were some charges in there that I didn't know, that I thought he was maybe overcharged in some cases," said Kemnitz, adding he wasn't familiar with the aggravated eluding charge and thought High Elk might be "possibly overcharged" for it. 
Trask "was satisfied with it, she brought the charge," Kemnitz said when asked why he didn't dismiss the charge. He said Jackley advised him to let a judge rule on it.
Ellison said he and attorney Robbie Rohl, both of Rapid City, are working at a reduced fee and being paid through donations that High Elk and the Roots Camp solicited online.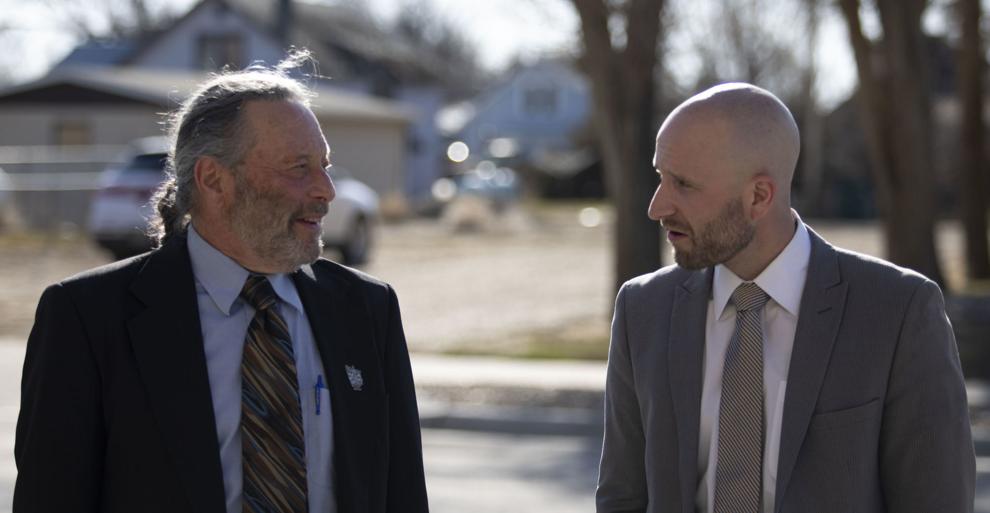 High Elk is charged with 11 misdemeanors for the following alleged crimes:
Three counts of trespassing for trespassing at the now-closed TC Energy Command Post trailer near the Roots Camp;
Disorderly conduct for banging on the doors and windows of the command post;
Damaging property for urinating on a space heater inside an outhouse at the command post;
False imprisonment for blocking a woman on her own property, forcing her to drive through a ditch;
Disorderly conduct for threatening law enforcement with physical harm (the charge does not describe the specific allegation but it might refer to High Elk allegedly saying "I should kick your (expletive)" to Ziebach County Sheriff Gary Cudmore);
Reckless driving, eluding, speeding, driving with expired plates, driving with suspended or revoked registration in relation to him fleeing from deputies and nearly hitting a man. 
What follows is from police reports:
Bryan Gortmaker, head of security for TC Energy, "just happened to be in the Haakon County Sheriff's Office" during a Dec. 21 protest at the pump station and command post. The Highway Patrol plane was also in the area and the pilot began to follow and report the protesters' movements to law enforcement on the ground.
High Elk and other protesters ignored signs and verbal warnings that they were trespassing at the command post, and some banged on doors and windows and took photos.
The group eventually left, but High Elk returned to the post two more times that evening. He allegedly urinated over the heater inside the outhouse and left a dollar bill outside, and told security guards that they were trespassing on tribal lands and asked if they knew what they were doing to Mother Earth.
The security guards at the command center and pump station are hired by Badlands Security Group, a private Montana-based company, and their reports of the incident are attached to the charging documents.
The preliminary hearing only addressed High Elk's two felonies but the false imprisonment and driving charges also came up.
Cudmore and Deputy Tim Quinn with the Haakon County Sheriff's Office were providing escort services to the Big Foot Memorial riders and support vehicles near the camp in Haakon County on Dec. 23, Cudmore testified. He said they arrived at the request of the Highway Patrol and shared the plans with a lieutenant with the Cheyenne River Sioux Tribe's police force.
Quinn said High Elk was "very belligerent" to Cudmore and asked if he could use his handcuffs to arrest Cudmore. High Elk told me to "get the (expletive) of there," Cudmore added.
High Elk eventually left and Quinn said he was later flagged down by Cody Hanrahan who said his mother, Debbie Delbridge, called and said High Elk "threatened her."
Debbie and her son let allowed TC Energy set up the command center on their land, High Elk told the Journal. A number for Hanrahan could not be found and Debbie and her husband, Harold, hung up when contacted by the Journal. 
High Elk's supporters laughed several times during testimony by Debbie, who appeared nervous at times. She said she was watching the riders while sitting in a pickup on her property, something she's done for the past 30 years.
She said High Elk — who she doesn't know — parked his car 20 to 30 feet away from her at the front of her driveway and she began taking photos of him because she thought it was funny that he got out to wipe down his windshield even though there was no snow on it.
High Elk walked up to her car and asked for her name, Debbie testified. She said they exchanged names and she tried to be friendly by asking where he was from. He pointed to the ground and Debby asked which town he was from.
"This is my land" High Elk loudly said as he pointed to the ground, Debbie testified. He then "started talking in a different language" and then in English about a treaty. "I didn't need to hear that" and "I refused to listen" so I rolled up the window, Debbie said.
Ellison asked if Debbie had hostile feelings about the treaty and she said no, the issue was that High Elk was "violently" shouting and pointing to the ground.
"I felt threatened" so I called my son who told me to leave, Debbie said. She said she drove toward the driveway exit but High Elk didn't move his car so she had to reach the road by driving around him through a ditch.
High Elk did not follow her with his car or body to block her but "it was inconvenient" that he was blocking the end of the driveway, Debbie told Ellison. She told Jackley that she obtained a no-contact order against High Elk as part of his bond conditions, but she thinks he's broken it by coming within 100 yards of her.
Cudmore and Quinn said they tried to stop High Elk to talk to him about the incident with Debbie. They said their lights were on but only activated their sirens once they were past the Big Foot group to avoid spooking the horses.
High Elk came to a stop to let the riders go by but fled for about three miles until he crossed the Four Corners Bridge to the reservation, Cudmore said. Cudmore and Quinn said they didn't pursue him into the reservation since they don't have jurisdiction there.
High Elk was traveling at speeds between 50-66 miles per hour, Cudmore, Quinn and Harold Delbridge estimated. He was "endangering many lives" since the riders were in the area, Quinn wrote in a report.
Delbridge appeared calm and even cracked a joke during his testimony.
He said he was driving his OTV along a dirt road and High Elk "veered toward me and at the last second went on past" as they both drove over a cattle guard. 
"I'm just glad to be OK" because High Elk was driving more than 50 miles per hour and came within 8-12 inches of me, Harold said. He said he would have been seriously injured if he'd been hit since the OTV is an open vehicle.
Cudmore and Quinn also testified about seeing High Elk swerving toward and nearly hitting Harold. 
Debbie said she's let the Big Foot riders on her property since it began and they were always very kind. She said she stopped letting them cross in 2019 because she noticed "special interest groups attaching themselves to the memorial ride" and some of the riders starting to act hostile to her family. However, Harold said Debbie closed off the property in 2019 due to flooding. He said she stopped it again this year due to COVID-19 and liability risks.
Only one of the four cameras between Cudmore and Quinn were working or recording, they told Ellison and Rohl.
Quinn told the Journal that his dash cam was working but his body camera didn't record because he didn't hold the record button down for the four seconds needed to turn it on. Cudmore did not explain why his body camera wasn't on but said his dash camera remained broken after a technician had tried to fix it three times. The camera is still broken but a new one is being delivered, Cudmore told the Journal.
"All the lawyers would like as much video footage as possible, but we can't control technical difficulties and it is not uncommon in law enforcement situations for the officer to be more focused on the situation than necessarily activating a camera," Jackley said. 
He said the 16 videos he entered into evidence but did not play during the hearing were from Quinn's dash cam and other sources he declined to name.
High Elk celebrated the dropped charge with his lawyers and more than a dozen other supporters, including Charger, after the hearing.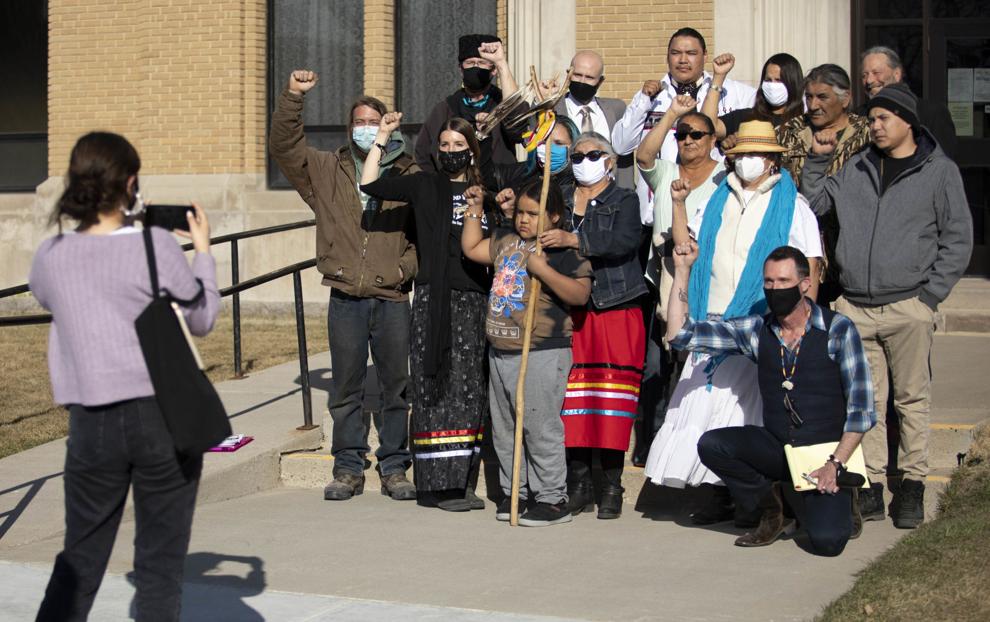 High Elk is expected to return to court for a 1:30 p.m. arraignment on April 28. ​