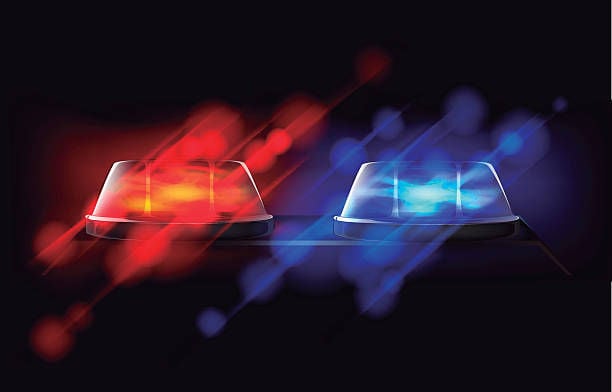 A small-town police officer has been cleared after firing her gun twice in 104 days. The officer, who has spoken out against the killing of George Floyd and in favor of ethical policing, is overseen by a police chief who once had his certification suspended for using excessive force. 
Kannesha Nept fired her gun at — but did not hit — a man on Dec. 28, 2019 because he running at her with his hands behind his back like he may have a gun, officials told the Journal. The shooting happened 17 days after she was hired by the Whitewood Police Department. 
Nept then shot and seriously injured a man in the thigh after he threatened her with a knife on April 10 while high on methamphetamine, according to law enforcement reports. 
Police Chief Paul Witcraft said he understands the negative optics of firing a weapon twice in a short period but he stands by both shootings given the totality of the circumstances.
Nept is "a great officer and even a better person," he added. 
While Nept has fired her gun at least twice while working in law enforcement, she's spoken out against excessive force and bad officers in a May 27 video she posted to her public Instagram page. Nept, who says she is Black and a veteran, also shed light on her passion for ethical policing.
The officer should have never pressed his knee against Floyd's neck and the three other officers who stood by "should just be ashamed," Nept said in the video. She said supervisors should have reviewed the four officers' body camera footage as soon as they learned Floyd died and then immediately fired them — that the public shouldn't have had to rely on a bystander's video to learn what happened and for the department to take action. 
"It's cops like you that are making it hard for us good cops out here that want to help people," Nept said. "The citizens want to harm us because of the stupid things that you're doing."
"When you wear this badge you protect the public as a whole," not just one race, she said. "This is coming from a cop who would give her life for anybody."
"I face discrimination as a police officer as well" and hope that my relatives are never harmed, Nept added.
Nept is just one of three police officers in Whitewood, a town of about 900 residents located northwest of Sturgis, according to its website.
She previously worked as a sheriff's deputy in Pennington County from July 29, 2019 to November 3, 2019, according to spokeswoman Helene Duhamel. Duhamel said public records laws do not allow her to share whether Nept resigned or was fired, or whether Nept had any complaints about use-of-force.
The Whitewood Police Department is overseen by Witcraft, who was ordered to undergo training and anger-management counseling after using excessive force and having his law enforcement certification suspended for 30 days in 2002 when he was a Spearfish police officer, according to Journal archives. 
Witcraft said anyone who's worked with him during his 21 years in law enforcement knows that the 18-year-old incident was an "isolated, crazy deal." He said his behavior at that moment has no impact on how he runs his department and oversees his officers. 
The December shooting happened after Nept tried to pull over a man driving without taillights late at night on Dec. 28, 2019, according to an arrest affidavit filed by a Lawrence County deputy. The driver, Hunter Baker, fled at a high speed, resisted being arrested once he stopped, and at one point ran at Nept with his hands behind his back before running away, according to the affidavit, Witcraft and State's Attorney John Fitzgerald.
The affidavit does not mention the shooting but Fitzgerald said it's mentioned in other documents he reviewed. 
Nept "thought he may have had a weapon," Fitzgerald said. "As he charged her, she fired one shot."
"He's rushing at her in the middle of the night" after eluding and resisting arrest, Witcraft added.
The deputy later arrested Baker, who wasn't armed, Fitzgerald said. But drugs, a handgun and two AR-15 style rifles were found in his vehicle.
Baker was charged with eluding, resisting arrest, and drug and weapon crimes, court records show. He received a short prison sentence after pleading guilty to eluding and a marijuana charge. His lawyer did not return messages from the Journal.
There is no public summary of the shooting and Fitzgerald said public records laws do no allow him to turn over any police reports or interviews.
The Division of Criminal Investigation investigates each time an officer fires a duty weapon, but only releases public summaries if someone is seriously injured or killed, said Tim Bormann, spokesman for the Attorney General's Office.
The Lawrence County Sheriff's Office worked with DCI and Highway Patrol on the investigation before handing their findings over to Fitzgerald, said Captain Patrick Johnson. He said the review involved taking Nept's statement, examining any video footage and speaking with witnesses.
Fitzgerald said he found the shooting justified based on the standards outlined in Graham v. Connor, a 1989 U.S. Supreme Court ruling that outlines how police use-of-force must be evaluated.
"Important considerations are the seriousness of the crime, is the suspect actively resisting or attempting to flee, and is he an immediate threat to the officer," Fitzgerald said. The "evaluation is from the perspective of a reasonable officer, not 20/20 vision of hindsight."
The April shooting happened after Nept responded to a report of an erratic man at a gas station who was high on meth, according to a June 8 report from the Attorney General's Office.
Jaris Kroetch failed a sobriety field test and ran away when Nept tried to handcuff him, the report says. Nept, whose body camera fell off, hit Kroetch with a stun gun but Kroetch was able to pull off the probes and flip Nept over his back.
Kroetch then began throwing windshield washer fluid over the gas pumps and running towards another gas station before getting into his car, the report says. The synopsis says Kroetch "grabbed a knife" while Nept said he "made a thrusting motion with the knife."
Witcraft said he can't comment on what exactly Kroetch did with the knife and how close he was to Nept since he wasn't there. 
Audio from the officer's body camera captured Nept telling Kroetch to get on the ground multiple times and saying she would shoot him if he started the vehicle, the report says. The vehicle is heard turning on and a gunshot is then fired. 
Officers sometimes say things in order to get people to comply with orders but may not be planning to follow through on the threat, Sgt. Josh Bach said when asked if the department's policy allows officers to threaten or shoot suspects attempting to flee in a car. Both he and Witcraft said the audio recording needs to be put in context with the entire situation — a high and erratic-acting man who could have tried to hurt Nept or the public.
Nept provided first aid to Kroetch after hitting him in the right thigh, the report says. Investigators found a camouflaged folding knife with a 3.5-inch open blade on the ground and drug paraphernalia, a stun gun and multiple knives in the car.
"Based on the totality of the circumstances, a reasonable officer present at the scene utilized deadly force in a situation that was tense, uncertain, and building," the report says.
Kroetch is now charged with resisting arrest, driving while under the influence of meth, and simple and aggravated assault, court records show.
While Whitewood is a small and "beautiful' community, officers sometimes deal with dangerous and unpredictable incidents due to the traffic coming off Interstate 90 and Highway 34, Witcraft said. 
Witcraft said all use-of-force incidents must be viewed from the perspective of the officer at the time and it's "our responsibility to make sure we learn from it whether it's good or bad."
The police chief said he requires his officers to meet with a counselor after using fatal force while the department reviews relevant policy and training materials. He also said the department is planning on buying non-lethal guns that shoot bean bags, a weapon currently used by the Rapid City Police Department. 
Witcraft himself was required to undergo anger management counseling and further police training after the state's Law Enforcement Officers Standards and Training Commission suspended his certification for 30 days in 2002. The Deputy Attorney General at the time said it was the first excessive-force case his office had handled in 12 years.
Witcraft pepper sprayed a man he was booking into the Spearfish police station after the man became physically and verbally aggressive, according to Journal archives. Witcraft then tackled the man, who could not cushion his fall since he was handcuffed behind his back. The fall crushed the man's teeth and made him need five stitches in his chin. His lawyer said he also had prolonged jaw and ear problems.
Witcraft later settled a federal lawsuit with the man, court records show. 
He filed his own federal lawsuit in 2016 accusing a Spearfish police officer of unconstitutionally arresting him and causing him to be fired from his job as a Belle Fourche police officer, records show.
An outside prosecutor who reviewed the case later that month dismissed the charge, saying there was no evidence of simple assault, according to Journal archives. The Belle Fourche City Attorney confirmed at the time that Witcraft no longer worked for the department as of Nov. 3, 2014, but would not say if he was fired or resigned.
Witcraft was hired as a Whitewood part-time officer in March 2015 and became police chief in June 2018, according to Black Hills Pioneer archives.