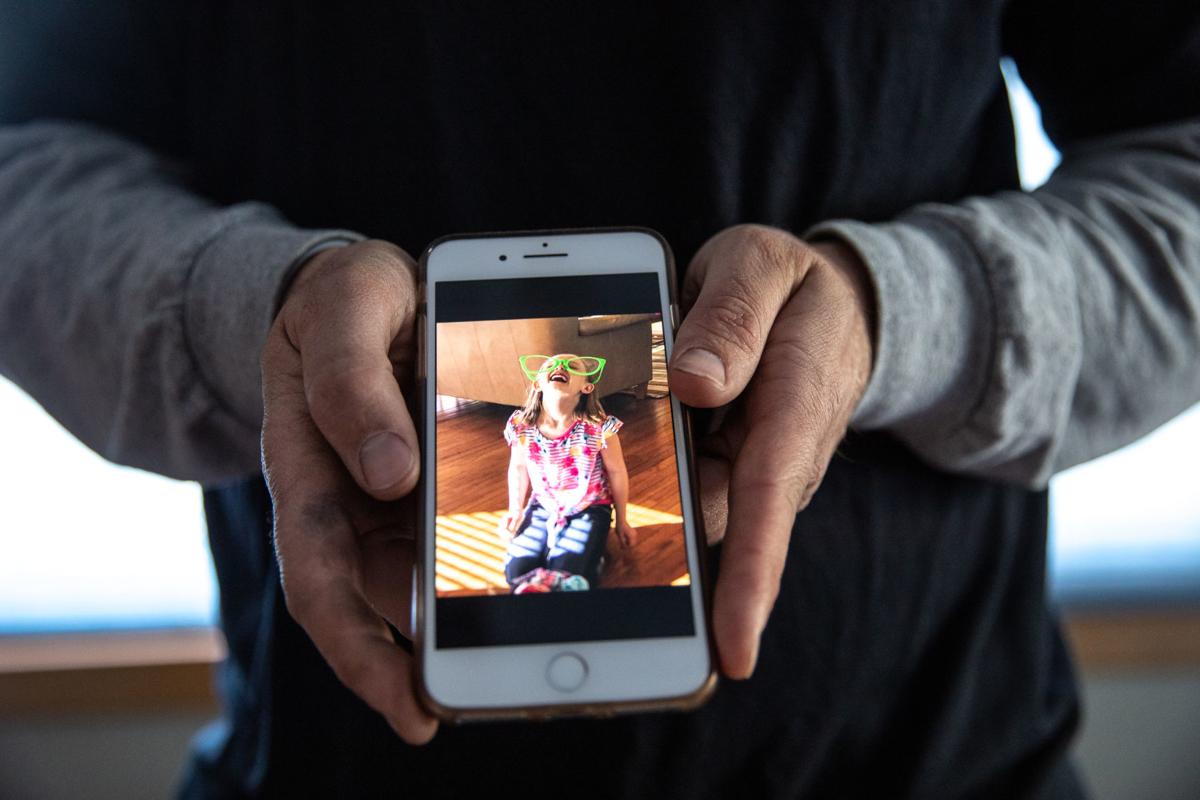 Since their daughter ran away nearly two months ago, Chad and Kasandra Dennard have tried to remain hopeful by focusing on efforts to find and raise awareness about their missing 9-year-old. 
"Our brains don't ever stop" thinking about Serenity, Kasandra said. "We want her found."
"Don't steer away from the fact that she's missing," the 25-year-old said of her message to the public. 
The couple has searched for Serenity near the Black Hills Children's Home, which she ran away from Feb. 3., and they speak to someone at the Pennington County Sheriff's Office each day to learn if there's anything new to learn about the search and investigation. 
"Your heart jumps" each time the sheriff's office calls because while it's probably just an update, it could also be bad news, Chad said. 
But while the couple tries to stay positive, they also have to manage their own emotions and those of their three other children, go to work and run errands, and deal with strangers judging, analyzing and creating theories about their family and what happened to Serenity. 
The couple says they've received fake threats from people telling them that they have Serenity and need to send ransom money if they want her back. A stranger wrote on Facebook that because Kasandra used an exclamation mark in a post about Serenity, she must not really be upset. Someone else discovered Chad's military background and wrote that he should have a psychological evaluation. Strangers found photos of their children standing together and wrote that Chad must be forcing them to stand at attention. 
"They just sit behind the keyboard and say what they want," Kasandra said.
"They need to feed their CSI needs," Chad said of the "keyboard investigators." 
People were "bashing" his family so the couple decided to delete their Facebook accounts, Chad, 37, said. "We could just not handle it anymore." 
State Sen. Lynne DiSanto organizing a search for Serenity is helpful, but the videos she made with Serenity's birth mother, biological relatives and adoptive mother aren't helpful, Kasandra said.
"All it's doing is the public is tearing these people apart, limb for limb, and building their own assumptions. It completely steers away from the fact that Serenity is missing and has not been found," she said.
"Our family dynamics don't matter in the search," Chad added.
While the family has been discouraged by some online comments, they've also found support through strangers and from friends and family. 
National Guard members brought the family meals during the first week Serenity went missing. Neighbors ran errands for the family, plowed their driveway, and donated cash and necessities such as toilet paper. One of the couple's close friends searches for Serenity at least once a week, and hundreds of people prayed for their daughter after someone created a Facebook prayer event.
Students at the Sapa Un Catholic school in St. Francis sent the family a care package, which included a stuffed unicorn that sits on Serenity's bed. One of Serenity's relatives started a petition asking the federal government to create a Serenity Alert, which would text people about missing children. The Amber Alert is only for children suspected of being abducted. 
"If it helps one kid, it's worth it," Kasandra said.
Kasandra learned her daughter was missing when a counselor at the Children's Home called after search and rescue personal had already arrived in the afternoon of Feb. 3.
She said she "freaked out" and called Chad, who calls Feb. 3 a "horrible day." It was difficult to not immediately drive to the Children's Home, but the sheriff's office told them to stay put in case Serenity was trying to return home and someone dropped her off, Kasandra said. 
A deputy drove them to the Children's Home the next morning where they met the director of the Children's Home Society, learned about the search and rescue efforts, and were introduced to a detective on the case and someone who would serve as their point of contact with the sheriff's office. 
There's been "really close communications" with the sheriff's office," Kasandra said. She said she sometimes texts a random thought or question to her contacts late at night and they get back to her right away. 
Kasandra said she learned that after Serenity ran away around 10:45 a.m., Children's Home staff first searched inside the buildings since Serenity had hidden there before. She said staff began to search outside after someone saw her outdoors around 11 a.m. Staff then called 911 at 12:26 p.m. 
Kasandra and Chad said they believe Children's Home staff were doing what they were supposed to by following the facility's protocol but wish the protocol was different. 
"Do I wish that they would have called 911 immediately? Do I wish they would have called me immediately? Yes. Because I feel like it would have been a better head start. That's a lot of critical time," said Kasandra, adding that she hopes the facility will change how they handle future incidents. "But right now the focus is finding her, we'll deal with our questions about that later."
The couple said while they're upset that Serenity hasn't been found, they believe the search and rescue effort has been appropriate. 
After Chad took two weeks off work and Kasandra stayed home for three weeks, they eventually had to return in order to support their family. 
"It's miserable" with Serenity missing, Kasandra said. We feel like we're in a "puddle" and don't go out much unless we're running errands, she added. 
Chad says he thinks about what was going on in Serenity's mind when she ran away and how she decided where to go, where to turn. "Was she cold?" he asks. 
The couple's three other children know Serenity ran away and that "something's not right," Kasandra said. 
Chad said that some students will tease their kids by making a doll run away and saying it's Serenity. But other students have sent notes about Serenity to the family, and their children are supported by a school counselor and their aunt who teaches at the school.  
"I just want everyone to keep their eyes open" for Serenity, Kasandra said of how the public can help. She also encouraged any "super hiker" who can handle the rough terrain near the Children's Home to search for her daughter. 
"Truly that's all we can ask for," Kasandra said. 
Get local news delivered to your inbox!
Subscribe to our Daily Headlines newsletter.