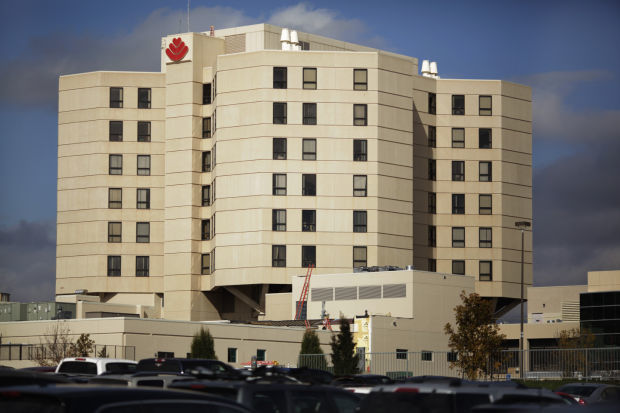 The red color of the bags falling out of the dump trucks at the Rapid City Landfill make them easy to spot, but it's anybody's guess what's inside. Bone spurs? Bloody gauze? Once, a patient's syringe with what investigators called "patient information" showed up in a garbage bag dropped off at the city landfill.
And each time, a worker at the landfill knows who to call.
"We pull it off to the side and document it and call up Regional Hospital and say, 'Come get your stuff,'" said Rapid City public works director Dale Tech. "Then they send someone out to come pick it up."
Documents revealed this week show that Rapid City Regional Hospital was first cited for disposing medical waste at the city dump over a year ago. Despite repeated warnings, discussions and fines directed at Rapid City Regional Hospital over the past year, city officials say it's still happening today. 
"We know that Regional's making efforts to correct this," said Tech, who was joined in a sit-down interview with Dan Coon, assistant director of public works. "However, what we've seen in their weekly trips out to us, it really hasn't changed."
On Monday, the medical journalism website STAT, with ties to The Boston Globe, released a study collating data from state surveyors on behalf of the Center for Medicare & Medicaid Services. It named Rapid City Regional Hospital as the second worst teaching hospital in the country for safety violations. The article, documented on hospitalinspections.org, contains reports from South Dakota Department of Health investigators showing Regional was cited for six violations in 2017 regarding the improper disposal of medical waste. 
The health officials visited last April, conducting interviews and observations of hospital staff, looking at records dating back to October 2016. One violation cited loading dock personnel for wearing gloves but not the other mandated personal protective equipment. Another violation documented the aforementioned syringe incident as a violation of patient rights.
But a number of violations stemmed from the waste management program. And on Thursday morning, city officials indicated the problems aren't fixed.
In at least one incident documented by state surveyors, a truck hauled a bag of medical waste from the hospital to the landfill, only to be returned to the hospital and then returned to the landfill again— a game of potentially infectious hot potato played out on city streets.
On Friday morning, Regional Health officials acknowledged the reports and said they're working to better sort medical waste out from common garbage.
"There have been items that (should) have been put into, perhaps, the general waste (that) have gotten to the landfill," said Jeanne Galbraith, vice president for quality, safety, risk management with Regional Health. 
Nicole Kerkenbush, Regional's chief performance officer, said the city and hospital are in communication about the waste dumping. "Our leaders are meeting with the city multiple times on various topics. The concern they have is ours as well."
Some of the improvements implemented since last year include a re-engineering of how "red" (medical waste) and "clear" (common garbage) bags reach the hospital's receptacle, the installation of cameras in the loading dock, and mandating increased training on infection control for all employees.
But supervisors at the city dump say the crew there keeps reaching for the phone. 
"Three loads come in on Monday, Wednesday and Friday," said Coon. The city's landfill is permitted by the South Dakota Department of Environment & Natural Resources, so when they inspect bags they find violations that could potentially result in fines or the yanking away of their permit.
Last year's report observed pictures with "blood soaked gauze, tubing with blood in it," "bloody catheter lines," "24 hour urine collection containers," and even "fatty tissue."
Coon has been out to the landfill many times and has seen it for himself.
"Anything we find, even what we think is infectious waste, regulated, medical waste that is in a clear bag or not in a red bag but it's obviously got blood or something on it, we put in a red bag," he said. "You have to twist it, goose-neck it, tape it up, and then we call and have them (Regional) pick it up."
Tech indicated it's been an ongoing discussion with Regional for months. "We brought in the generators, the haulers, city administration to talk about the issue."
Tech and Coon said the city doesn't have this problem with other medical providers in town. Asked if Regional was the largest violator of medical waste in the city, Tech responded, "I would just state that they are having issues meeting our requirements."
According to the Environmental Protection Agency, medical waste encompasses health care waste that "may be contaminated by blood, bodily fluid or other potentially infectious materials." This includes what's tossed out after surgery to the IV tubing put in by a nurse, and even cotton swabs from a routine checkup.
Changes to the definition are almost oral legends in health care communities. In the late 1980s, hypodermic needles washed ashore in New Jersey from a barge carrying hospital waste from New York, and pushed by public outcry, Congress passed a law expanding the definition of waste. Violations can result in the Center for Medicaid Services refusing payment, a major source of income for Regional Health, a reality acknowledged by Galbraith.
"You can lose certification to receive federal funding," Galbraith said. Like many hospitals, a large percentage of Regional's income comes from federal reimbursements. 
Moreover, landfills are not responsible receptacles of medical waste. The World Health Organization says on its website that "the disposal of untreated health care waste in landfills can lead to the contamination of drinking, surface and ground waters if those landfills are not properly constructed." 
According to both the surveyor's report and the city, the medical waste problem came to a head in August 2016 when city officials began enforcing policies already on the books about the acceptance of medical waste. Tech said the first step was to send letters to all the medical waste generators in town. Soon, other medical facilities in town — surgical centers, nursing homes, even veterinaries — complied with the policy.
But not Regional. "Then it was decided, 'Let's get together and meet,'" Tech said.  
However, according to the report, not much changed despite those meetings. The superintendent and supervisor of the solid waste operation in Rapid City reported that since October 2016 biohazard infectious medical waste had been found by landfill crew in "every load generated" by Regional Hospital. 
Regional disputes that nothing has changed since April of last year. In addition to several changes to the handling of their waste stream, they submitted to state health officials corrective action plans on each violation, and in June they were declared compliant by the Centers for Medicare & Medicaid Services — an announcement, they note, was not made public on the hospital inspections website. 
Moreover, the hospital says fixing the problem is about fixing a process, not plugging in a simple fix.
"If it were two people who were involved, it'd be much easier to solve," said Kerkenbush.
Just how medical waste — say a syringe or gauze or, yes, even leftover tissue following a surgery — can improperly and habitually reach a landfill is a question leaving many scratching their heads.
All waste is generated the same, when a doctor or nurse of staff member throws a material in the red bags in the patient care rooms. Gauze, linens, or even leftover tissue needs to be deposited in red bags marked for biohazard materials. All other trash — a pop bottle left by a visiting spouse, a gum wrapper, or a patient's wilted flowers from the windowsill — goes into the clear bags, known as common garbage. 
Galbraith said the hospital used to use small bags with a biohazard symbol on them, but a nurse innocently placed a patient's wallet for safekeeping in that bag and it ended up in the landfill. They no longer use those baggies, and she said they've already begun putting more red bags in rooms to make it easier for caregivers to use this route.
Once the trash is bagged, the process continues. Red bags and clear bags are separated outside of rooms in separate containers, and a custodian brings materials down to the receptacle. In the old days, they utilized chutes. But after the April 2017 report, this process was discontinued. Another change in this step happened months earlier.
Prior to late 2016, according to the reports, all medical waste in the red bags would be processed through the hospitals' autoclave, a high-powered steamer that would cook off the infectious materials. Not only could those bags be legally delivered to the landfill, their "rendered" status was easy to spot by sanitation workers.
"The bag shrinks in on itself," said Coon. "(It) turns from bright red to brown red once it's been autoclaved."
But as documented in the health officials' April 2017 report, Regional shut down its autoclave due to its aging status. 
This piece of equipment piqued surveyors' interest, as the word "autoclave" shows up nearly 30 times in their April report. Many of the references state one version or another of the following sentence: "As of three or four months ago, the autoclave was no longer in use by the hospital."
In a summary of an interview with the hospital's director of environmental services, the report states: "The autoclave was at the end of its use, and it had not been cost effective to continue to repair it or replace it."
Now the process for the red bags runs through a company called Stericycle, who loads up the cardboard boxes with the red bags and transports them to Denver for rendering. The hospital started contracting with Stericycle in November 2016, three months after the first letters arrived from the city. The exact date of the hospital's shutting down of the autoclave is unclear from the report, but hospital officials say it's not so simple to point to the retiring of the autoclave as the cause of medical waste landing in Rapid City's landfill.
"There are other factors that come into play with a piece of equipment, such as the autoclave," Kerkenbush said. "Hospitals have looked at other options. Some companies popped up that say, 'Hey, we can do this (processing waste) better.' We're always scanning the environment for what is a leading practice."
City officials also acknowledge that, autoclave or not, red bags shouldn't be coming into the private haulers sent from Regional's loading dock anyway.
"If you see a red bag it's not supposed to be in the waste stream," Tech said. "It's pretty obvious."
Waste management, as a language, is filled with euphemisms and words that cover its dirty reality: "waste stream," "refuse," "detritus." Galbraith said she believes part of the solution could be emphasizing the importance to employees of inherently unsightly subject.
Regional employees now watch a video specifically on medical waste disposal within the infection control module. They have to successfully answer questions about infectious waste. This happens at orientation and every year for other employees.
"Every one of us (watches the video)," Kerkenbush said. "Just did it two days ago."
Still, the city reports few, if any problems, with infectious waste from other generators in town. Moreover, state officials say the improper dumping of infectious waste is not happening at this level in other places in the state. 
"We've asked the landfill operators (across the state), and we've not seen the issue that is in Rapid City," said Vonni Kalleymeyn, South Dakota's administrator for waste management. 
The potential health concerns not just to the public but to sanitation workers have raised alarm in city and state officials.
"If I was the City of Rapid City, I would be concerned about my workplace safety for my employees, and that's why you see them rejecting loads," said Jim Wendte, engineering manager for South Dakota Waste Management.
It's not just some nightmare scenario of a sanitation worker stepping on a bag of needles, but something more mundane. 
"We're concerned about some infectious waste coming to us that we don't know about," Tech said. "We have a big heavy piece of equipment that dozes the material and breaks it up and compacts it. Well, that piece of equipment goes into the shop and gets worked on by people, so there may be possibilities of exposure to whatever that equipment drives through."
A 2015 article in the Journal of Emergency Medical Services noted that medical waste can be dangerous but suggested its danger to sanitary workers may be overblown. "There's no evidence that a waste worker, sanitary sewer worker or a member of the public has ever acquired an infection from medical waste," said a JEMS Editorial Board member and author of the article. 
Still, the city doesn't want to take any chances. Every infraction by Regional,  Tech said, adds half the load's cost as penalty. Regulated medical waste is dumped at a cost of $87 per ton. If a 10-ton truck from Regional unloads infectious waste even once a week — a conservative estimate according to the city — this means Regional is paying over $400 per visit. And depending on how many violations there are each week and every month. The cost for being a noncompliant garbage generator can add up.
Tech says the source of medical waste is irrelevant from his standpoint. He, and the city, just want it to stop. 
"One thing that the city could do is stop accepting waste from them (Regional)," Tech said. "We haven't had those discussions yet."
Regional, too, acknowledged they want to fix the hot potato of medical garbage on city streets and in the city landfill. It's their community, too.
"Mistakes can happen anywhere," said Galbraith, who has been with Regional Health in Rapid City since 1972. "They can happen up in the clinical area. They can happen in environmental services. We just try to work cooperatively with whoever our partners are to ensure that we have the best practices in place."
If these practices mean fewer red bags toppling from a dump truck's load into the city landfill, Regional will certainly have partners at the dump.
"If we have a customer, we try to work with them to correct whatever issues," Tech said. "We're doing the same thing with Regional, but so far we haven't seen any improvement."