"There's always next year — it's gonna rain," Les Shaw said as he drove past dry and empty pastures previously used for hay.
"It didn't grow last fall, it didn't grow this spring, it didn't grow this summer, that's the way it is," he said. "It's pretty putrid."
Shaw is a fourth-generation rancher in White Owl on the land his great grandfather homesteaded in 1898. He and his brother, along with their families, run the cow-calf operation.
Shaw said they also background calves in the winter, and raise their own hay, which results in 3,000 to 4,000, 1,300-pound bales each year. He said it takes them a minimum of 2,500 bales to get through the winter for their cattle.
This year, the drought conditions in central Meade County have severely impacted the ranch operation. The Shaws were only able to put up 170 hay bales and plan to liquidate some young calves. They've also had to purchase alternative feed for the cattle they do have.
"It's a hole that a person really, really takes deep consideration before they dig a hole of debt that's hard to dig out of," Shaw said. "It was due to the drought and we had a terrible grasshopper season."
As of Thursday, the U.S. Drought Monitor classified the majority of Meade County as D2, or a severe drought — which historically has shown short hay and earlier cattle sales. It also has shown a lower water quality for agriculture operations, low stock ponds, an extended fire season and an increase in irrigation.
Northwest Meade County, and much of northwest South Dakota, is a D3, or an extreme drought, which has shown significant row crop loss, water hauls and cattle sale increases, burn bans, low deer and pheasant populations, and low river flow in major rivers along with dry small surface water bodies.
Shaw said the drought really began in July 2020. He said they harvested about 1,800 to 2,000 bales and had to dip into their reserve stock. He said they usually try to keep one year's hay in reserve as a kind of insurance policy.
This year, they didn't have a full season's worth of reserve.
"We were fortunate to get a limited amount of hay locally, but most of it was a ways off," he said. "When you do that, freight comes into play as well. … It can be the decision between this will pencil out or whether the hay is cost prohibitive and you can't afford it."
But Shaw said this is just part of the business. According to the USDA, around this time last year, the average price for steers between 600 and 900 pounds ranged from $142.33 to $154.56 in the North Central Region. This week, the range is $156.90 to $169.13.
Shaw said for his family, 1975, 2003, 2007 and 2012 were dry years, but nothing compares to this year.
"My dad, he's been around quite a while, my father has never seen it this dry here," Shaw said. "He's never seen it this tough, the pastures and everything."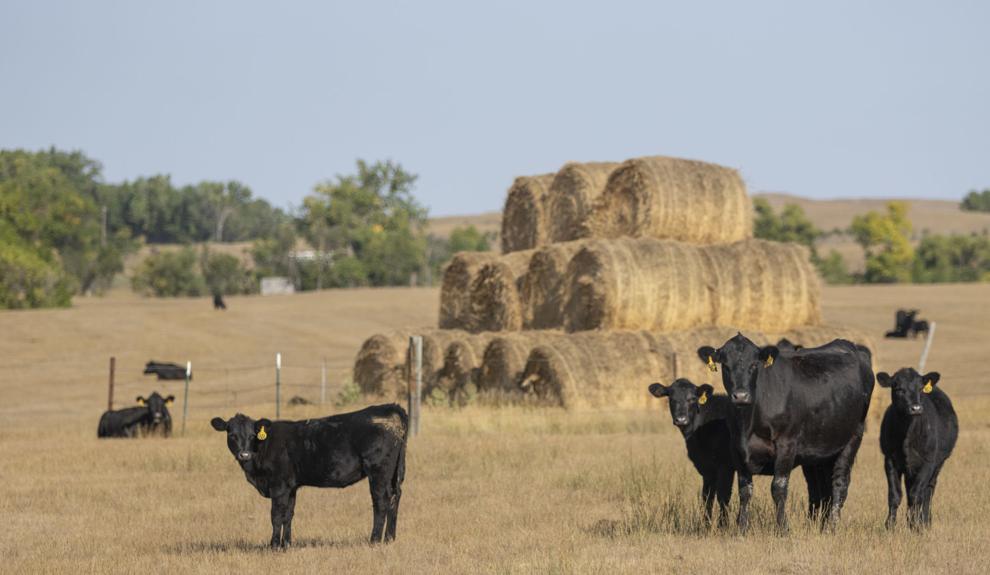 Melissa Smith, service hydrologist with the Rapid City National Weather Service office, said western South Dakota barely had any snow last year and dry conditions continued through the spring and summer. 
She said the area typically has five to 10 wet years followed by five to 10 dry years, and the last dry period was around 2008 or so.
"We started to get into a wetter period, and now it looks like we trended down into the drier period again," Smith said. "Our climatology in Western South Dakota is arid. We tend to see these dry conditions, especially after having two of our wettest years in history; 2019 and 2020 were both extremely wet years."
Smith said on average the area will see more dry years than wet over the next few years.
Billy Clanton, who has a commercial cow-calf operation he runs with his wife and parents, lives about 20 miles south of Buffalo in Harding County. They've had their ranch since 1934.
Clanton said they don't raise their own hay and buy hay for winter. He said they're seeing price increases by about 200% of what they were last year.
"We definitely had to go further away to purchase our hay this year," he said.
Clanton said they're also looking at weaning calves off of heifers this fall to keep for replacements, and may send their cattle to feed lots to be wintered and bring them back in the spring.
He said his family hasn't had to sell any cows yet, but did shorten the breeding season by about 15-20 days to have more open cows in the fall.
Clanton said the cattle market is a little better this year than it was last year, so there is some optimism. He said if the weather doesn't improve next year, "there's going to be some hard decisions having to be made."
Casey Bachand, who has a ranch about 18 miles south of Kadoka, has his ranch in a D1 area, or a moderate drought. His family also runs a cow-calf operation and manages another place.
Bachand said they also purchase all of the hay they need, but try to feed their cattle as little hay as possible and rely on grazing and protein supplements in the winter.
"Last year was pretty good, we had a good spring and grass was pretty good — I didn't have to worry about hay a whole lot last year," he said. "This year is completely different. What grass we had was old grass. There's not a whole lot of new growth, and then there's no hay around hardly."
Bachand said he was able to get enough hay from a neighbor earlier in the season, so he'll be OK for the winter, but some people will have to pay high prices because the crop is in demand.
"If this drought continues, it's really going to get tough and people have already had to start selling some cows off," he said. "It's going to get really ugly for a lot of producers."
Justin Tupper, owner and operator of St. Onge Livestock, said they've been seeing a huge influx of cattle, and it's about two months earlier than normal due to the drought.
He said they've seen between 4,000 and 5,500 cattle per week.
Tupper said they've seen a lot of interest from southern states, like Oklahoma, Kansas, Missouri and Texas, in the calves at auction.
He said they're about 25% ahead of last year's number.
"Due to the drought, people are selling early and moving early," he said.
Tupper said if cattlemen have to sell 40-50% of their herd, it will take a long time to get back the number and genetics. The long-term impact could be a sharp decline for next year.
"It's not just sale barns, but all rural communities that depend on farmers and ranchers for their livelihood, that will be affected by this drought," he said. "It's really rough times in the ag sector."
David Wilson, a farmer northeast of Sturgis who also owns Sturgis Real Estate, said he won't be able to plant his winter wheat if more rainfall doesn't come soon.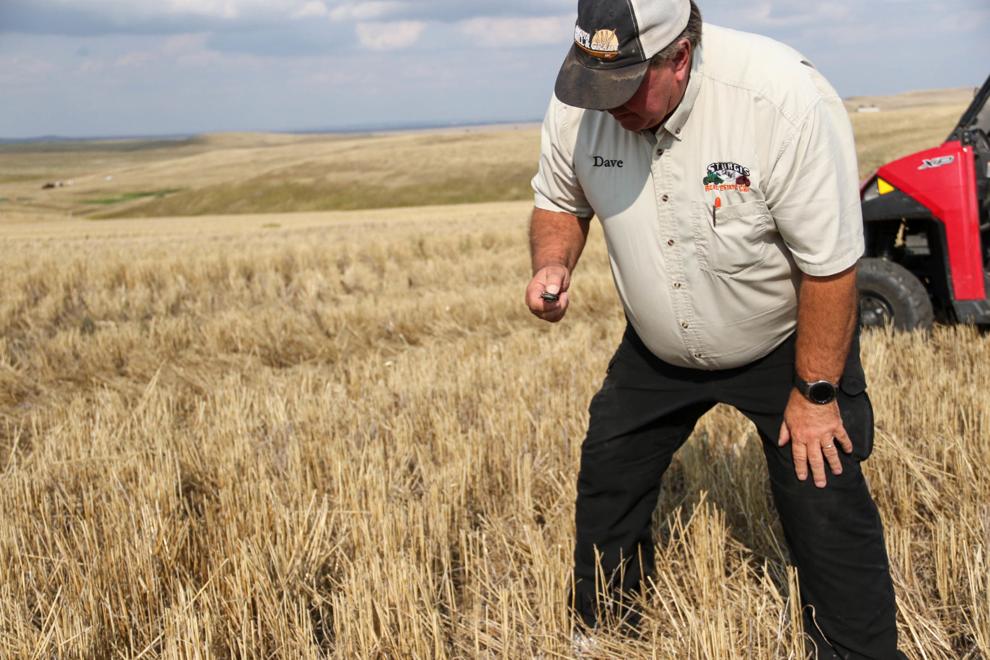 He said he likes to start in early to mid-September and into October for planting, but hasn't seen the  moisture levels they need yet.
"If it doesn't rain, the operations are spring planting crops," he said.
However, despite the likely dry weather, Wilson said he's going to continue to prepare to plant. 
"If it rains, we'll have it," he said.
Wilson said this year's weather may cut down on next season's prices with leftover fertilizer and other carryover. He said there will also be a higher level of nitrogen for next year to cut back on nitrogen levels.
He said if his land receives two to three inches of rain soon, they'll still be able to plant. If it comes later in the fall and it's cooler, they may be able to get by with less.
Secretary Hunter Roberts with the state Department of Agriculture and Natural Resources said 94% of South Dakota is in some level of drought conditions with 22% of it being in extreme drought.
Roberts said his family has a farm and ranch in Lyman and Stanley counties.
"We did not have an inch of rain or more in any event from June last year to July this year," he said.
He said they did receive some rain in the last few months that helped green up the area and some crops.
Roberts said the hay crop is miniscule this year compared to the average, but feels fortunate still.
He said the department is working with federal departments and agencies, along with the state government, for assistance. He said the state task force recommended to Gov. Kristi Noem to ease hay restrictions, which she did.
Roberts said a lot of what his department does is share the information available and help federal partners implement programs to help as much as possible. He said that could include emergency haying of CRP lands or the Emergency Conservation Program, which provides funding and hailing water.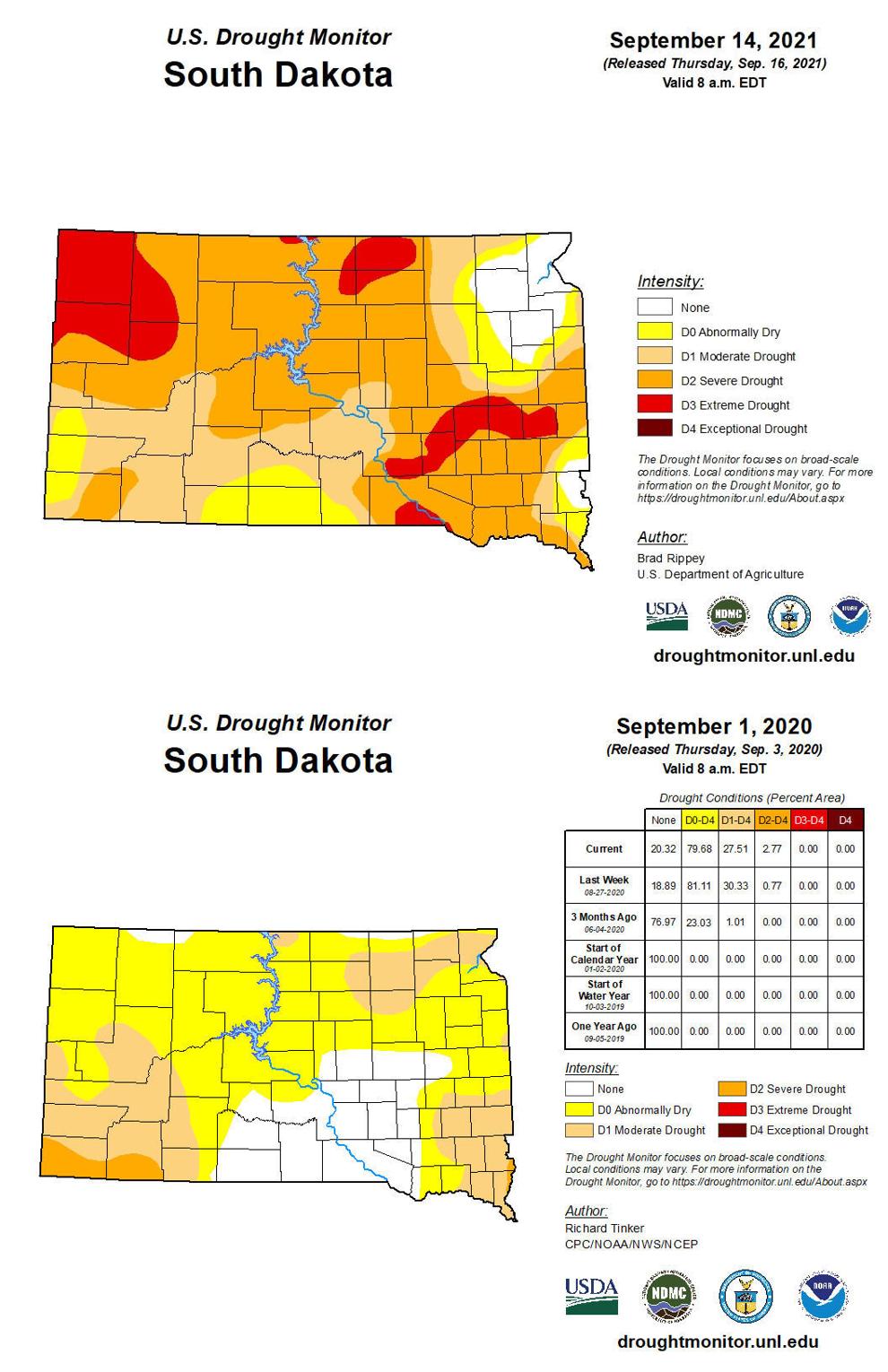 He said the task force has also had discussions with state delegates about what's available from the federal side.
"It's been a hot, dry summer, and frankly a hot and dry year," Roberts said. "When that happens, we use more water than normal. Certainly rural water associations and partners have been applying a lot more than usual. We see the need for additional resources across big areas."
Roberts said there have been discussions on big pipelines and groundwater supply projects moving forward.
He also said Main Streets across the state will be impacted, particularly with 30% of the state's economy tied to agriculture. He said it could cycle through pretty fast when drought conditions arise.
"We haven't seen Main Streets impacted much yet," he said. "For winter, if we don't get much moisture, we will see negative implications from the drought."
Tom Johnson, president and CEO of Elevate Rapid City, said the agriculture industry is critical to not just South Dakota from an economic standpoint but an environmental one as well.
He said there's potential change in the nutrients in the soil, a change in aquifers and groundwater for cities, and stretched resources.
"When we don't have as much water, we don't get alfalfa and wheat grass, so we can't feed that nutrient content to cattle," he said. 
Johnson said the meat is then less nutritious and both seed and cattle could sell for less. He said then farmers and ranchers don't spend as much at local groceries or stores which affects the tax base and businesses within the city or region.
"It's like a butterfly wing effect," he said. "People may think that a farm 100 miles from here might not affect Main Street, but it can have a big effect that's pronounced for years and years. It could be devastating."
Despite the projected weather and how the season has been this year, Shaw said he's still optimistic for next year.
He said the agriculture business is one of believing next year will be better. He said that's one of the reasons he's leaving some of his grazing pastures alone to prepare for next year.
"I've always been an optimist. Some of these things make it tougher some days than others to be optimistic, but I think there's brighter days ahead," Shaw said. "The world has to eat, we provide that product, and it's my belief we provide the best product there is in the world to these people."
He said he's still keeping replacement heifers and will breed more cattle, and will look to expand more and find more ground to lease.
"We're always looking for expansion because I do have that belief that brighter days are ahead," he said. "It's my hope that the next generation, the fifth generation of Shaws, can come home from college and continue on."