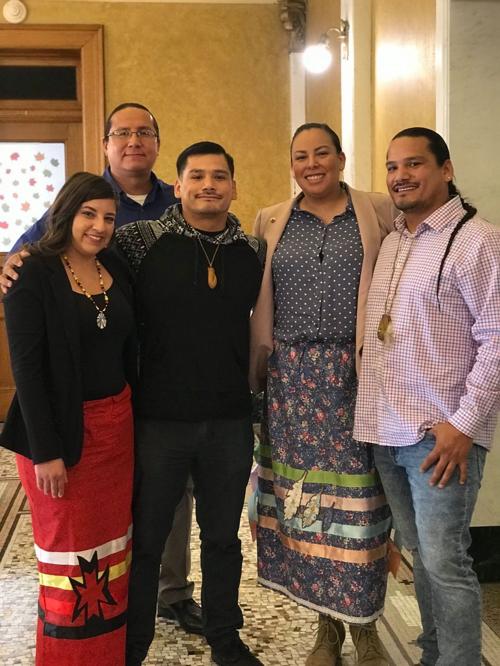 A coalition of Indigenous education advocates announced plans in December to reintroduce a bill to create public charter schools in Rapid City and the state based on the values of the Oceti Sakowin, Lakota, Dakota and Nakota people.
The South Dakota Education Equity Coalition presented its bill to the Rapid City Area School board in a special session Monday night.
Sarah Pierce, lead facilitator of the South Dakota Education Equity Coalition, said the bill didn't pass initially due to some "misunderstandings" among lawmakers and the "Legislature doesn't realize Indigenous people aren't all homogenous thinkers."
The bill's goal is to provide for the creation and funding of Oceti Sakowin Essential Understandings, Pierce said.
"In South Dakota, Indian education is ground zero, meaning that if we compared the achievement rate, mobility rate, graduation rate and all the other metrics we use to measure success, our Indigenous students are far behind their non-Indigenous counterparts," Pierce said, noting a goal of the bill is to improve Indigenous educational opportunities and outcomes.
The Oceti Sakowin community-based schools would be compulsory, meaning parents and students can choose to attend; inclusive, meaning any student could attend; and don't take funding from public school districts, the coalition said.
"Community-based schools don't affect districts financially any more than district student transfers do," the coalition said. 
"Community-based schools allow public resources to stay in the public school system and help ensure that taxpayer dollars are well spent by requiring schools to perform well or close," the group said, pointing out that charter schools that don't succeed within five years would close.
The schools may generally be smaller in nature for the first few years, the coalition said, noting that they generally begin with one grade level and increase each school year to add another grade level until the school reaches its desired range.
The charter schools would have to be affiliated with a nonprofit, which for the Rapid City area would be NDN Collective, Pierce said.
The bill hasn't yet been posted to the South Dakota Legislative Research Council website and its name has yet to be determined for the 2021 session.
Community-based schools must also be approved by the Board of Education of the public school district in which a proposed school desires to be established, Pierce said.
South Dakota is one of five states — including North Dakota, Montana, Nebraska and Vermont — without legislation for charter schools.