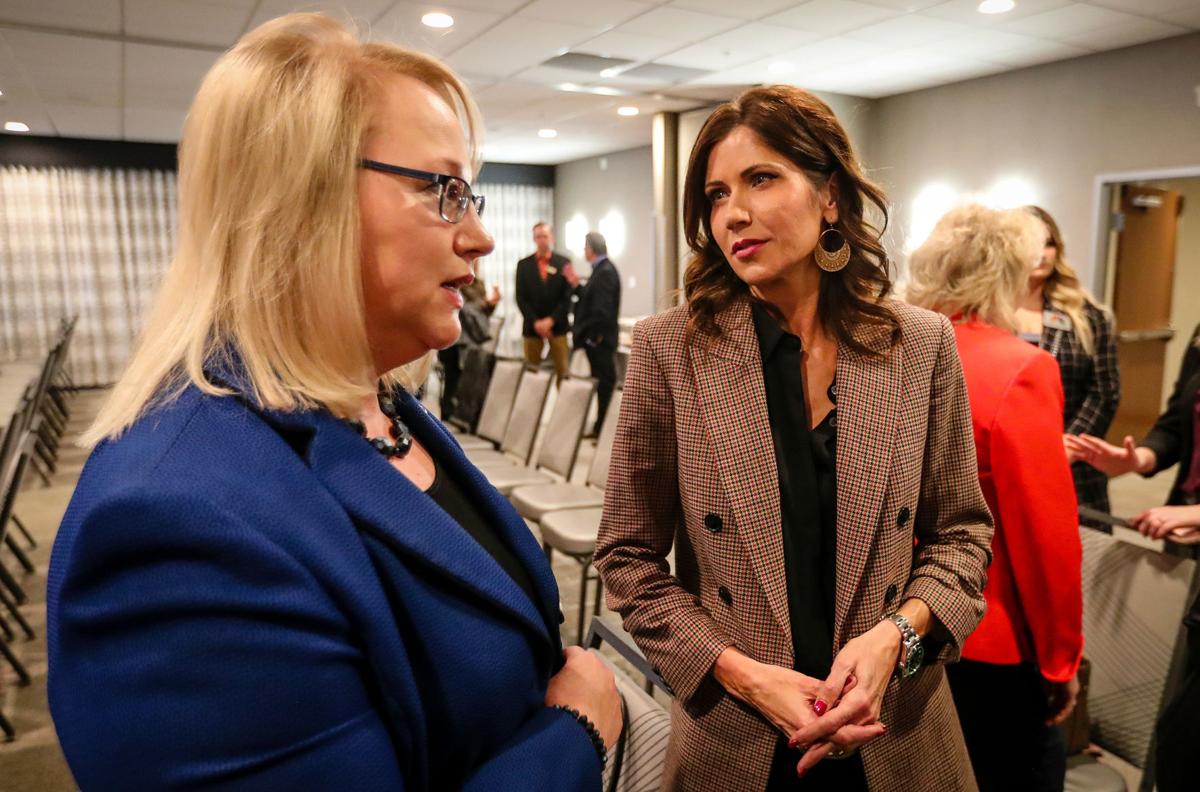 Gov. Kristi Noem has proposed $900,000 in one-time funds for curriculum to help meet her goal of teaching South Dakota's students "why the U.S. is the most special nation in the history of the world."
Noem stated her educational goals on Tuesday while delivering the governor's annual State of the State Address to formally kick off the legislative session, an event which in years past was followed by a press conference and media availability, but less access this year.
The governor said she would task her administration with creating instructional materials and classroom resources on South Dakota history, civics, government, geography and economics and recommended spending $900,000 for curriculum in the speech to lawmakers.
Yet, some educators want to ensure teachers will be involved in every step of the curriculum creation process, and some political science professors said they're worried Noem's curriculum may end up more ideological than educational.
At Rapid City Area Schools, all high school students take world history, world geography, three levels of U.S. History and a U.S. government course at minimum before graduation.
RCAS said the decision to move to three courses was made so ample time was allocated for in-depth study of U.S. history from founding of the nation through Reconstruction, the development of the industrial U.S. during the Great Depression, and World War II to the present.
Rhoda Bryan, a history teacher at Central High School, said she teaches South Dakota's history in the second level of the history class, including events like westward expansion and colonization, gold mining towns, Lakota history, Wounded Knee and other topics. The third level history class includes history about the 1972 Black Hills flood, for example.
Scott Tubbs, a history teacher at Stevens High School, said "with all due respect, an abundance of superb material already exists" about U.S. history, "so I'm not sure I understand" Noem's remark about creating additional instructional materials and classroom resources on history.
"I'd say RCAS is right where the governor wants things to be," Tubbs added. "Full speed ahead for RCAS."
Civics standards approved by the South Dakota Department of Education for high school government include the following course sequence for American Government and essential questions students should be able to answer by the time they graduate:
Foundations of American Government: What are the roles of the citizens in American democracy? What are the origins of the American government and how it exists today?

Political Behavior — Government by the People: What role does the American citizen play in their government? How does political behavior affect our society?
Legislative, Executive and Judicial Branches: What are the roles, characteristics and functions of each branch?
The same civics standards are integrated into sixth-grade Ancient Civilizations, seventh-grade Geography, and eighth-grade American History courses.
In elementary schools, students get their introduction to civics in kindergarten. They learn to identify the primary symbols of the U.S., identify local community services (fire, police and ambulance) and learn about who makes decisions and rules at the school level.
By fifth grade, students are taught why governments are necessary, why the U.S. was established as a republic, understanding the origins and purposes of laws, and distinguishing between the responsibilities and powers of government officials at various levels and branches of government.
When asked if she understands what Gov. Noem was concerned about in her State of the State Address, RCAS Superintendent Lori Simon said she's not and that RCAS follows state standards.
"Our students are taught about America's founding, our nation's history, as well as state history," Simon said. "They are taught about the roles of citizens in American democracy and in our government."
Civics used to be a class students took their freshman year of high school and much of the content was taught again in the U.S. history and government courses, Simon said. For that reason, civics is now integrated in the high school social studies requirements.
Simon noted the state Board of Education, which is appointed by the governor, is responsible for formulating and approving state education standards. The Legislature has oversight and/or veto power over rules/regulations adopted by that Board, she said.
Curriculum decisions are local decisions, whereas civics standards are statewide, for example. School districts select curriculum that align with state standards, Simon said.
Noem's proposal pushes for materials for elementary, middle and high school levels. Teacher training will also be developed and offered, but the bulk of materials will support fourth-grade teachers and students.
Materials will include lesson plans, teaching tools, digital primary source documents, historic photos and videos, and interviews with experts. The materials and some educator training will be housed online and easily accessible.
Teachers always like to have more classroom resources, and it's always a good thing to have extra content, Bryan said, adding that she's noticed more of her seniors are interested in voting and outspoken about politics each year with the "explosion of social media."
Involving teachers in the process of creating curriculum and statewide standards is important, Sue Podoll, Rapid City Education Association president, said. The curriculum should "portray history accurately from different perspectives at the time," she added.
"South Dakota has a very rich history, whether we're speaking of pioneers or Indigenous people, it's a great history," Podoll said. "That used to be a fourth-grade class, and I haven't seen it as an elective at the high school level in some time. That would be appropriate."
RCAS board President Curt Pochardt said he supports civics education and commends the governor for highlighting the issue.
"Last week's events in the U.S. Capitol probably helped bring things to a head, but civil discourse has become a scarce and precious commodity in our society. Civics education may help address the situation," he said, noting it is important to help students develop critical thinking skills.
The CAP is a three-year plan to support effective K-12 civics education. It was developed initially in the summer of 2019 after discussion of the issue during the legislative session.
Noem's new curriculum push follows other patriotic displays pushed in schools, such as recent legislation that requires "In God We Trust" be displayed prominently in every school.
Political science professors across the state are hesitant to get behind the curriculum, pointing to Gov. Noem's recent statements in public and in a Jan. 8 op-ed in the Federalist.
In her State of the State Address, Noem said the new curriculum should teach students "all that makes America unique," and that it should explain "why the U.S. is the most special nation in the history of the world."
In the Federalist, Noem wrote that "we have failed to educate generations of our children about what makes America unique," including about a "decades-long fight" against communism. Noem also mentioned "the left's indoctrination" of students from kindergarten through college graduation, without being specific.
"I am not sure what is meant by 'most special,' but I don't think there is any evidence to support the assertion," Shane Nordyke, a University of South Dakota associate professor of political science, said regarding Noem's comments.
Nordyke is also the director of the Chiesman Center for Democracy at USD, which supports research and civic education activities. Nordyke said it's important students learn to base their arguments on evidence, and "it's important for state leaders to serve as good role models in this respect."
Civics education and civic engagement are important and worthy of state support, Nordyke said, "however, it's crucial we have a clear definition of what the goal is, and a comprehensive assessment of where we are currently so we will have evidence of progress."
There are "serious issues with civic education" in the state, and South Dakota State University professor David Wiltse sees them firsthand with his students.
"There are clearly large 'holes' in the curriculum, and for whatever reasons, students aren't getting what they need," Wiltse said. "I would caution policy makers in making an ideological response to a problem that isn't rooted in ideology."
Timothy Schorn, a USD associate professor of political science, said he's always concerned when elected officials start talking about civics education.
"We can see this from Governor Noem's speech. It's not a desire to look deeply and objectively at American history and government, but rather attempting to introduce a particular ideological view into education," he said. "Governor Noem is very transparent about her particular ideological leanings, and it is no surprise that she wants to inject that into our curriculum."