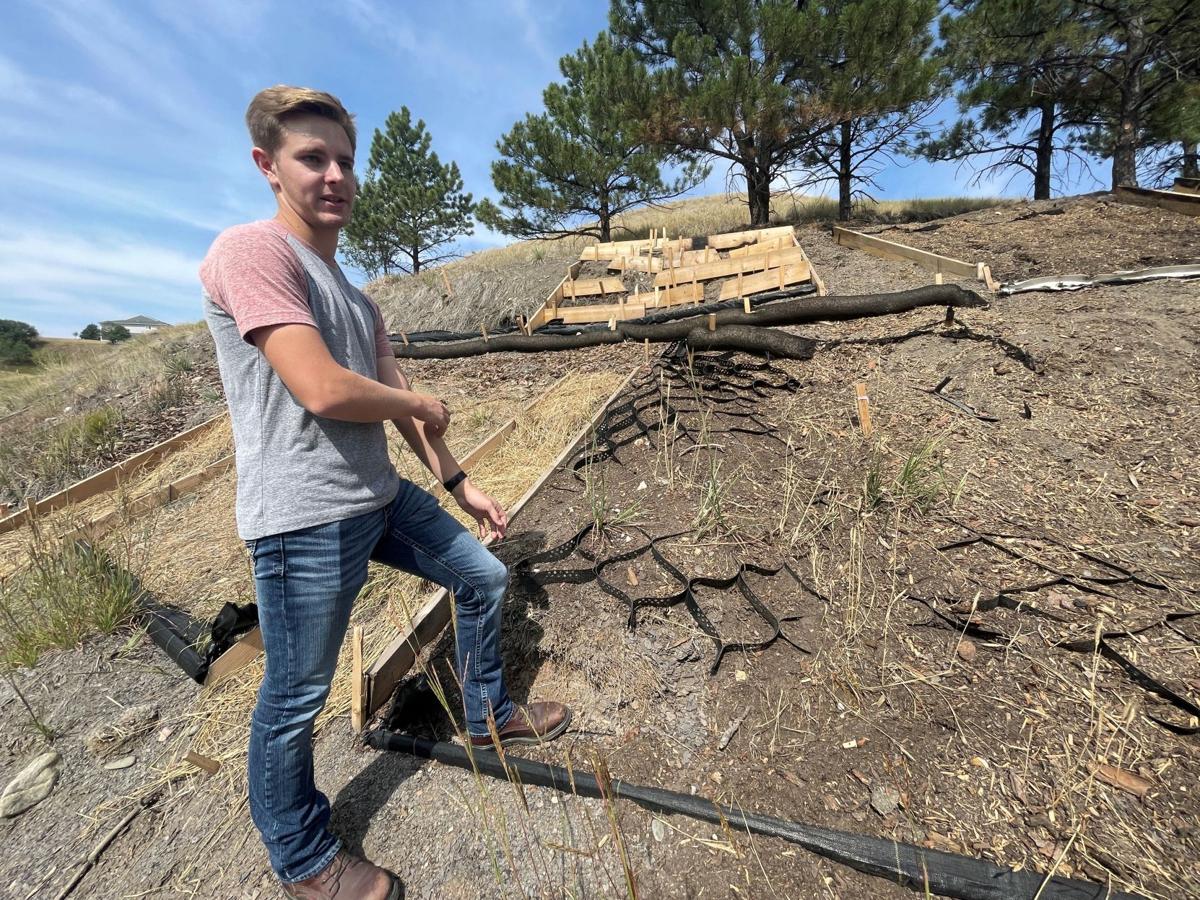 The aftermath of a grass fire that damaged nine of 26 study plots at South Dakota Mines will enhance what data students can collect on ground erosion.
Firefighters doused the living laboratory with thousands of gallons of water with high pressure hoses, putting the various treatment options within each plot to extreme, yet possible conditions of wildfire.
The plots were constructed by students in the Department of Civil and Environmental Engineering on a steep hill where the Belle Fourche Shale rock is exposed due to erosion, preventing vegetation growth.
Each plot contains different erosion control treatments. 
Ben Lewis, one of the students involved in the research project and construction of the plots, said cost and aesthetics were the two biggest priorities when deciding which erosion treatment methods to use. 
Lewis said the fire, which caused $5,000 to $10,000 in damage to the property, happens in nature anyway. 
"So we're going to see if there's some vegetation there or if the control method is going to do anything at all. We'll have a plot that shows where a wildfire hit," Lewis said. 
The long-term study will help students better understand ways to protect the banks and hills composed of the shale rock from erosion, thus protecting the water quality of the rivers and creeks below by decreasing runoff. 
The West Dakota Water Development District is providing the funds to compensate undergraduate students for their work at the site and cover the costs of rebuilding the walking trail at the top of the hill. 
Heidi Sieverding, a research scientist in the civil and environmental engineering department, explained that the shale, which can be found on the western half of South Dakota and along the banks of the Missouri River, is very susceptible to erosion and contains clay that encourages runoff flows while limiting vegetation growth. 
The laboratory will be used by students in different classes, such as surveying and geotechnical classes, Sieverding said. 
"Surveying classes will come out to survey the site and measure the elevation changes. The geotechnical students will come out and collect sediments rather than just getting handed the samples to measure," she said. 
In the past, these types of projects would serve only one class's specific needs. 
Bret Lingwall, an associate professor in the Department of Civil and Environmental Engineering, is leading the project, which is the first project to provide problem-based learning through the department's entire curriculum.
"That's a big push we're doing this year and beyond," Lingwall said.