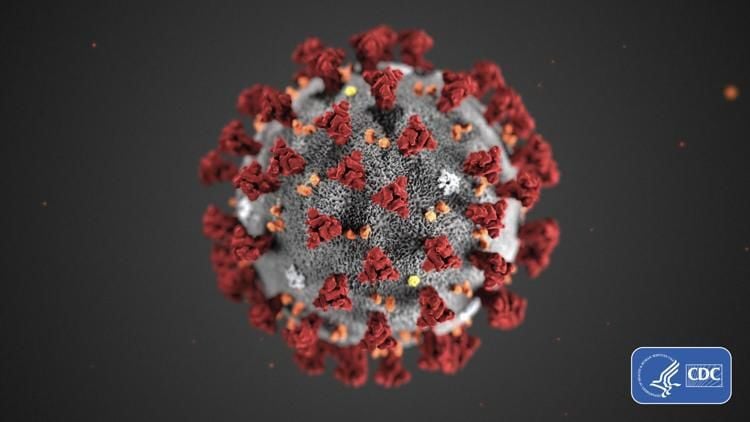 Hailey Freidel, a graduate student at the University of South Dakota, said she and other longtime Vermillion residents expected the COVID-19 pandemic to play out like it has in the college town she grew up in.
"I feel like you can't really put socially-starved young adults in town and expect them not to be social, and for cases not to rise," Freidel said.
Freidel, 23, said she thinks USD did a "good job" of planning ahead for the pandemic and implementing measures to slow down the spread of COVID-19 on campus. She said she feels safe on campus where masks are required in most areas, but "of course you're going to have people" that don't take the pandemic seriously.
"It's just what people do outside of that is the issue," Freidel said. "As a townie, I feel like the townies really understood this was going to happen, essentially."
'It's definitely not an experience I'd want to repeat'
Jack Seitz, 25, is a senior political science major at USD from Aberdeen. He lives off-campus in Vermillion with three roommates.
Seitz worked as a bartender in Vermillion all summer and said he never got sick then, as COVID-19 cases gradually rose in Clay County.
USD's classes began Aug. 19 and Seitz felt sick the next day: "pretty much the first day back to campus is probably when I contracted" COVID-19, he said.
Seitz said he thinks he got COVID-19 from one of his roommates who also tested positive, or from someone else at USD, since he hadn't worked at his bar for a week.
"I work in one of the most high-risk fields and didn't have a single problem until it was time to go back to school," Seitz said.
He got tested Aug. 20 at Sanford Vermillion and got his test results back the next day. At the student health clinic, he was asked to sign a document that would give the clinic permission to send his test results to USD.
An hour after getting his test results back, he received an email from USD's COVID-19 task force, as well as a phone call from them the next day to ask how he was doing and instructions to stay inside. The state health department also called at one point for contact tracing, and Seitz told them his list of close contacts was "very small."
Seitz said he had an "extreme" fever, chills and a headache for three to five days, but stayed sick in bed with a headache and cough until Aug. 30, the last day the DOH instructed him to self-isolate. "I just slept for about 10 days," he said.
"I was way too sick" to complete work for his classes online, Seitz said, noting his professors were understanding that he couldn't attend class or do very much homework while sick.
Seitz said he has a previous medical issue which made his immune system "not the greatest." He felt "pretty miserable" and was "absolutely" more sick than his roommate, who he said only had serious symptoms for two days. He never had to be hospitalized, and a friend left him food and medicine outside his room while he isolated.
"It's definitely not an experience I'd want to repeat," Seitz said.
'They couldn't figure out what was wrong with me'
Freidel "soldiered through" COVID-19 first in July, and dealt with what her doctor called a "resurgence" in August during the first week of classes at USD when she had strep throat.
In July, it started as a mild fever and "really bad body aches," then Freidel felt like she "didn't want to move" her body. A day into her symptoms, Freidel knew she needed to get tested. Her positive results came back five days later.
Freidel had been self-isolating at home, but was "already starting to feel better" by the time she got her results back, she said. She lost her sense of taste and smell on the same date.
The state health department called Freidel the next week and told her that because her symptoms had gone away in 10 days of isolation without a fever, she didn't have to isolate any longer.
"I returned to normal society to do stuff again" but got really sick the weekend before classes started at USD, Freidel said.
"It felt like someone shoved a hot branding iron down my throat," she said of her symptoms in August. "I had the worst sore throat ever. I had body aches again. My temperature was way worse."
Freidel tried to "soldier through" her sickness again for a day, but woke up the next day unable to breathe. She went to the emergency room in Vermillion where caregivers ran "a bunch of tests."
"They couldn't figure out what was wrong with me, essentially," Freidel said. "Then my doctor and I came to the conclusion that I was sick with something other than coronavirus, but because I had coronavirus (before), my body still was having to fight off both (illnesses). That's why I got so sick. They called it a 'resurgence,' but they think it was strep throat with COVID-19."
Her doctor instructed her to quarantine at home for another 14 days in case she was contagious for COVID-19 again, Freidel said. It didn't affect her education, as most of her classes are hybrid, but said the quarantine affected her work life as a graduate assistant.
"Everyone on campus was super accommodating and very nice," Freidel said, noting her professors and boss all told her to focus on getting better and not to worry about work.
'It turns you into a pariah'
Seitz said he received hateful messages from five different people about his COVID-19 diagnosis. One called him selfish; another person told him he hopes he dies, Seitz said.
Another said "I hope you're not going around spreading it," Seitz said. "People did not handle it with a lot of decorum."
There's a big stigma — like a Scarlet Letter — about having coronavirus, Seitz said.
"People were very frightened and didn't have a lot of human compassion" toward me, Seitz said. "It turns you into a pariah."
Seitz said it's wrong for people to assume that those who get COVID-19 were acting irresponsibly before or after they were diagnosed.
Considering the social stigma about COVID-19 among college students, Seitz said he knows of other students who aren't getting tested even if they have symptoms because they're afraid of that stigma, and afraid to fall behind in their classes.
Seitz said he thinks the stigma will reduce if more people get COVID-19.
"You don't really care until you've gotten sick and you have to quarantine for two weeks," Seitz said. "Suddenly, your outlook on the whole situation changes pretty quickly."
Freidel said she hasn't heard any negative blowback from her peers about her COVID-19 diagnosis, or any sort of "victim-blaming" for her illness, but said she received positive support from multiple people who checked in to make sure she was OK and ask if she needed anything.
"I really thought I was going to get more heat about it, but the main thing was curiosity," she said. "I had a million questions from everyone. I think everyone just wants to understand because it's a big unknown. Curiosity first, then care after that."
When he first got sick, Seitz knew two other students who were positive for coronavirus. Now he said he knows seven people with the coronavirus, and three more awaiting test results.
Freidel also said she knew at least 12 more people in Vermillion and at USD who "came out of the woodwork" and told her that they had COVID-19 at one point.
"Once you get it, I feel like people are more apt to telling you that they had it," she said.
'I'm worried about the long-term effects'
Freidel said that each time she was sick, she was most worried about the potential to spread COVID-19 to her mom and brother, who she lives with at home.
"She's over 60, so she's in that at-risk age range. She never got it, thank God," Freidel said.
Lung scarring, heart inflammation and worsening kidney and liver function have also been reported. Some people had persistent muscle weakness and memory problems, the AP reports.
"I'm worried about the long-term effects it will have on my body now because of that issue I had in August," she said. "It changed how my body reacted to a disease I could have normally fought off fairly easily. I keep hearing more reports of scar tissue" on peoples' lungs or hearts.
People should do their best not to get infected "because you never know down the road how it's going to affect your body," Freidel said. 
"It's more than 10 days. I think people say 'Oh, I had it for 10 days, I'm good now.' They have no idea what you're going to be like when you're 60, and how it's going to affect your body," she said.
As far as the social life in Vermillion, Freidel said USD students and "townies" alike are realizing "how quickly coronavirus can spread."
"It's hard to keep students from socializing when they haven't been together," she said, but "people are being smarter and it's not as busy everywhere as it was the first week when everyone got infected."
She has no preexisting conditions and was a student-athlete for many years, but Freidel said it's important to remember she had a "mild case" and the coronavirus is "different for everyone."
"No one has the same two symptoms, or the same two stories" about their COVID-19 experience, Freidel said.
Editor's note: Arielle Zionts contributed to this report.
Concerned about COVID-19?
Sign up now to get the most recent coronavirus headlines and other important local and national news sent to your email inbox daily.