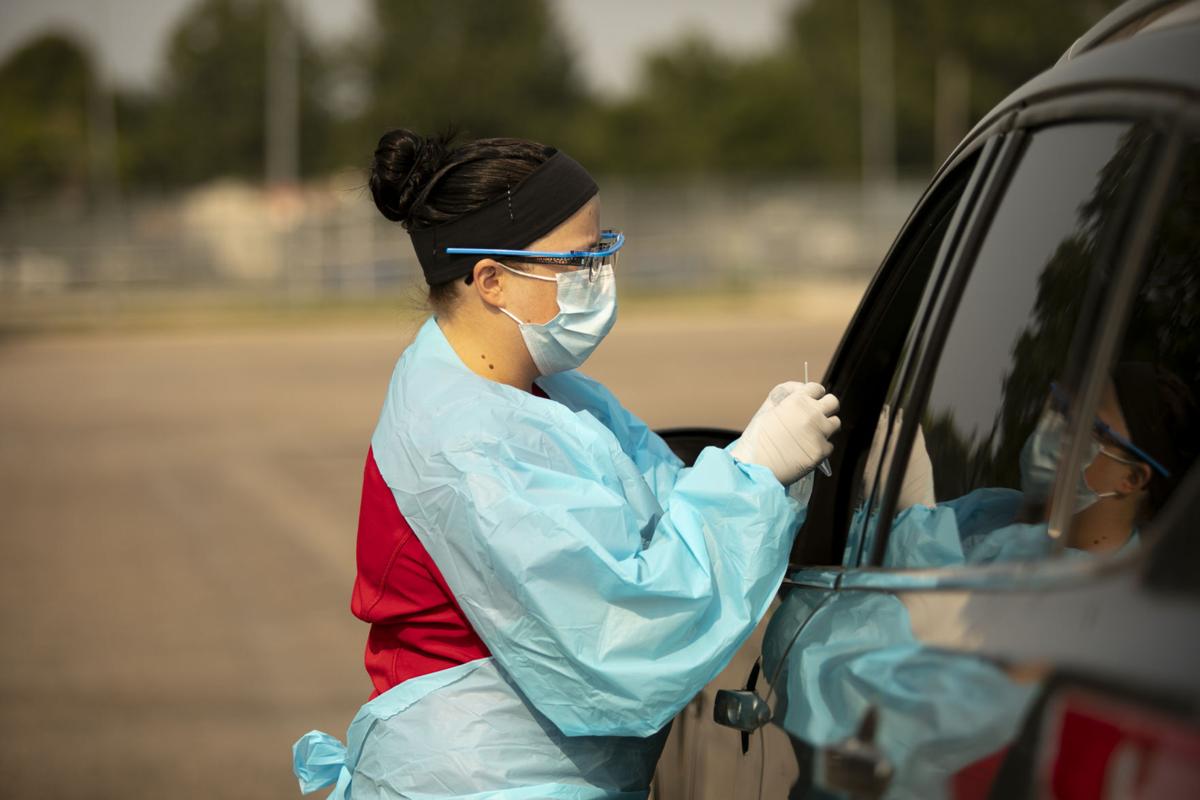 South Dakota Mines is urging students to get free COVID-19 tests before Thanksgiving break, coinciding with mass testing events held by the South Dakota Department of Health on Friday and over the weekend in Rapid City.
Mines is offering free testing to students on campus at the King Center on Friday, but the registration for those tests has already filled up, the university said. Students who didn't sign up for testing on campus are encouraged in an email from Mines to utilize the DOH's mass testing.
Testing in Rapid City will be at the Central States Fairgrounds, 800 San Francisco Street, from 8 a.m. to 5 p.m. Friday through Sunday and 8 a.m. to 12 p.m. on Monday. Pennington County Emergency Management director Dustin Willett said testing will be in the Kjerstad Event Center parking lot with access off of Center Street. 
To get tested for COVID-19 at the fairgrounds, patients must pre-register at www.DoINeedACOVID19Test.com or at the state's COVID-19 website, covid.sd.gov/testing, to schedule a testing time. Patients are instructed to register for this testing online and print off a voucher to get tested at their designated time.
Results will be sent to patients in three to five business days over email, the DOH said. Testing locations use a self-administered nasal swab for specimen collection, which allows individuals to swab their own nose under the guidance and supervision of medical staff from the DOH and South Dakota National Guard.
The DOH is partnering with the South Dakota National Guard to conduct the testing, and local health care workers will provide on-site medical oversight, the DOH said. Testing sites can accommodate 200 to 750 people each day.
Willett said wait times for the tests can vary, but that on average it takes 10 minutes to get through the process. Willett said from his understanding, this testing is for vehicles only and isn't set up to handle pedestrian traffic.
On Saturday, Willett said the public is advised that multiple events will take place at the fairgrounds. While testing continues at the event center, Feeding South Dakota is also hosting their turkey giveaway at the Midway parking lot and asks drivers to be mindful of where they need to go for the separate events.
Willett said Pennington County emergency management, the sheriff's office, Rapid City street crews, fairgrounds staff, Pennington County Search and Rescue and other organizations have helped contribute resources to the mass testing event such as cones, message boards, trailers and command posts.
Mines President Jim Rankin also said that in support of guidance from Monument Health to limit large group activities, Mines decided to limit or cancel some campus events. Commencement celebrations that were scheduled this week were canceled and a virtual commencement will be held on Dec. 19.
Be the first to know
Get local news delivered to your inbox!