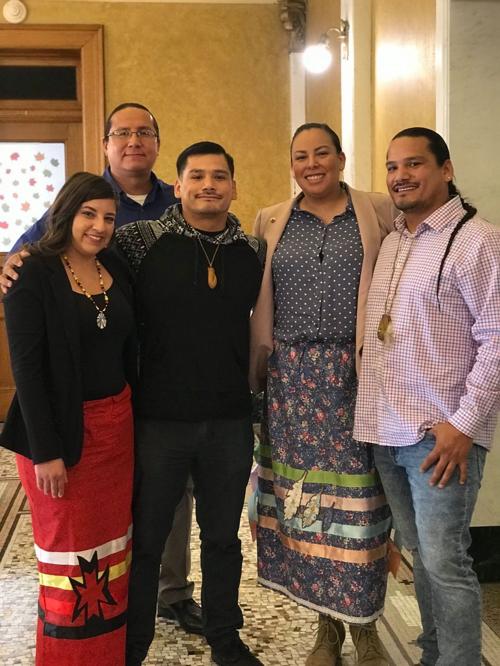 A new coalition hopes to improve Native American educational opportunities and outcomes by creating public charter schools in Rapid City and across the state based on the values of the Oceti Sakowin, the Lakota, Dakota and Nakota people. 
"We don't want our culture, spirituality, our language to be viewed as an elective," said Sarah Pierce, one of the leaders of the South Dakota Education Equity Coalition. These schools will let students be "unapologetically Indian," she said. "They don't have to check their indigenous-ness at the door."
The coalition formed in August and is dedicated to improving equity for all students in South Dakota, said Pierce, a member of the Oglala Sioux Tribe and the former director of Indian Education at Rapid City Area Schools (RCAS). 
The group introduced its first big project recently at the State-Tribal Relations Committee in Pierre — passing legislation that would allow communities to create public charter schools that are open to students of all backgrounds and rooted in Oceti Sakowin language, culture and knowledge. 
South Dakota is one of five states — the others are North Dakota, Montana, Nebraska and Vermont — without legislation for charter schools, schools that are publicly funded but privately operated by a group such as a nonprofit or university. 
Although committee member and NDN Collective organizer Cante Heart lives in Rapid City, she said she sends her children to school on the Pine Ridge Reservation so they can learn their language, sing their songs and smudge.
Other members, Pierce said, live on reservations but send their children to city schools because they can be more academically rigorous. 
"Our design will hopefully have a great balance that won't lack in rigor or culture," she said.
"I think creating more options is one step to addressing that inequity," Pierce said when asked why the group wants to create charter schools rather than focus on making traditional public schools more equitable and culturally inclusive.
"We're not intending to necessarily discredit the work that's being done within existing districts, only to create an alternative pathway," she said.
Pierce, who worked for Rapid City and Omaha public schools for eight years, said there are "a lot of limitations" within traditional schools. For example, students can only take Lakota at RCAS if they attend one of the three schools that offer it.
She also said that the charter schools could be helpful to students who have already dropped out of traditional schools, and that traditional schools could later end up incorporating some of the charters' practices.
Sixty-one percent of white students in the state met or exceeded the English language arts test compared to 23 percent of Native American students. When it comes to the science test, 53 percent of white students passed compared to 14 percent of Native American students. In the science test, 47 percent of white students passed compared to 13 percent of Native American students. Ninety-five percent of white students graduate from high school, and 56 percent are college and career ready compared to 66 percent and 13 percent, respectively, of Native Americans students. 
The testing disparities between white and Native American students are similar at RCAS. But 91 percent of white students graduate from high school, and 49 percent are career and college ready compared to 54 and nine percent, respectively, of Native American students. 
Oglala Lakota County has four state-run pre-K through eighth grade schools, one online high school, and is planning on opening a physical high school in August 2020. Eight percent of its students passed the English language arts test and 31 percent graduate from high school. Too few students passed the math and science tests and are college and career ready to post the data without jeopardizing their privacy. 
The Pine Ridge Reservation also has schools funded and/or operated by the Bureau of Indian Education, which does not include graduation and career and college readiness data on its report cards. In spring 2016, four percent of the students at the Pine Ridge School passed the English language arts test while none of them passed the math test. 
Native American students in urban schools also may see few teachers that look like them. Twenty to 24 percent of RCAS students are Native American while two percent of instructional staff (teachers, paraprofessionals, counselors, etc.) are Native American, said Robin Gillespie, director of federal grants at the district. 
To understand educational disparities, Pierce said, you have to go back to the boarding school era and other education policies that created generational trauma by separating Native American families and stripping them of their culture. 
"None of those efforts were truly designed with indigenous input in mind," she said. 
Pierce said schools with an intentional focus on indigenous culture can lead to better outcomes for Native American students. She pointed to the Pemayetv Emahakv school in Florida, the NACA-Inspired Schools Network (NISN) in New Mexico, and the Anpo Wicahpi girls school and Lakota language programs at the Thunder Valley Community Development Corporation on the Pine Ridge Reservation. Anpo Wicahpi and Thunder Valley did not return messages asking to speak about their educational outcomes. 
Other efforts to create indigenous-focused schools and curriculum have been rejected. Last week the North Carolina Charter Schools Advisory Board voted to reject a school in the Lumbee tribal community, according to the News & Observer. Board members said they were concerned the school would be exclusive towards non-indigenous students and that the school's teaching methods are linked to a professor they said is too critical of the U.S. government. 
The coalition has 30 members from 10-15 organizations including Teach for America, Thunder Valley, Anpo Wicahpi, NISN, the Rapid City and other school districts, and NDN Collective, a Rapid-City based nonprofit where Pierce and Heart work. 
Gillespie said she joined the committee because she cares about Native American education and equity for all students. She said Whitnee Pearce, the director of Indian education who is working on cultural proficiency and implementing the state Oceti Sakowin standards at RCAS, is also in the group. 
RCAS is still learning more about the charter school proposal so it has no position on whether it supports it or not, Gillespie said. 
In addition to presenting its idea in Pierre, the coalition has met with state elected and appointed officials, tribal leaders and school districts. Heart, a member of the Rosebud Sioux Tribe, said the group also met with the Sicangu Community Development Corporation, which is working with NISN to open a Lakota immersion school whether or not charter legislation is passed. 
Pierce said the coalition wants to open charter schools, rather than private schools, to ensure the schools have a sustainable source of funding. She said the schools may also use some private money. 
Pierce said the group will ask for legislation that only allows for charter schools based on Oceti Sakowin values because the state is too small and rural to support a wide network of charter schools like some other states have. If legislation is approved, she thinks most schools will start with a few grades before expanding to a small-sized school of 200-250 students. She imagines students will be selected first-come-first-served or via lottery system if there's a high demand. 
The group has met with union stakeholders to discuss whether the charter school staff could be part of the teacher's union or not, Pierce said. She said the schools would have to follow all state and national standards when it comes to education and transparency.
"The only difference would be there would be room for a a lot more creativity and innovation," Pierce said.