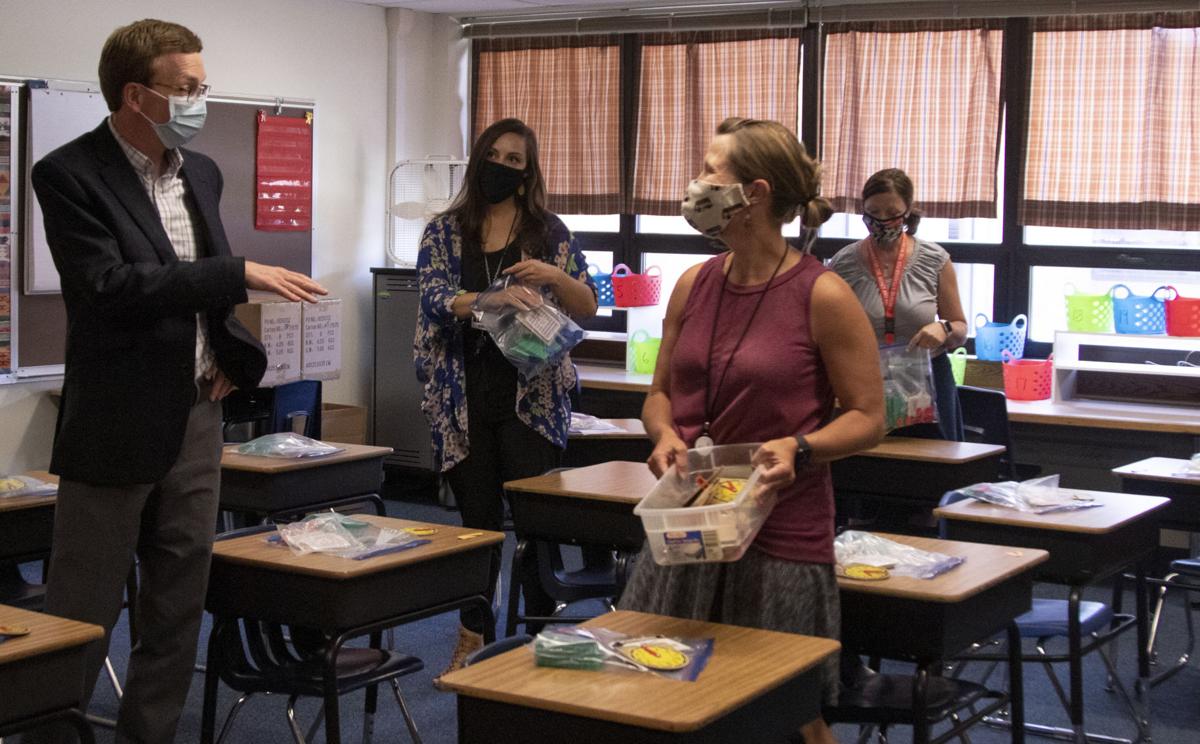 Katy Urban, district information manager, estimates costs are closer to $9.8 million. If the district is unable to cover them through a new CARES package or with federal pandemic-relief funds the state has already received, administrators will have to use reserve funds, capital outlay funds or other areas of "flexibility."
The district received $4.1 million directly from the federal government that came from the initial CARES Act.
During his visit, Johnson said Congress would be working on another CARES package. Johnson also said the state can use part of the $1.25 billion it received from the first CARES Act for local educational costs.
Gov. Kristi Noem said Monday that she is still hoping for more flexibility from the federal government on a Dec. 30 deadline to allocate the remaining $900 million of the $1.25 billion in federal relief and would call a special session if that deadline won't change. 
The Legislature said late Tuesday that five committees would meet starting the week of Sept. 14 to focus on how COVID-19 has impacted education, health care, agriculture and natural resources, local governments and commerce and energy. The committees will send their recommendations to the Appropriations Committee, which will write the bill for legislators to consider.
Urban said this school year will be complicated because "we can't say with 100% certainty that this is what everything is going to cost right now," as many of the costs are "in flux."
Urban said she estimates the following identified costs for the district:
$4 million for remote-learning salary costs

$3.9 million for computers, learning management systems and related equipment

$1.1 million for personal protective equipment (PPE)

$450,000 to construct nurse stations

$400,000 for nursing assistants and district nurse coordinator salaries

$20,000 for credit recovery and summer school
The costs for prorating teacher salaries to teach an extra off-campus learning course has been estimated at $2.4 million for K-8. The new figure of $4 million for the remote learning salaries may come from the addition of more teachers who are interested in that option.
Computer costs included $3 million to provide a laptop to each student. Urban said laptop handout would be at a different time for each school. The remainder of the costs may have included the previously reported $530,000 in related expenses, $165,000 in Canvas licensing, $111,000 in computer cases and $40,000 for Google Drive certification.
Nurse stations will help separate students who are feeling sick from those who are well, or who are making a routine visit to the nurse's office for help with their medication or diabetes, for example. The district is also looking at hiring as many as 30 nursing assistants.
The district also covered the $20,000 in credit recovery and summer school at no cost to students. Typically, the district will charge for that expense but didn't in this case because of the nature of quickly moving off-campus in the spring.
Concerned about COVID-19?
Sign up now to get the most recent coronavirus headlines and other important local and national news sent to your email inbox daily.